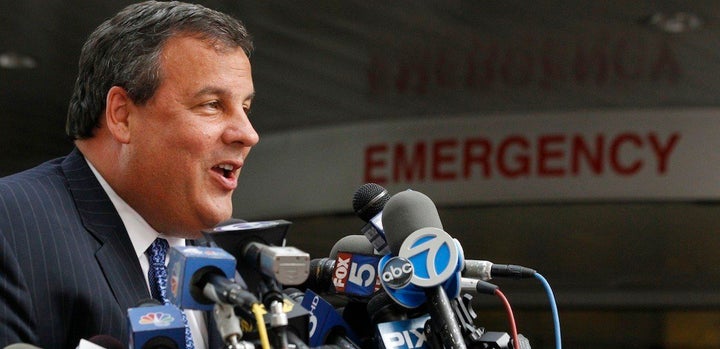 NEW YORK -- New Jersey Governor Chris Christie told political reporters huddled in Trenton's statehouse -- and watching live Tuesday on cable news -- something they already knew: He's not running for president.
The statehouse scene was a familiar one. Last November, Christie stood in the same spot and famously said that not only would he not run for president but that apparently nothing "short of suicide" would convince the press corps otherwise. But that denial didn't stick and just four days later, NBC's David Gregory asked Christie for a "Shermanesque" statement on "Meet the Press" that he wouldn't run. Christie provided it.
In the new year, the media chatter -- fueled by journalists, commentators and operatives who hoped to see Christie run -- didn't subside, and neither did the inevitable question.
Several hours later, the governor told America why Chris Christie didn't need to run for president in 2012. "Now is not my time," Christie said, while also acknowledging that he had reconsidered his oft-stated decision in recent weeks, following repeated calls to jump in the race.
When Christie scheduled a press conference for Tuesday, political reporters responded by tripping over one another to find anonymous "sources," "aides," "associates" and "people familiar with the governor's thinking" to say he's not running. The media's response was predictable because -- as HuffPost's Jason Linkins pointed out last Thursday -- the latest wave of will-he-or-won't-he-run stories has been driven by anonymous sources who presumably want Christie to jump in the race or who are testing the waters on the governor's behalf.
Over the past week, Christie's gotten more press coverage than any actual Republican candidate.
Political journalists seem to recognize the absurdity of continuing to cover Christie and others, like Donald Trump and Sarah Palin, who continue to get attention for not running; a sentiment that's clear from the sea of snarky tweets by reporters and commentators Tuesday morning. And yet no one wants to be left out, just in case some news actually happens. So journalists hopped on New Jersey Transit and satellite trucks arrived so the press conference could air live across the cable networks. CNN anchor Wolf Blitzer, after tweeting that CNN would take it live, added that the governor is "always compelling even when not running."
Indeed, Christie is "compelling" for political journalists because he speaks off-the-cuff and manages to make news even when he's not running -- like just now! Journalists also seem to enjoy Christie's jocular style, which was evident during the press conference as he called reporters by their first names and cracked jokes about their columns (and how they've gotten more TV appearances to discuss whether or not he'd run). Christie's relationship with the press mirrors that of John McCain during the "Straight Talk Express" days of 2000, when the senator would go back and forth with reporters in a way that buttoned-up candidates, afraid to divert from pre-written talking points, rarely do.
Reporters often cite Christie's brash style as a positive trait. Last Thursday, ABC's Jonathan Karl said that "even when he says he won't run for president, the way he says it -- blunt, direct, no B.S. -- makes many Republicans want him to run even more."
Journalists seem to also be left wanting more, too.
Even though anonymous sources were already on the phone Tuesday morning to say Christie wouldn't run –- and he announced that decision at 1 p.m. -- reporters continued peppering the governor about his thoughts on the Republican race and whether he'd take the vice presidential spot on a Republican ticket. "I don't think there's anyone in America who would necessarily think my personality is best suited for being number two," Christie said.
That response was familiar, too. After Christie gave his "Shermanesque" statement to Gregory nearly a year ago, he asked the moderator: "Can you see me as somebody's vice president, David?" Christie joked that he'd "feel bad for that poor man or woman" for putting him on the ticket.
As VP chatter picks up next year and the media turns once again to Chris Christie, expect to hear that response a lot.
Related: Christie's Past Denials
Calling all HuffPost superfans!
Sign up for membership to become a founding member and help shape HuffPost's next chapter