ANKENY, Iowa -- New Jersey Gov. Chris Christie (R) got into a heated exchange with a skeptical voter who accused the presidential candidate of being "anti-gun" during a town hall on Saturday, citing New Jersey's tough gun control laws.
Responding to the man, who did not identify himself but mentioned he was part of the Iowa Gun Owners organization, Christie defended his record, refuting every claim the voter mentioned, and, at times, even raising his voice.
"Come up with one fact that shows one thing I've done as governor in New Jersey that's done anything, anything not to support the rights of legal gun owners," Christie said as the crowd gathered inside a local community college auto body shop erupted in applause. "Don't come in front of this group of people and lie about my record, which is what you did."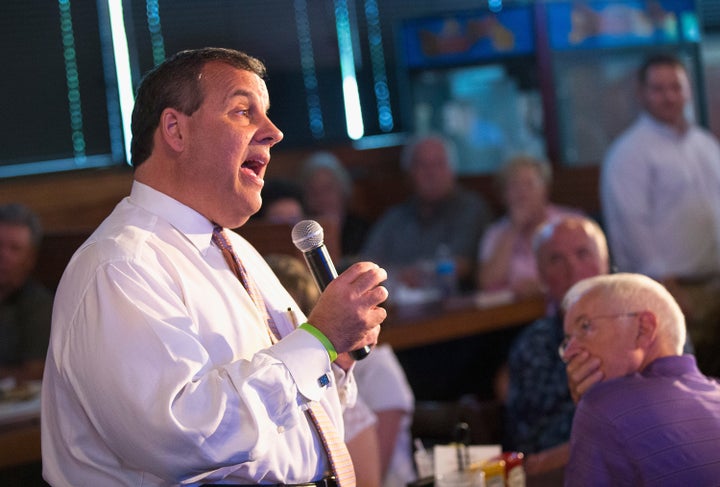 The voter accused Christie of proposing to ban .50-caliber rifles, requiring a government-issued ID for every firearms purchase and setting up a statewide firearms registry of guns and gun owners. Christie responded harshly, holding true to the theme of his campaign, "Telling it like it is."
"I don't know where you're getting your information from, but your information is wrong," Christie told the man.
Christie noted that he vetoed the .50-caliber ban, the statewide ID system and the law that was passed to reduce magazine sizes from 15 to 10.
The man in the crowd then asked if Christie is planning on pardoning Brian Fletcher, a North Carolina man who is facing prison time after telling a police officer in New Jersey that he had a gun in his vehicle, which is the customary and legal thing to do in his home state. Christie said he hasn't made a decision yet, but is reviewing the situation.
"I'm not going to make that decision in 15 minutes nor should I. Nor should you want me to," Christie said. "I see you shrugging your shoulders, why are you shrugging your shoulders about? You have your point of view, but have some facts about it."
The confrontation lasted over five minutes, as others in the crowd seemed to shift uncomfortably in their seats. The voter brought up an ad that ran in 1995, which shows Christie criticizing his opponent for wanting to repeal the assault weapons ban in New Jersey. Christie pointed out that his views have changed over the last 20 years.
"If you haven't changed your mind once in 20 years on any issue, then I'll tell you, you're not a thinking, breathing, living human being," Christie said as the crowd applauded.
"If you want to debate me, come to the top 10, run for president and come to Cleveland on Aug. 6, and I'll happily debate you," he added.
In Iowa, Christie's favorability ratings are under water. A recent poll of Iowa caucus-goers shows 45 percent of registered Iowa voters have negative feelings about Christie, while only 24 percent view him favorably.
At the town hall, Christie continued to blame New Jersey's Democratic-controlled legislature for anti-gun measures occurring in his state.
"As governor and as president, you're not an emperor or dictator," Christie said. "You want better gun laws, elect a Republican legislature, and these laws will be changed."
Popular in the Community