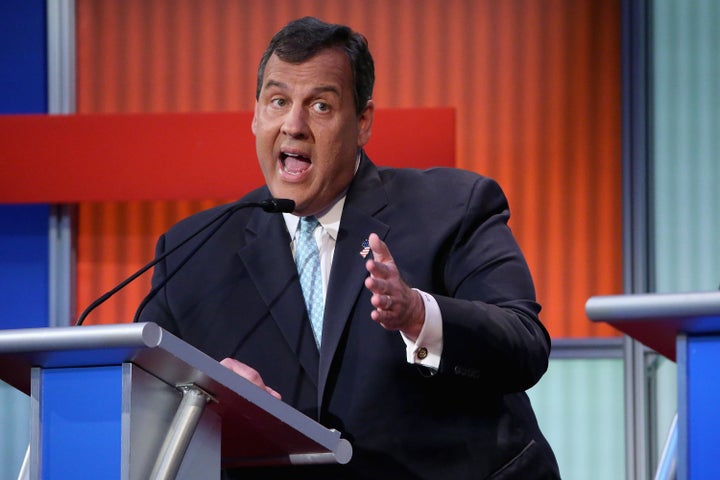 A new presidential campaign ad for New Jersey Gov. Chris Christie (R) features images taken from Islamic State propaganda videos, marking a growing trend among Republican candidates seeking to attack President Barack Obama. 
The 30-second campaign video, "Law Enforcer," was released on Monday. Christie lists a series of examples of "lawlessness in America and around the world" during Obama's presidency. He intones that these acts of lawlessness include "ISIS beheading Christians" as stills of the Islamic State's flag and militants poised to behead prisoners appear on screen. 
In addition to featuring images of the Islamic State, Christie's new ad contains other graphic photos to support his argument that Obama has enabled crimes committed by undocumented immigrants, a rise in heroin abuse and Iran's acquisition of a nuclear weapon.
The New Jersey governor then promises to reverse these trends as commander in chief. 
"We need a strong law enforcer as president," he concludes. "Someone who says what he means, and means what he says."
The video is Christie's third ad as a Republican presidential candidate, and it will air nationally on Fox News, according to his campaign.
As the ad demonstrates, Christie is attempting to stake out ground as the Republican presidential field's most qualified and unyielding national security hawk. The governor was a U.S. attorney in New Jersey from 2002 to 2008, and defended the National Security Agency's mass surveillance programs in a heated exchange with Sen. Rand Paul (R-Ky.) during the first Republican presidential primary debate. 
Media watchdogs have criticized the way news outlets and politicians are using video from Islamic State beheadings to exploit the tragic murders and rack up page views or votes. Critics argue that republishing explicit images from the beheadings plays into the extremist group's media-based terror strategy. 
Christie's campaign ad can be viewed above. The campaign defended its use of the images in a statement to HuffPost.
"The ad addresses one of the biggest issues on the minds of Americans right now," said Samantha Smith, a Christie campaign spokeswoman. "In town hall meetings across the country, one of the first questions people ask is about foreign relations and the growing threat of ISIS. This is the reality we face and the ad clearly shows that." 
Christie is not the first 2016 Republican hopeful to release a campaign ad featuring graphic images of the militant group. A PAC supporting former Arkansas Gov. Mike Huckabee used footage from an Islamic State propaganda video in a pre-campaign launch video on May 1.
Several Republican Senate and House candidates also used images of Islamic State beheadings in campaign videos during the 2014 midterm elections. For example, Sen. Tom Cotton (R-Ark.) -- who is now one of the loudest critics of Obama's Iran nuclear deal -- won his seat after using footage from an Islamic State propaganda video in one of his campaign advertisements.
CORRECTION: This article previously stated that Christie's ad contained explicit images of Islamic State beheadings; the ad contains images taken from Islamic State videos but shows no beheadings taking place.
PHOTO GALLERY
Chris Christie
Calling all HuffPost superfans!
Sign up for membership to become a founding member and help shape HuffPost's next chapter