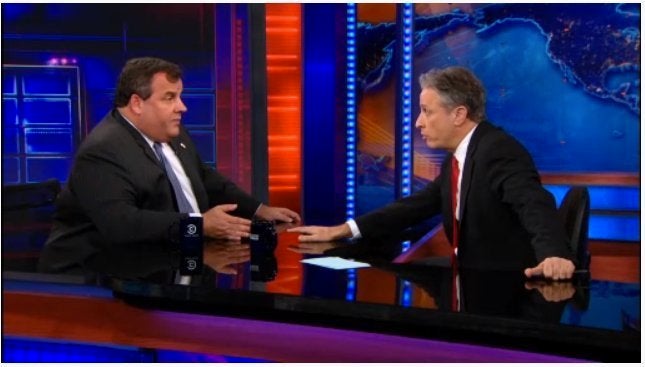 Governor Chris Christie sat down with Jon Stewart on Thursday night's "Daily Show" for what ended up being a long, occasionally tense discussion of ongoing Sandy relief efforts and the Republican philosophy.
The interview kicked off with some fellow New Jerseyan and Bruce Springsteen bonding, but quickly moved into the governor's need for federal assistance in the wake of the hurricane and whether or not that contradicts with the overall philosophical view of conservatives. To make the point, Stewart brought up Christie's recent rejection of the bill to set up healthcare exchanges in his state, likening an individual's healthcare crisis to a statewide catastrophe. "If you have cancer and you don't have insurance, that's Hurricane Sandy," Stewart explained.
Stewart went on to assert that Republicans seem to have empathy over only those issues that affect them directly, deferring to the "free market" on everything else, but Christie disagreed. "Republicans like to have the free market, or capitalism, run things except when they believe that government is the only way to solve the problem."
The segment was cut down for broadcast but Comedy Central posted the entire extended interview in three parts on "The Daily Show" site. Watch all three below: the most intense section of the chat is in part two, and part three breaks down the real Chris Christie in a hilariously candid way.
Calling all HuffPost superfans!
Sign up for membership to become a founding member and help shape HuffPost's next chapter
BEFORE YOU GO
PHOTO GALLERY
Jon Stewart GIFs