TAMPA, Fla. -– Good cop. Bad cop.
The Republican Party showed the nation one of its most winsome faces on the first night of the GOP's shortened three-day convention, giving Ann Romney the first half of prime time.
Romney gave a sentimental and personal description of her husband, Mitt Romney, the former Massachusetts governor who on Tuesday night became the first Mormon to be nominated for president by either political party.
She was followed by the pit bull, New Jersey Gov. Chris Christie, who stormed onto the stage clapping like a football coach in the fourth quarter, and delivered a gut-busting rebuke to the nation's political leadership and to a self-indulgent culture.
The contrast, which took up the last hour of a night in which the GOP showcased its top female and minority leaders, was clearest when Ann Romney and Christie discussed a topic not often spoken of in political speeches.
"I want to talk to you tonight about that one great thing that unites us … Tonight I want to talk to you about love," Ann Romney said.
Minutes later, in the headline speech of the convention, Christie took on the same theme, with a very different twist.
"I believe we have become paralyzed by our desire to be loved," Christie said.
Both speeches hinged on a relationship: Ann's with Mitt, Christie's with his mom. Ann emphasized her love for Mitt, and their family's love for the country and for others.
"I want to talk to you about the deep and abiding love I have for a man I met at a dance many years ago. And the profound love I have, and I know we share, for this country," she said.

Christie explained how his mother, who died eight years ago, "told me there would be times in your life when you have to choose between being loved and being respected."
He used that as an analogy for how he thinks the GOP must not shrink from offering solutions to the nation's biggest problems -– debt, deficits and a sagging entitlement state -– that might be unpopular.
"Tonight, we are going to do what my mother taught me. Tonight, we are going to choose respect over love," he said.
Christie's charisma energized the 20,000 or so delegates and supporters in the Tampa Bay Times Forum. But it was Ann's speech that was more critically important to her husband's political fortunes.
Romney is trailing President Barack Obama badly among women voters, especially in critical swing states like Ohio and Virginia. Romney also is not personally popular, even if more voters trust him on key issues like the economy and jobs.
And so his wife, a 63-year old cancer survivor and multiple sclerosis sufferer, had a dual purpose with her address: make a strong pitch for the female vote, and play up he husband's personal side.
She went for the women by identifying with them.
"It's the moms of this nation -- single, married, widowed -- who really hold this country together. We're the mothers, we're the wives, we're the grandmothers, we're the big sisters, we're the little sisters, and we are the daughters," Ann Romney said.
"I love you women! I hear your voices," she said.
And she made the case that the newly minted GOP nominee does not advertise his good deeds, an implicit acknowledgment that Democratic attacks on his character have hurt his image with many voters who do not know much about the 65-year old former private equity executive.
"This is important. I want you to hear what I'm going to say," Ann Romney said, asking for the crowd's attention in a line not in her prepared remarks. "Mitt doesn't like to talk about how he has helped others because he sees it as a privilege, not a political talking point."

Throughout the three hours of speeches that preceded the last hour, and then again during speeches by Ann Romney and Christie, the GOP declared their party one that stands for hard work and American ingenuity. Many speakers played up their immigrant roots and humble beginnings.
"My dad got his first job when he was 6 years old, in a little village in Wales called Nantyffyllon, cleaning bottles at the Colliers Arms," Ann Romney said. "When he was 15, Dad came to America."
Christie said: "I am the son of an Irish father and a Sicilian mother."
Ted Cruz, the GOP's U.S. Senate candidate in Texas, described how his father "was imprisoned and tortured in Cuba, beaten nearly to death."
"He fled to Texas in 1957, not speaking English, with $100 sewn into his underwear. He washed dishes making 50 cents an hour to pay his way through the University of Texas, and to start a small business in the oil and gas industry," Cruz said. " We are all sons and daughters of those who risked everything for freedom, and we have the duty to pass that same opportunity to the generations to follow."
Others who took the podium included Mia Love, the 37-year old daughter of Haitian immigrants who is now mayor of Saratoga Springs, Utah, and is running for Congress; South Carolina Gov. Nikki Haley, the 40-year old daughter of Sikh immigrants from India; and Artur Davis, a former Democratic congressman from Alabama who has switched parties and is now one of the more prominent black men in the GOP.
Davis, who spoke at the Democratic convention in 2008, and was a prominent supporter of Obama, referenced his speech four years ago.
"It turned out I was in the wrong place, so Tampa, my fellow Republicans, thank you for welcoming me," he said.
The attempt to reach out to women and minorities was marred, however, by news reports that one convention-goer allegedly threw nuts at a black CNN camerawoman in the hall and said, "This is how we feed animals."
White men like Wisconsin Gov. Scott Walker, Virginia Gov. Bob McDonnell, and Ohio Gov. John Kasich were relegated to slots earlier in the evening. Christie, a white male himself, was the keynote speaker for a simple reason: few national political figures from either party gives a speech like the 49-year old first-termer, and he has had surprising success in meeting his goals in a state where the legislature is controlled by Democrats.
Romney, Christie said, would be like, well, Christie.
"Mitt Romney will tell us the hard truths we need to hear to put us back on the path to growth and create good-paying private sector jobs again in America," Christie said.
As Christie spoke, Romney -– having walked out on the stage with his wife after Ann finished her speech –- stood and applauded from a VIP box just off the convention floor.
On Wednesday night, Romney's running mate, Rep. Paul Ryan (R-Wis.) will give the prime time speech, and on Thursday, Romney will end the convention with the biggest speech of his life.

Before You Go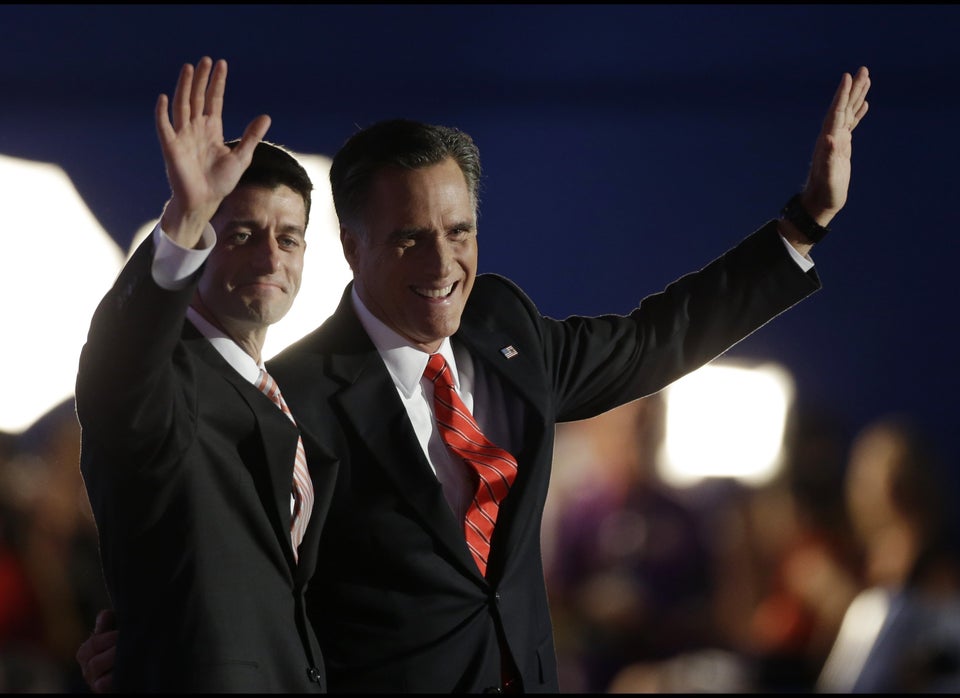 Republican National Convention 2012
Popular in the Community