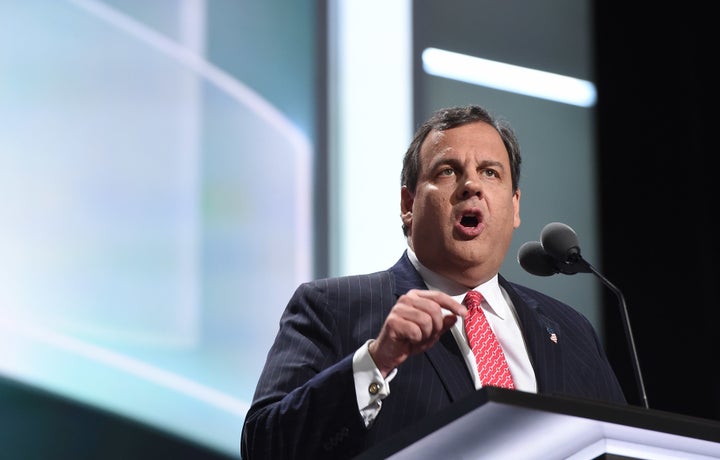 One of New Jersey Gov. Chris Christie's own aides thought Christie "flat out lied" about the "Bridgegate" scandal in 2013, according to a new court filing. 
That December, in the midst of political fallout after lane closures on the George Washington Bridge led to traffic jams in Fort Lee, New Jersey, Christie held a press conference denying that anyone from his office was involved with the closures. The court document reveals a text exchange between two of Christie's staffers while he was speaking, the Wall Street Journal reported Wednesday morning.
"He just flat out lied about senior staff and Stepien not being involved," aide Christina Renna texted Peter Sheridan, referring to Christie's campaign manager, Bill Stepien. 
Sheridan replied that Christie was doing fine. "Holding his own up there," he said.
"Yes," Renna texted back. "But he lied. And if emails are found with the subpoena or [Chris Christie for Governor] emails are uncovered in discovery if it comes to that it could be bad."
Christie had specifically said during the press conference that Stepien assured him nobody in his campaign was involved in the lane closures, which at that time had been passed off as as part of a "traffic study" by the Port Authority of New York and New Jersey. The governor said he'd "made it very clear to everybody on my senior staff that if anyone had any knowledge about this that they needed to come forward to me and tell me about it, and they've all assured me that they don't."
Christie fired Stepien the following January after his name appeared in emails linking him to the Bridgegate scandal, including one in which he called the mayor of Fort Lee, New Jersey, an "idiot." The scandalous lane closure scheme came about as retribution for the Democratic mayor's refusal to endorse Christie in his gubernatorial re-election bid, prosecutors allege.
Speaking to reporters on Wednesday morning, Christie denied that he'd lied.  
The text messages came to light Wednesday in a court filing by lawyers for Christie minions facing trial for the lane closures.
Since January 2014, when he fired Stepien and also Bridget Kelly, his deputy chief of staff, Christie has maintained that he'd been lied to about their bridge shenanigans. 
"Nothing contained in this text message changes that in any way," Christie spokesman Brian Murphy said in a Wednesday email. "He stands by those statements completely and unequivocally."
This article has been updated to include comment from Christie's spokesman.
Calling all HuffPost superfans!
Sign up for membership to become a founding member and help shape HuffPost's next chapter