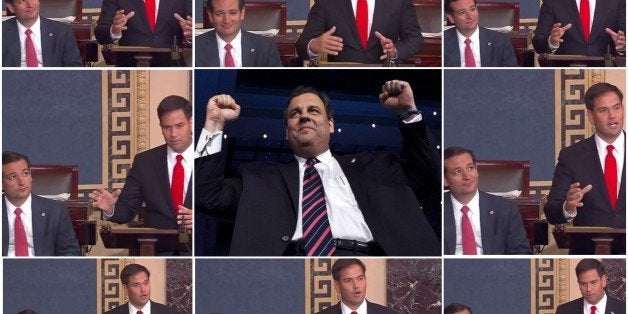 The Republican New Jersey governor is in roughly the same position now that Sen. Marco Rubio (R-Fla.) was a year ago. In the wake of his reelection this month, Christie has been venerated with the same kind of press coverage that was bestowed on the Florida senator in the months following President Barack Obama's reelection.
The question is, can Christie avoid what happened to Rubio?
After the 2012 election, Beltway consensus hardened that Rubio, the 42-year old son of Cuban immigrants, was destined for the 2016 presidential nomination. A year later, he's damaged goods. It's the nature of the modern news cycle that it takes political figures, puts them in the spotlight, chews them up and spits them out.
But there are reasons behind Rubio's fall.
"The ground has shifted under Rubio's feet a little, and the obvious beneficiary is a two-term governor who fresh off reelection," said a former GOP congressional leadership aide who spoke on the condition of anonymity. "It also hasn't helped Rubio that he was involved in somewhat of a contortionist act on a few key issues, namely immigration.
"These last few months he has reeked of being a creature of Washington. He is acting more like Eric Cantor than a viable presidential candidate," the former aide said.
Rubio will remain a part of the 2016 speculation. "He appears to be getting his mojo back," said Republican strategist Scott Reed. "He is one of the most incredible storytellers that we've had in the party since Ronald Reagan," Sara Fagen, another GOP operative, told HuffPost.
But Rubio hurt himself badly on the immigration issue, Republicans told The Huffington Post. He angered conservative activists by pushing immigration reform. But he did far greater damage to himself after the Senate passed a bill and sent it to the House, when Rubio ran away from the issue to try to pacify the right.
"Some would argue that he should have just followed through," Fagen said. "He would have taken some hits. But he seemed to have stepped away from it. I don't know that that helped him."
John Weaver, a top adviser to John McCain in his 2000 and 2008 campaigns for president and to Jon Huntsman's in 2012, said Rubio has to be "careful not to be seen as a gadfly and not a serious person."
"I'm not suggesting he's not a serious person. You can't be seen as whimsical. Sometimes 'to thy own self be true' is the best course in this business, and it's not clear to me what that is with Senator Rubio," Weaver said.
It was the image of Rubio standing on the Senate floor announcing his support for Sen. Ted Cruz's (R-Texas) quest to defund Obamacare, with Cruz sitting at his elbow, that cemented the image of him as a politician with his finger to the wind. One veteran Republican operative with experience on multiple presidential campaigns said Rubio raised questions about his authenticity.
"He's really got to find his center," the Republican operative said. "That's not to say he's wishy-washy on issues. He knows where he is. But clearly Christie has a core, and Rubio has to find that core and stick with it. People feel like after the immigration fight, he allowed himself to get a little whipsawed with Cruz and [Sen. Mike] Lee. (R-Utah). I don't know that he came out of that stronger, even with the right."
Having lost the grassroots and the establishment, Rubio is now "a guy without a base," Weaver said. A Rubio adviser did not respond to a request for comment.
Christie, by contrast, is generally admired for his blunt, plain-spoken style. He is as likely to tell tea party backers to jump off a bridge as Rubio has been to seek their approval. If Christie runs into trouble at some point, it may be for the opposite reason that Rubio did: He cares too little what the GOP conservative base thinks.
There are risks for Christie, meanwhile, in New Jersey, as a Democratic-controlled legislature that was sometimes cooperative in his first term will make life more difficult for him in his second.
"The Trenton Democratic machinery is going to kick into gear," said the Republican operative. "They're going to throw tacks in his way to try to blow out his tires. I think his bigger risk is overexposure early."
Yet there are some significant structural reasons that Christie is likely to prove a more durable political commodity than Rubio.
Christie has "a more stabilized and established base of supporters and donors, a better platform to shape his narrative as an East Coast governor, compared to a Florida senator, and experience," said Matt David, a GOP operative who has worked for former California Gov. Arnold Schwarzenegger as well as Huntsman. Christie "and his team are seasoned," David continued. "They know when to capitalize on opportunities and when to lay low. Maintaining the front runner status is a delicate balance of the two."
Christie, 51, also has the advantage of chairing the Republican Governors Association for the next year, giving him control of a roughly $150 million budget to spend on governor's races in the 2014 midterms, as well as a platform that will bring him to key presidential year swing states, put him in front of big-money donors, and on TV as a national voice.
Rubio, meanwhile, is still looking for a niche. His latest attempt is to forge a role as voice on foreign policy. He gave a speech at the American Enterprise Institute and granted an interview to The Daily Beast's foreign policy reporter, Josh Rogin.
But Rubio's options are limited. His place in the Senate may drive him in the direction of policy entrepreneurship. This is a potential contrast with someone like Christie, whose popularity is based on force of personality that allowed him to overwhelmingly win reelection in a Democratic-majority, liberal state. There are other Republican governors, however, such as Scott Walker in Wisconsin and Bobby Jindal in Louisiana, who can answer Rubio's paper proposals by pointing to what they've actually done in their states.
Regardless of whether Rubio decides to try to break out as a policy innovator, he will need to demonstrate a greater appetite for risk and a stronger inner compass.
As for Christie, the veteran GOP operative predicted he will hold the frontrunner title "and lose it and hold it again."
Based on the way that political fortunes rise and fall in the age of hyperventilating media coverage, at a time when the Republican Party is in the midst of a civil war, that may be a safe bet.
CORRECTION: This article has been edited to show that GOP operative Matt David was referring to Christie, not Rubio, when he said that Christie "and his team are seasoned ..."

Before You Go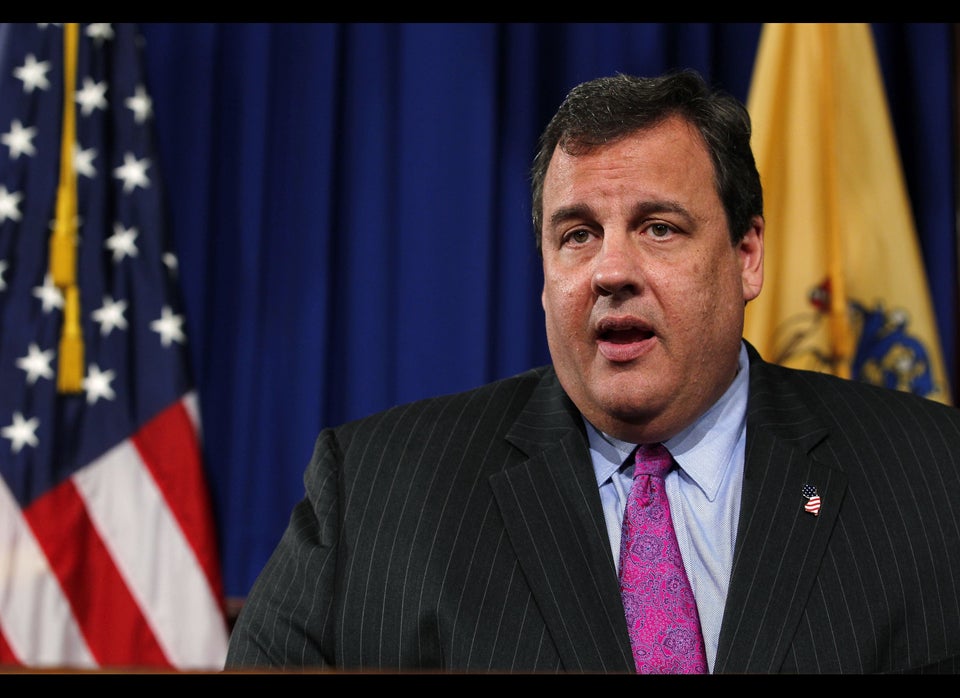 Chris Christie's Greatest Hits
Popular in the Community