WASHINGTON -- New Jersey Gov. Chris Christie (R) appears likely to veto a package of election reforms aimed at improving the state's sparse voter turnout that was passed out of the Democrat-controlled legislature.
The Democracy Act was passed out of the state Senate on June 29 and sent to Christie's desk. The bill would introduce online voter registration, establish in-person early voting, require that election materials be available in more languages, allow pre-registration for 17-year-olds and enact automatic voter registration when voters apply for driver's licenses. It would also require the governor to appoint temporary U.S. senators from the same party as outgoing senators and prevent the governor from scheduling special elections on a different date from the November election, as Christie did for U.S. Sen. Cory Booker's (D) special election.
Christie has already expressed his opposition to the automatic registration provision. The measure would echo the first-in-the-nation automatic registration bill Oregon passed earlier this year. While Oregon recorded one of the nation's highest voter turnout rates in November, New Jersey had one of the lowest. (New Jersey also ranks 39th among states in the percentage of its eligible voters who are registered.)
To boost their own registration rates, Democrats in a number of state legislatures have introduced bills this year to follow Oregon's lead, but Christie isn't buying the idea.
"I don't think that people ought to be automatically registered to vote," he said on his monthly radio program in June, explaining why he opposes the measure. "Is it really too much to ask someone to fill out a form?"
The governor suggested that the bill would increase voter fraud, and that it's an attempt by Democrats to increase turnout among their supporters. He also argued that low turnout wasn't necessarily the result of obstacles to ballot access. Maybe, he said, "there's nothing on the ballot they want to vote for."
"There's no question in my mind that there are some advocates of this who are looking to increase the opportunity for voter fraud," he added on the show. "I think there's much more politics behind this than there is democracy."
A Christie spokeswoman did not respond to a request for comment from The Huffington Post as to whether or when he would veto the bill. He vetoed a different early voting proposal in 2013.
Automatic registration has increasingly become a cause for civil rights advocates and institutions like the Brennan Center for Justice, which believes that having the state add people to the rolls helps reduce registration errors -- and thus disenfranchisement.
"Voting modernization like the kind New Jersey has the chance to enact is increasingly a bipartisan issue, with champions on both sides of the aisle," Jennifer L. Clark, counsel for the center's Democracy Program, said in a statement. "With this national momentum in favor of reform, and with a major national election on the horizon, now is a great time for political leaders to put politics aside and stand up for the right to vote instead of standing in the way of proven reforms."
Democrats in the U.S. House of Representatives have introduced automatic registration legislation, and Democratic presidential candidate Hillary Clinton recently came out in favor of the policy.
Democratic state Sen. Loretta Weinberg, who was one of the New Jersey bill's sponsors, said she's "very confident" her party would try to put aspects of the package on the ballot as a proposed constitutional amendment in 2016 if Christie vetoes the legislation, according to New Jersey Advance Media.
If Democrats do put the issue on the ballot, activists from groups like the New Jersey Working Families are standing by to support the ballot initiative. The NJWF had pushed for the legislation alongside a number of other progressive groups.
"If he were to ignore this comprehensive package, then we're preparing to call the question and let voters decide," NJWF Director Analilia Mejia told HuffPost. "If Chris Christie isn't going to act, then we're prepared to allow voters to make this decision."
Mejia said she is optimistic people in New Jersey would approve the election reforms, as they did for a constitutional amendment to raise the state's minimum wage in 2013.
"If [Christie] chooses to be obstinate and continue to ignore the writing on the wall, we see a path to bring the question to voters, similar to what was done in raising the wage, and we believe we can win," she said. "We would follow the same model that was done to raise the wage ... these ideas all make sense to regular people."
Before You Go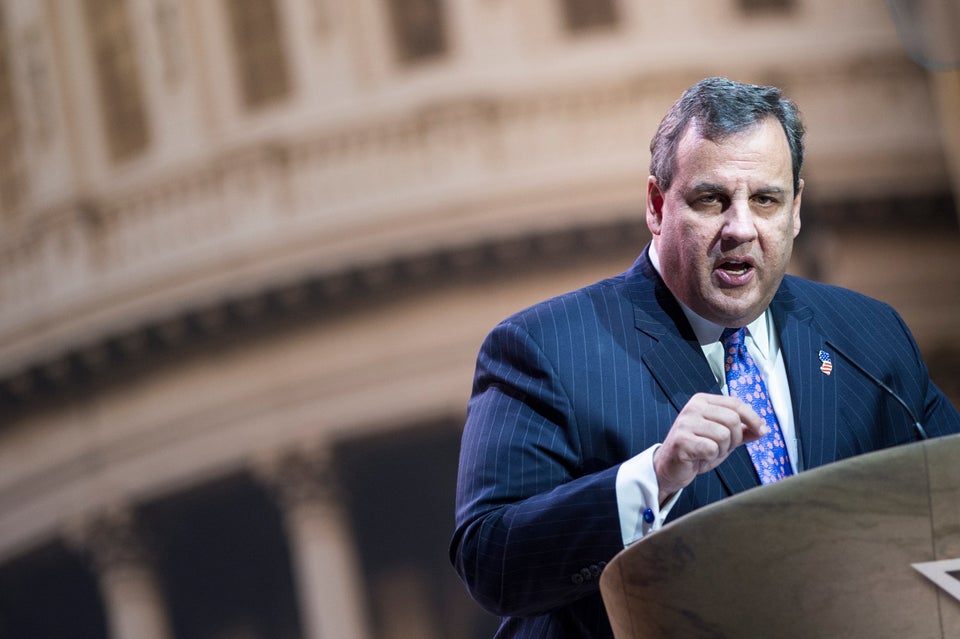 Chris Christie
Popular in the Community