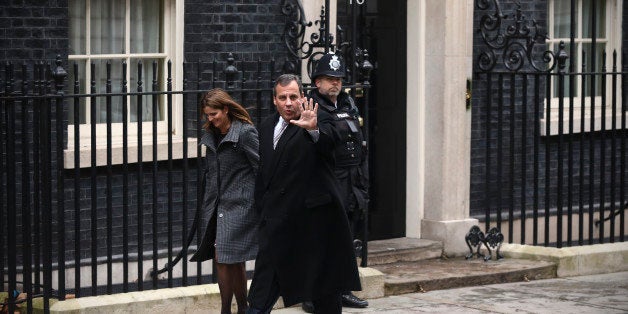 NEW YORK -- One of the easiest ways to get bad press is to ignore the press. That's especially true on a foreign trip where news organizations have spent thousands of dollars to send reporters thousands of miles away in search of something newsworthy.
New Jersey Gov. Chris Christie (R) made news this week in the United Kingdom, though not the kind a presidential hopeful wants to make on a trip meant to enhance his foreign policy bona fides. Christie came under fire Monday for suggesting parents need to have a "choice" in the matter of vaccinating children. That night, The New York Times dropped a bombshell story about Christie accepting lavish gifts from wealthy individuals, including some with business ties to New Jersey.
The Christie-press relationship quickly grew cold by Tuesday, with the governor canceling three media appearances. The decision to abruptly stop engaging with the press raises questions about whether Christie, known for his confrontational style with the statehouse press corps, is prepared for a national media spotlight in which every utterance and possible gaffe will be scrutinized.
About half a dozen U.S. political reporters made up the Christie traveling press corps, and like on a campaign, the governor's staff arranged accommodations for the press, which happened to be in the same hotel as Christie. While the trip began Sunday with fairly innocuous reports about Christie attending a soccer game, a running theme by the end of the trip was Christie's unwillingness to answer reporters' questions.
The Washington Post's Phil Rucker wrote Tuesday afternoon that Christie did not make a formal speech or otherwise offer a substantive foreign policy message during his trip to London, and that he didn't answer several foreign affairs questions posed to him.
Asked about Prime Minister David Cameron's austerity measures, Christie talked instead about his own spending cuts in New Jersey. Pressed on the role NATO should play in the world, he told MSNBC, "I'm not going to get into that now."

And when The Washington Post asked whether he had discussed the Islamic State terrorist threat in his private meetings with Cameron and his cabinet members, Christie snapped. "No questions," he said. "Is there something you don't understand about 'no questions'?"
The Star-Ledger's Matt Arco wrote Tuesday that "the trade mission that began inside a London stadium with thousands of enthusiastic fans cheering the home soccer team to victory on Sunday ended here today with an icy exchange with reporters."
The Wall Street Journal's Heather Haddon, too, noted Tuesday that Christie had gone "mum by the end, canceling planned briefings with the news media."
"What the trip exposed, if anything, were the risks, in an age of media-saturated politics," wrote the Times' Michael Barbaro on Wednesday morning, "of traveling abroad without a real message in mind, allowing distractions (like an errant remark about parental choice and the measles vaccine) to dominate coverage of the journey."
And MSNBC's Kasie Hunt, speaking on-air from London Wednesday morning, said the trip "got sort of off the rails and into a place where they didn't necessarily want it to go."
A Christie spokeswoman did not immediately comment on the canceling of media availabilities and coverage of the trip.
Christie's swing though the U.K. was somewhat reminiscent of Mitt Romney's July 2012 trip abroad. Romney stumbled in London by questioning the city's readiness for the 2012 Olympics, and drew criticism for remarks in Jerusalem that some took as a slight against Palestinian culture. Press scrutiny grew intense, and tensions escalated as reporters didn't get access to the candidate. The situation exploded by the third stop, in Warsaw, Poland. A Romney campaign aide told reporters to kiss his ass as they shouted questions outside of a Polish holy site.
Stuart Stevens, a top Romney 2012 adviser, tweeted Monday that he expected the coverage of Christie's trip would focus on domestic politics. "Odds strong that if political instead of foreign policy reporters go abroad with politicians, coverage will be focused on US politics," Stevens wrote.
Both the Post's Rucker and the Times' Barbaro responded to Stevens on Twitter, arguing that in fact, the questions Christie faced on Monday were about U.K. fiscal austerity measures, trade issues and measles policy.