Highlighting a growing split in the Republican Party over national security policy, New Jersey Gov. Chris Christie (R) on Thursday harshly criticized libertarians -- including Sen. Rand Paul (R-Ky.) -- by invoking the Sept. 11, 2001, attacks.
Speaking at the Aspen Institute in Colorado, Christie called libertarianism a "very dangerous thought" and said there had been little difference between President George W. Bush and President Barack Obama on national security. Christie spoke of "esoteric debates" over foreign policy, when the moderator interjected Paul's name.
"You can name any number of people who have engaged in [those debates], and he's one of them ...," said Christie. "I want them to come to New Jersey and sit across from the widows and orphans and have that conversation. And they won't, 'cause that's a much tougher conversation to have."
Christie warned, "The next attack that comes that kills thousands of Americans as a result, people are going to be looking back on the people having this intellectual debate."
The criticism could presage the 2016 Republican presidential primary debate, as Christie and Paul are both mentioned as possible contenders. Paul's 13-hour filibuster over Obama's drone policy and civil liberties record struck a chord with many Republicans, posing a challenge to the GOP's strong support for the national security state. The Kentucky senator also has criticized the National Security Agency's surveillance programs.
Another Republican, Rep. Peter King (N.Y.), said recently that he was thinking of running for president to counter Paul and Sen. Ted Cruz (R-Texas), who also spoke during Paul's filibuster.
Though a Paul spokeswoman did not immediately respond for comment, the senator tweeted, "Christie worries about the dangers of freedom. I worry about the danger of losing that freedom. Spying without warrants is unconstitutional."
Paul adviser Doug Stafford invoked Bruce Springsteen to fire back at Christie. "In the words of the governor's favorite lyricist, 'You know that flag flying over the courthouse, Means certain things are set in stone. Who we are, what we'll do and what we won't,'" Stafford said to The New York Times.
Support HuffPost
The Stakes Have Never Been Higher
Before You Go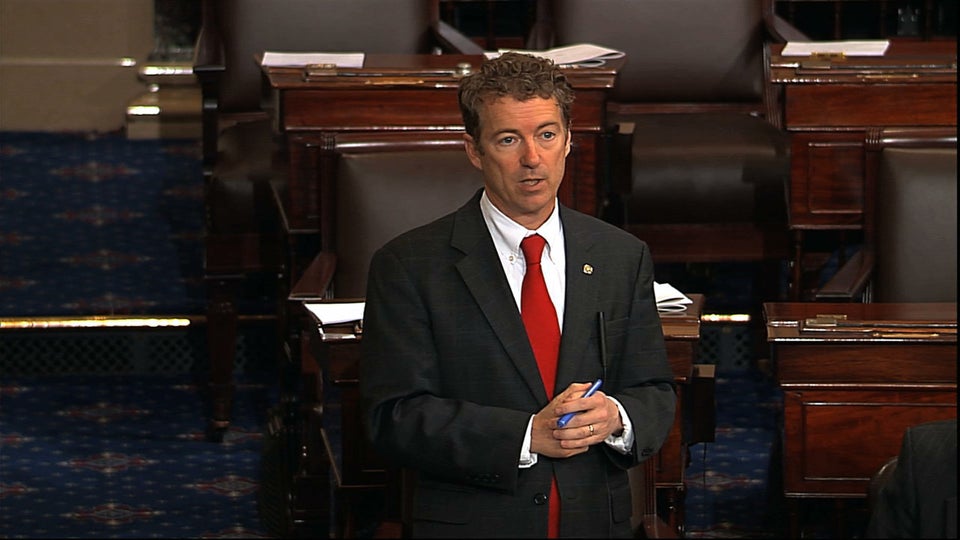 Rand Paul's Epic Filibuster
Popular in the Community