New Jersey Gov. Chris Christie (R) got into a verbal confrontation with a local television news reporter Monday during questions about the governor's foreclosure policy during a press conference.
Christie, speaking in Long Branch, got into the confrontation when Jim Hoffer, an investigative reporter with WABC-TV in New York, asked questions following-up a Christie answer on foreclosure, according to video captured by PolitickerNJ.com. Hoffer had been suggesting that Christie's facts were not in order, which Christie disputed.
When Hoffer persisted, Christie tore into the reporter, who is not part of the Trenton press corps that regularly covers the Garden State leader. Hoffer and Christie both tried to talk over each other at one point.
"Don't show up once in every blue moon and think you're going to dominate my press conference," Christie said on the PolitickerNJ.com video. "Get your facts correct and ask. Thank you very much."
The exchange with Hoffer is the latest in a string of confrontations between media members and Christie since he took office in 2010. In May 2010, he was captured on video telling a Star-Ledger columnist that he had a "thin-skin" during a Statehouse press conference.
In July, Christie told Chris Harris, a reporter for the Record of Hackensack that he was "stupid" and an "idiot" for asking questions about the state budget crisis during a press conference about a water treatment plant in Monmouth County. The Harris exchange came days before Christie's confrontation with a heckler on a Jersey Shore boardwalk.
Monday's sparring with Hoffer comes days after U.S. Sen. Frank Lautenberg (D-N.J.) and other state Democrats attacked Christie for traveling out of state to engage in Republican activities, including a fundraiser last week for Rep. Steve King (R-Iowa), who the Democrats described as an "extremist" and a "radical right-wing zealot," and his August keynote speech at the Republican National Convention. The Democrats suggested that Christie was using the national trips to launch a 2016 presidential campaign.
On Saturday, Lt. Gov. Kim Guadagno (R) and Senate Minority Leader Tom Kean Jr. (R-Westfield) defended Christie's out-of-state travel to The Huffington Post, saying it attracted jobs to the state. Kean suggested that legislative Democrats convene for the first time since June and dismissed the criticism as "absurd."
Before You Go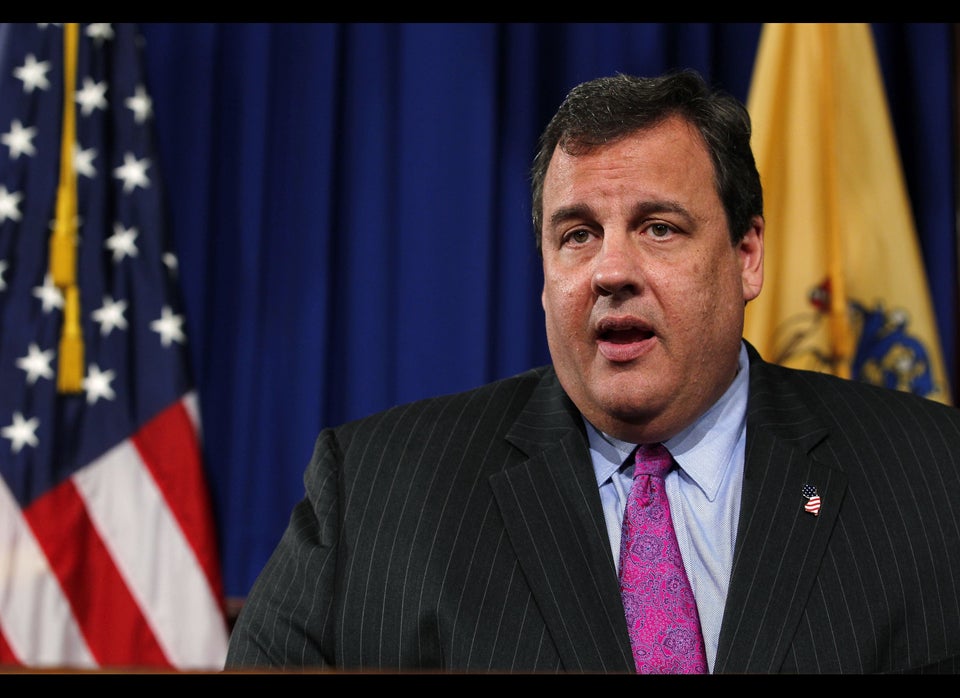 Chris Christie's Greatest Hits
Popular in the Community