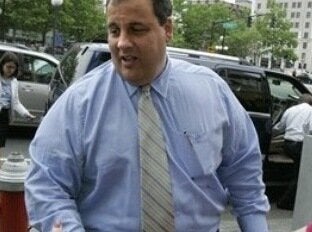 UPDATE, 11:12 p.m.: Having been exposed for their copyright theft and facing a possible lawsuit from Monty Python, the Christie campaign moved into damage control mode at high speed on Sunday night to try and limit the political fallout from their illicit action. Within an hour of the story appearing, the Christie commercial using pirated footage of a Monty Python skit was scrubbed from the campaign's website and their separate campaign site on YouTube. The only evidence left was the tell-tale wording on the clip's YouTube page "This video has been removed by the user"
Monty Python captured the video before it was removed. The Christie campaign should now be expecting the Spanish Inquisition...
Chris Christie, the Republican candidate for Governor of New Jersey in Tuesday's knife-edge gubernatorial election, has been called out as a copyright thief. The 47-year-old lawyer, who was controversially appointed by George W. Bush as a U.S. Attorney in 2001 on Karl Rove's recommendation after being a top Bush fund-raiser in the 2000 election, has created an election commercial that steals copyright-protected material from British comedy troupe Monty Python -- without permission or credit.
But neither Christie -- a lawyer for 22 years -- nor anyone in his campaign bothered to seek any permission for using the copyrighted material in his election spot.
Alerted to the theft of their copyright, members of Monty Python are most unhappy. Michael Palin, who appears in the clip pirated for the advert, is especially displeased that his likeness is being used by the Republican candidate without permission.
"I'm surprised that a former U.S. Attorney isn't aware of his copyright infringement when he uses our material without permission. He's clearly made a terrible mistake. It was the endorsement of Sarah Palin he was after -- not that of Michael Palin."
Monty Python's Terry Jones says that the troupe is strongly considering suing the Republican for his copyright infringement:
"It is totally outrageous that a former US Attorney knows so little about the law that he thinks he can rip off people. On the other hand -- another of Bush's legal appointees was Alberto Gonzales and he didn't seem to know much about the law either...," Jones said.
There is a long history of Republican politicians stealing content by entertainers for their political advertisements and rallies. Three months ago, Jackson Browne won a financial settlement and apology from Senator John McCain for the politician's unauthorized use of his song "Running On Empty" in the 2008 election. Other musicians who have successfully protested the theft of their music by Republicans include Jon Bon Jovi, Don Henley, John Mellencamp and rock bands Foo Fighters and Heart.
Christie is no stranger to the world of crime. As the New York Times reported on September 23rd this year, Christie has family ties to the notorious Genovese crime family. As a child, he mingled at family parties with Tino "The Greek" Fiumara -- the brother of his aunt's husband -- described by the Times as "a fearsome and ranking member of the Genovese crime family: twice convicted of racketeering, sentenced to 25 years in federal prison, and linked by investigators to several grisly murders, including one in which a victim was strangled with piano wire."
(A United States Senate sub-committee investigating organized crime in the early 1980s attributed three murders to Fiumara, including the 1967 slayings of two brothers of one of his co-defendants in the 1980 trial. In 1983, Lt. Col. Justin Dintino of the New Jersey State Police called Fiumara "a callous killer who has resorted to violence with little provocation," and said Fiumara had ordered the murder of the godfather of one of his own children.)
Asked what he had learned from his family connection to Tino "The Greek" Fiumara, Christie says: "It just told me that you make bad decisions in life and you wind up paying a price. Really, for most of my life, he spent his life in prison. That teaches you a lot."
Asked in 2007 about the presence of organized crime in his home state -- such as the Genovese mob in which one of his family members is so prominent -- Christie said: "the Mafia is much more prominent on HBO than in New Jersey."
With Monty Python about to sue Christie for his copyright theft, he may have more in common to discuss with Tino "The Greek" Fiumara at his family Thanksgiving this year.
Popular in the Community