 New Jersey Gov. Chris Christie (R) continued his praise of President Barack Obama's work responding to Hurricane Sandy, using a press briefing Monday evening to note that he appreciated the "leadership" Obama was showing in the emergency.
Christie, a prominent surrogate for Republican presidential nominee Mitt Romney, said that he and Obama had a private phone conversation on Monday to discuss how the federal government could help New Jersey. He said that Obama told Christie that he could call him directly over the next 48 hours if the state government had issues with federal response to the hurricane in New Jersey.
"I appreciate that type of leadership," Christie said of Obama.
The Republican governor said most of the call centered on Obama's concern for New Jersey and then he continued to heap praise on the president, saying Obama's work has been "proactive." Christie shortened a campaign trip for Romney to return to New Jersey to handle the storm response.
Christie started his praise of Obama during press briefings on Sunday, when he said "appreciated" Obama's outreach to him and the governors of other states being impacted by Hurricane Sandy.
During a press briefing on Monday afternoon, Christie described another call he had with Obama and said that the president and his aides have been working to benefit New Jersey.
"We appreciate the president's efforts in that regard," Christie said earlier Monday. "He and his staff worked tremendously hard."
Christie's remarks come as part of a wave of bipartisan work being done in response to the hurricane. In New York, Rep. Nan Hayworth (R) endorsed Gov. Andrew Cuomo's (D) request for a similar pre-disaster emergency declaration from Obama, Capitol Tonight reported. Obama issued the order for New York state on Sunday.
In an Oct. 26 letter, which was first reported Monday, Hayworth wrote to Obama that state and local governments in her Hudson Valley district would not be able to respond to Hurricane Sandy without federal assistance. The Hayworth letter comes as the one-term Republican congresswoman has been saying she was misquoted by a Westchester County newspaper last year when she said that federal aid for Hurricane Irene should be matched with cuts to other federal programs. Hayworth is locked in a competitive battle with Democrat Sean Patrick Maloney in her bid for a second term.
During his Monday evening briefing, Christie also slammed Atlantic City Mayor Lorenzo Langford (D) for Langford's decision to request Atlantic City residents take shelter in the barrier island city instead of heeding Christie's calls to leave the island. Christie called Langford a "rogue mayor" and said that the state could not rescue Atlantic City residents until Tuesday, due to the storm.
"I wish he would do his job or get the hell out of the way," Christie said of Langford.
Before You Go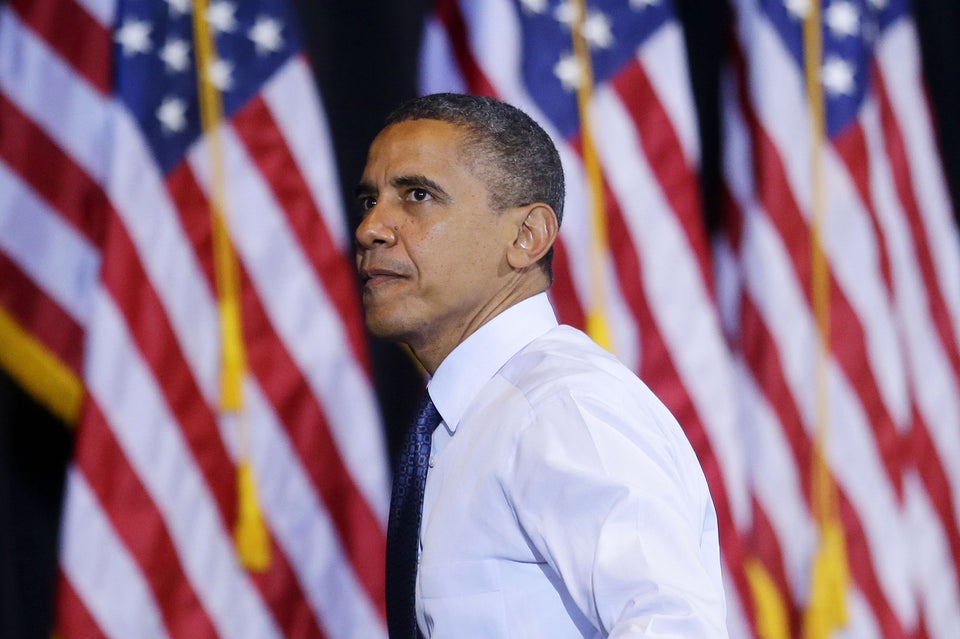 Politicians React To Sandy
Popular in the Community