New Jersey Gov. Chris Christie (R) used his State of the State Address Tuesday to repeat calls for federal Hurricane Sandy relief, noting that his state has helped other states and now expects the same in return.
Christie dedicated most of his speech to discussing the storm that ravaged New Jersey in late October, highlighting heroes who helped with recovery efforts and what his administration has done to rebuild the state. Several minutes were dedicated to continuing his call for federal disaster funds, which were delayed last week by House Speaker John Boehner (R-Ohio), sparking outrage from Christie and a bipartisan group of New Jersey and New York's congressional delegation.
He noted in his speech that Garden State residents have waited longer than Louisiana residents waited in the wake of Hurricane Katrina in 2005. New Jersey residents will continue to speak out if the federal government does not help, said Christie.
"We now look forward to what we hope will be quick congressional action on a full, clean Sandy aid bill –- now, next week -- and to enactment by the president," Christie said. "We have waited 72 days, seven times longer than victims of Hurricane Katrina waited. One thing I hope everyone now clearly understands -- New Jersey, both Republicans and Democrats, will never stand silent when our citizens are being shortchanged."
Christie continued by noting that New Jersey residents have contributed to disaster relief efforts in other states and New Jersey's congressional delegation has voted for federal aid for other areas in need. Congress passed the first part of the $60 billion Sandy relief package -- $9 billion for federal flood insurance spending -- last week and is scheduled to vote on the remainder of the package next week when Congress reconvenes. The Senate passed the original plan last week, but Boehner's decision not to hold a House vote before the 112th Congress adjourned Thursday, delayed voting until Friday and Jan. 15.
"The people of New Jersey are in need, not from their own actions but from an act of God that delivered a natural, human, and financial disaster -- and we are thankful to the people of America for honoring the tradition of providing relief," he said. "We have stood with the citizens of Florida, Alabama, Mississippi, Louisiana, Iowa, Vermont, California and Missouri in their times of need -- now I trust that they will stand with us."
Christie's calls were met with sustained applause from the Democratic-controlled state Legislature. He cited various New Jersey residents' responses to Sandy as evidence that the hurricane is not a partisan issue.
"You see, some things are above politics," Christie said. "Sandy was and is one of those things."
This is Christie's third State of the State address. He is preparing to seek reelection in November. State Sen. Barbara Buono (D-Metuchen), the only announced Democratic challenger to Christie, was in the audience, along with state Senate President Steve Sweeney (D-West Deptford) and state Sen. Richard Codey (D-Roseland), both of whom are considering gubernatorial campaigns.
Christie touted what he described as bipartisanship between his administration and Democratic legislative leaders. He has been known for his close working relationship with Sweeney and state Assembly Speaker Sheila Oliver (D-East Orange) on a series of issues since taking office in 2010.
"Maybe the folks in Washington, in both parties, could learn something from our record here," Christie said.
Before You Go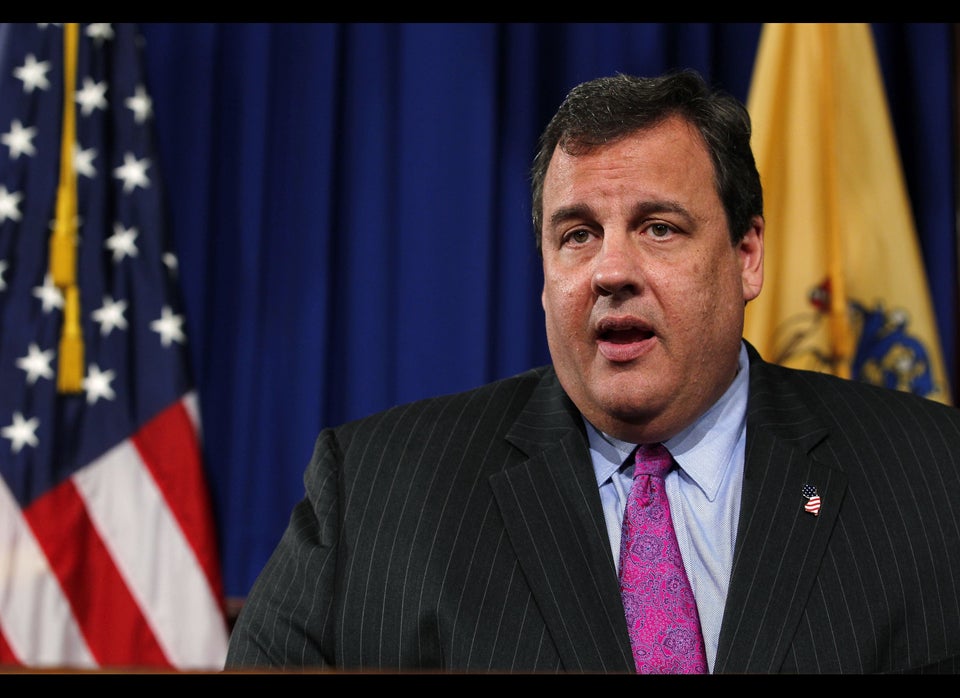 Chris Christie's Greatest Hits
Popular in the Community