 U.S. Sen. Frank Lautenberg (D-N.J.) and New Jersey Democratic State Chairman John Wisniewski held a conference call with reporters Wednesday afternoon to call on Christie to cancel his trip to the Iowa fundraiser where he is scheduled to give the keynote address. Lautenberg and Wisniewski cited King's conservative viewpoints on a series of issues including abortion, rape and spending as reasons to call on Christie to stay in New Jersey.
"New Jersey's economy is worsening as the governor travels the country pushing his personal agenda," Lautenberg said. "He is hosting a fundraiser for a right-wing extremist that is out of step with New Jersey. He is out of step with Iowa. Frankly, I can't believe that Republicans in New Jersey would not agree that Steve King represents the worst in American politics."
King is facing a tough challenge in November from former Iowa first lady Christie Vilsack (D).
Assembly Majority Leader Louis Greenwald (D-Voorhees) joined the two in their criticism of Christie and King, who released a statement earlier on Wednesday. The three hinted that the real reason behind Christie's trip is to lay the groundwork for his 2016 presidential run.
"Governor Christie's first priority is not New Jersey, his first priority is his national ambitions," Lautenberg said on the call. "We saw it in the RNC keynote speech when it took Chris Christie 17 minutes to mention Mitt Romney's name."
Greenwald specifically noted that the fundraiser will take Christie to western Iowa, home to the first vote in the 2016 election.
"From questioning President Obama's birth certificate to vigorously defending Todd Akin, Steve King's record of outrageous, extremist views is well-established. He is an embarrassment to our country," Greenwald said in the statement. "The fact that Chris Christie is standing shoulder to shoulder with a radical right-wing zealot like Steve King shows that Christie has his eye more on Iowa's 2016 caucuses than on responsible leadership and governing."
Christie's spokesman did not immediately return an email seeking comment.
He said that Christie and Romney should not be describing those who do not pay taxes as dependent on government. "That kind of disdain from someone from wants to be president of the United States is breath taking," Wisniewski said.
UPDATE: 6:10 p.m. -- American Bridge 21st Century, a Democratic super PAC based in Washington, joined the criticism of Christie's decision to appear at King's fundraiser. The group released a video Wednesday afternoon with footage of Christie saying he "is tired of dealing with the crazies," and several speeches by King. The King clips include the Iowa Republican calling for an electrified border fence since that is used for "livestock," and racially motivated statements about those who voted for Obama.
The American Bridge video ends with the suggestion that Christie is attending King's event to lay the groundwork for a 2016 presidential campaign.
Before You Go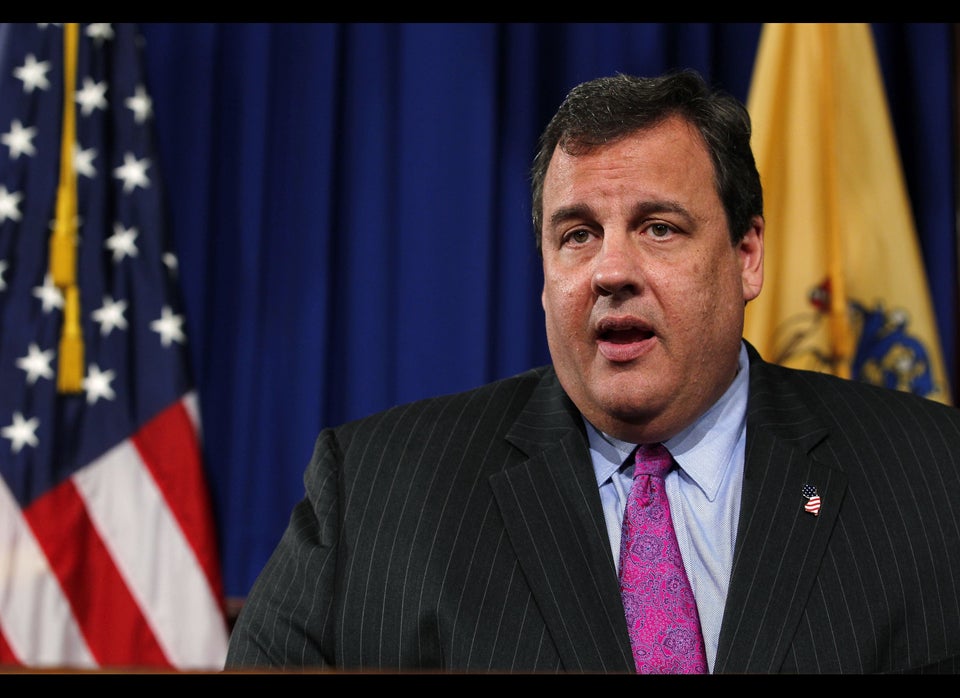 Chris Christie's Greatest Hits
Popular in the Community