WASHINGTON -- New Jersey Gov. Chris Christie's (R) deputy chief of staff was directly involved in a mean-spirited effort to create "traffic problems" for a mayor who declined to endorse the governor's reelection bid, according to newly released emails.
"Time for some traffic problems in Fort Lee," Deputy Chief of Staff Bridget Anne Kelly wrote in an email on Aug. 13.
"Got it," replied David Wildstein, who was then one of Christie's top aides at the Port Authority, which is run jointly by New York and New Jersey.
A month later Wildstein did indeed create the traffic problems that Christie's office requested. He closed down two of Fort Lee's access lanes leading to the George Washington Bridge, the busiest bridge in the country. The closures came on Sept. 9, the first day of school in Fort Lee, leading to massive traffic jams as bridge traffic backed up into local streets. As a result, police and emergency vehicles were delayed in responding to reports of a missing child and a cardiac arrest.
The closures came just weeks after Fort Lee's mayor, Democrat Mark Sokolich, had appeared to decline to endorse Christie's reelection bid. Sokolich told The Huffington Post in an interview Wednesday morning that he never explicitly told Christie's team that he wouldn't endorse the governor.
"There were overtures that were made to the effect like, 'Is this something you would consider?' And I don't ever recall getting back and saying no," he said. "I think that was a conclusion that they, in the infinite wisdom of the folks in Trenton, must have reached the conclusion that I wasn't going to. But I never specifically said no."
On Sept. 12, Sokolich floated the possibility that Wildstein's actions were "punitive," although he later backed off that accusation. Since then, he has remained relatively silent as the controversy swirled around Christie, saying he didn't believe there was any benefit to his community in his speaking up.
But when reached on Wednesday, he was furious about the new revelations.
"My reaction wavers everywhere from comical to criminal," said Sokolich. "It is absolutely the most disheartening example of petty politics ... to create a manmade set of circumstances that put all of us in harm's way."
"Since it would appear through these emails there was a level of intentionality, we demand an apology. We demand that somebody reach out to the folks that waited for ambulances, experiencing three to four longer response times than usual. They need to apologize to the thousands of families that couldn't get their kids to school on time on the first day of school," he added. "Somebody's got to cut Fort Lee back a reimbursement check for our overtime and all the other expenses that we incurred during those four days, because you have no idea what the mobilization effort around here is when something like that happens."
For weeks, Christie has been denying any involvement in the lane closures and refuting the idea that political retribution was at play. He has stood by his aides' explanations that the lanes were closed as part of a traffic study, even though Port Authority Executive Director Patrick Foye, who was appointed by New York Gov. Andrew Cuomo (D), said he was never made aware of the study's existence.
But the new emails, provided by Wildstein in response to a subpoena from state lawmakers, bring Christie and his inner circle closer to the scandal.
The emails point to clear political motives for the closures, and the officials seem almost giddy at the problems they create.
At one point, Wildstein received a text message from an unknown sender -- the emails are partially redacted -- saying, "Is it wrong that I'm smiling."
"No," replied Wildstein. When the other person added, "I feel badly about the kids. I guess," Wildstein reminded them that their parents are probably Democrats anyway.
"They are the children of Buono voters," said Wildstein, referring to Democrat Barbara Buono, who unsuccessfully challenged Christie in the Nov. 5 gubernatorial election.
"This is a guy who runs a paramilitary operation," Buono said of Christie. "His people don't sneeze without checking with him first. But I think what really was the most damning [revelation] was the cavalier attitude that these folks had about subjecting children and the public to public safety hazards. These are terrible people, and the ringleader is Chris Christie."
Wildstein also predicted political problems for Sokolich over the issue, writing in a Sept. 18 email, "It will be a tough November for this little Serbian."
Sokolich said that for the record, he is Croatian.
"That slight is offensive to me, and it's offensive to me of everyone of Serbian background, I will tell you that," he said. "That to me, if I were Serbian, I would be absolutely, positively appalled by it."
The Port Authority's Foye was furious when he learned about the lane closures and ordered the lanes reopened on Sept. 13. Wildstein and Kelly were, in turn, furious at Foye for screwing with their plan.
"The New York side gave Fort Lee back all three lanes this morning," wrote Wildstein in an email to Kelly on Sept. 13. "We are appropriately going nuts. Samson helping us to retaliate."
"Yes, unreal," said Wildstein. "Fixing now."
Christie's spokesman did not return a request for comment from The Huffington Post.
Christie, who is considered a possible 2016 presidential contender, has dismissed the controversy over the bridge closures and blamed it on Democrats trying to score political points against him.
"National Democrats will make an issue about everything about me. So get used to the new world, everybody," he said in a Dec. 13 press conference. "You know, we're not in Kansas anymore, Dorothy. That's the way it goes, so it's fine."
Since news of the closures broke, Wildstein has resigned, as has his boss Bill Baroni, who was deputy executive director of the Port Authority and a top Christie aide. Christie, however, has maintained that Baroni's resignation was planned before news of the controversy broke.
Sokolich said Wednesday he didn't know if Christie was directly involved in the lane closures, but he lamented what the whole controversy had done to New Jersey's reputation.
"And by the way, congratulations. You've now set New Jersey back 20 years and guaranteed us to be the brunt of political misconduct jokes that we've been hearing about all these years," he said. "Just when we thought we were moving in the right direction."
Before You Go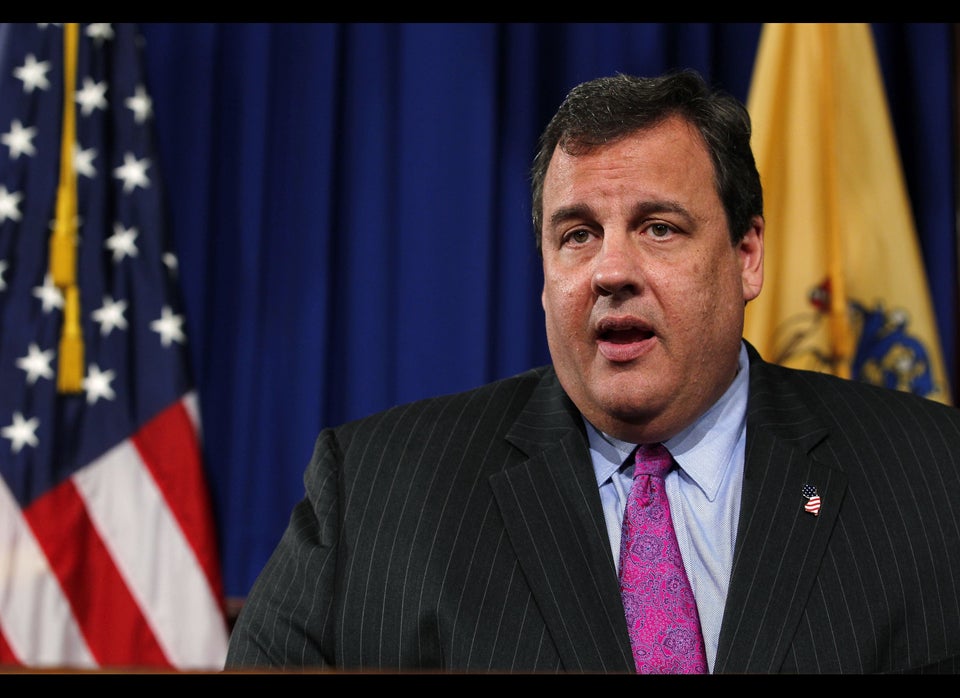 Chris Christie's Greatest Hits
Popular in the Community