 WESTFIELD, N.J. -- Days after Democrats criticized New Jersey Gov. Chris Christie's out-of-state travel to support Republican candidates, the state's Republican lieutenant governor and legislative leaders launched a full-throttle defense of the chief executive.
Lt. Gov. Kim Guadagno and the Republican leaders of the state Assembly and Senate said Christie's trips around the country and August keynote address to the Republican National Convention in Florida have boosted the state's image and economy. Earlier this week, U.S. Sen. Frank Lautenberg (D) and other Garden State Democrats called on Christie to cancel a trip this week to campaign on behalf of Rep. Steve King (R-Iowa), who they denounced as an "extremist" and "radical right wing zealot."
Guadagno rallied Union County Republicans on behalf of New Jersey's Republican ticket Saturday morning. "It makes it easier for all of us to attract business to New Jersey," she told The Huffington Post.
She pointed to a recent announcement by Allergan, the maker of Botox and breast implants, to open a new research facility in Bridgewater, as an example of the benefits of Christie's partisan travel. Christie met with Allergan executives during a September 2011 meeting in California prior to a partisan speech he delivered during the same trip at the Reagan Presidential Library.
"It was a direct result of this governor's out-of-state travel," Guadagno said of the Allergan announcement.
Launtenberg, joined by Democratic State Chairman John Wisniewski and Assembly Majority Leader Lou Greenwald (D-Voorhees), said earlier this week that Christie should focus on the state's economy, pointing to the New Jersey's 9.8-percent unemployment rate.
But New Jersey Senate Minority Leader Tom Kean Jr. (R-Westfield) defended Christie Saturday and laid the blame on state Democrats, including Wisniewski, who is an assemblyman from Middlesex County. "John Wisniewski and the Assembly, under Democratic leadership, has not met since June and they question the governor on his hard work," Kean said. "That's absurd."
Guadagno mentioned to the crowd that Christie returned to New Jersey Friday afternoon following the Thursday fundraiser for King in Iowa and a trip to Washington, D.C. She indicated that Christie planned to leave New Jersey for Utah Saturday afternoon.
Guadagno also told HuffPost that she has found Christie's rising national profile helpful in her role heading New Jersey's economic development efforts. She claimed that after taking office in 2010, it was tough to get her calls returned by business executives, but she gets faster responses now that Christie is a national figure. Guadagno doubles as the state's secretary of state, placing her in charge of the state's election administration, and cultural affairs and tourism, along with her economic development role.
Guadagno partially laid the blame for the state's unemployment problems with President Barack Obama and former Gov. Jon Corzine (D), saying that Christie has improved the state's business climate but needs help from Washington. She said that while unemployment is higher now than during Corzine's last year in office, the state has been creating more jobs and that people moving to New Jersey looking for work have contributed to the rising rate.
Echoing lines used by national Republicans, Guadagno said that there is "uncertainty" coming from the federal government and that is hurting business development in New Jersey and nationally. The "uncertainty" line was cited at the Republican National Convention and is frequently used by Rep. Leonard Lance (R-N.J.), one of the candidates Guadagno was rallying for, along with GOP presidential nominee Mitt Romney and Republican U.S. Senate nominee Joe Kyrillos.
"You don't know if there is money to keep the lights on in Washington, that's absurd," Guadagno said. "That is why it is hard to attract business to New Jersey."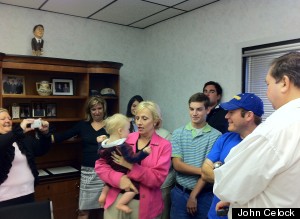 New Jersey Lt. Gov. Kim Guadagno (above) holds Finn Morin, the son of Union County Republican Chairman Phil Morin, during a Sept. 22, 2012 Republican event in Westfield, N.J.
Before You Go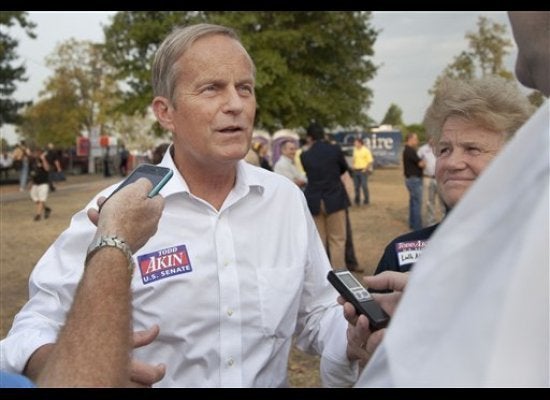 Extreme GOP Platform Positions
Popular in the Community