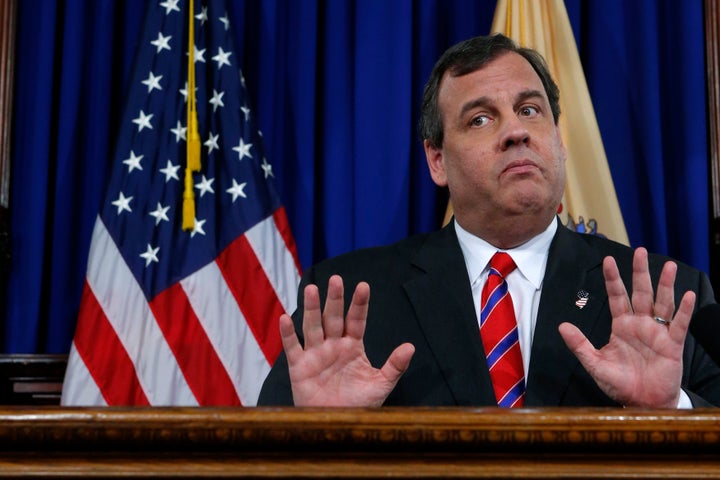 Republican presidential candidate and New Jersey Gov. Chris Christie vetoed a bill on Monday that would have strengthened mechanisms for removing guns from domestic violence abusers.
Under existing state law, individuals convicted of domestic violence or subject to a final restraining order are barred from possessing or buying guns. However, the law doesn't require that offenders actually surrender the firearms they own, which makes the ban challenging to enforce. The proposed legislation would have required those prohibited from owning guns to turn them over to law enforcement or sell them within a short period of time.
State Assemblywoman Gabriela M. Mosquera, a Democrat who sponsored the bill, told The Huffington Post she was at a loss for words about Christie's veto.
"The purpose of this bill is very clear, it just gives the courts the mechanism to ensure that those who are convicted of domestic violence, if they have firearms in the home, that those are taken away," she said. "This bill is about protecting the victims of domestic violence. It's common sense, and I'm very disappointed that the governor didn't see it the same way."
About three women are killed in domestic violence homicides in the U.S. every day. The presence of a gun in a domestic violence situation makes it five times more likely that a woman will be murdered by her abuser, experts say. Over half of all women killed by intimate partners between 2001 to 2012 were killed using a gun, according to the Center for American Progress.
Christie issued a conditional veto, returning the bill to the state legislature with his suggestions. The governor's proposed changes include increasing penalties for domestic violence offenders and simplifying the process of arming domestic violence victims.
"I urge the Legislature to join with me in a bipartisan manner to broaden this bill's approach to reducing domestic violence while simultaneously empowering victims to protect themselves through lawful means," Christie said in a statement. "Together, we can enact a more comprehensive approach and reduce the harm that domestic violence inflicts on victims, families, and our society."
Research contradicts Christie's suggestion that domestic violence victims need more guns: Having a gun in the home does not make a woman safer. As The Atlantic reported, "Not a single study to date has shown that the risk of any crime including burglary, robbery, home invasion, or spousal abuse against a female is decreased through gun ownership. Though there are examples of women using a gun to defend themselves, they are few and far between, and not statistically significant."
The National Coalition Against Domestic Violence condemned Christie's decision to veto the bill, stating that his idea to arm domestic violence survivors displayed a "total disregard or ignorance" about the dynamics of domestic violence.
"Many victims and survivors care for their abusers. They will not shoot their abusers, even in self-defense or fear, and they do not always want their abusers to go to jail - they just want the abuse to stop," Ruth Glenn, the group's executive director, wrote in a statement.
Former Rep. Gabby Giffords (D-Ariz.) was one of the bill's supporters, traveling to the New Jersey State House to personally lobby for it in March. "Dangerous people with guns are a threat to women. Criminals with guns, abusers with guns, stalkers with guns -- that makes gun violence a women's issue," Giffords said at the time.
Her gun control group, Americans for Responsible Solutions, chalked Christie's veto up to presidential politics. "Governor Christie's proposed changes to this law do nothing to help keep guns out of the hands of abusers," Peter Ambler, the group's strategy director, said in a statement.
Across the country, there's recently been a push to crack down on domestic violence offenders' access to guns. According to Everytown for Gun Safety, 13 states have enacted bills to help keep guns away from domestic abusers since 2014.
Currently, 15 states require individuals subject to final restraining orders to surrender their guns, and 10 states require individuals convicted of domestic violence misdemeanors to surrender them.
A survey of likely voters in New Jersey, commissioned by Everytown in May, found that 82 percent of respondents supported the proposed legislation.
This story has been updated to include a statement from The National Coalition Against Domestic Violence.
Melissa Jeltsen covers domestic violence and other issues related to women's health, safety and security. Tips? Feedback? Send an email or follow her on Twitter.
Support HuffPost
The Stakes Have Never Been Higher
Popular in the Community