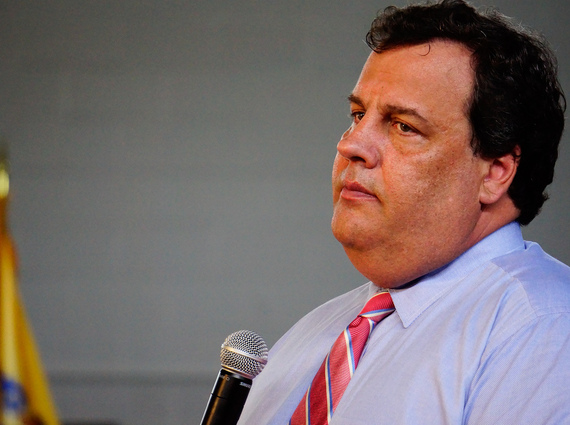 "Don't tell me what you value," Joe Biden is fond of saying. "Show me your budget, and I'll tell you what you value."
Christie's budgets show that he does not value women's health. But what, then, does he value?
$7 million for his Bridgegate legal bills
In Christie's world, taxpayers cannot afford $7.5 million for women's reproductive health care. But these same taxpayers are on the hook for the $7 million bill of his Bridgegate defense lawyers, who charge $350 an hour. According to the Wall Street Journal, the Christie administration has spent over $7.6 million in taxpayer funds "to defend itself and state employees caught up in the George Washington Bridge lane closure scandal." $7.6 million is $100,000 more than what it would take to reinstate funding for women's health care.
Ironically, Christie has simultaneously decimated legal services for the poor. Consider his most recent budget, which eliminated 25 percent of New Jersey's budget for civil legal assistance. These cuts were necessary, according to Christie, because of the "current fiscal reality". What a strange "fiscal reality": the most powerful receive unlimited legal representation at taxpayer expense. The most vulnerable are left to fend for themselves. It's nice to be Governor.
$12 million to boost his re-election margin
In 2013, Senator Lautenberg passed away. Republicans and Democrats alike urged Christie to schedule the special election for Lautenberg's replacement on the same date as the planned November 2013 election. The move would have maximized turnout and saved millions of dollars.
But doing so would have forced Christie to share a ballot with Senatorial candidate Corey Booker. Booker would attract a more diverse electorate to the polls, which could have diminished Christie's reelection margin. So Christie, in a Machiavellian and cynical maneuver, scheduled the special election a mere 20 days before the regularly scheduled one.
Christie won a huge reelection margin. But the people of New Jersey lost. As noted by political scientist Ben Dworkin, Christie confused and effectively "disenfranchised" voters with the unusual tactic. New Jersey taxpayers forked over $12 million for the special election. $12 million, of course, is $4.5 million more than the $7.5 million to restore women's health care funding.
Christie's responded to concerns over the election's cost in a typically cavalier and brusque way, declaring that "I don't know what the cost [of the special election] is, and frankly, I don't care." This is how Christie's curious logic operates. It's all well and good to use taxpayer funds to advance his political career, no matter what the cost. But using $4.5 million less in taxpayer funds to help poor women -- that's a bridge too far.
$800 million in tax cuts for millionaires
New Jersey is one of America's richest states. Yet it is also one of America's most unequal. New Jersey is home to prosperous Princeton and poor Paterson, of affluent Cape May and impoverished Camden.
As a New Jersey think tank recently found, the top one percent of New Jerseyans experienced "income growth of 175.8 percent from 1979 to 2011, and the rest of the state... [saw] income growth of 20.2 percent" over the same period. The Census found that the Garden State was one of only three states in which the poverty rate rose in 2013. Poverty in New Jersey, as well as the number of children living in "extreme poverty," have climbed to levels not seen since the 1960s.
Enter Chris Christie. In his first year as Governor, he vetoed a common sense proposal to extend the millionaire's tax, which would have raised $800 million. In every subsequent year, he has vetoed every bill that would bring back the progressive measure.
Over $4 billion in tax cuts to businesses and aid to real estate developers
Christie's economic strategy has centered on enticing corporations with tax cuts and incentives. To date, these tax breaks total around $4 billion. He's also given different types of aid to individual businesses. For example, Christie granted $200 million in financing to American Dream Meadowlands (formerly Xanadu), a troubled mall complex. He also gave Revel, a now bankrupt casino in Atlantic City, $261 million in tax credits.
You don't have to be a mathematician to know that something is funny when the Governor can find $4 billion (with a "b") for businesses, but can't find $7.5 million (with an "m") for women's health care. Christie's tax cuts simply dwarf the fiscal needs of family planning clinics and other programs that help working people.
Incidentally, Christie's economic approach has floundered. According to U.S. Commerce Department, New Jersey trails 47 states in economic growth. A recent study from Arizona State University's W.P. Carey School of Business ranked New Jersey dead last in America for job growth from March 2013 to March 2014.
The Christie administration argues that New Jersey simply cannot afford women's health. In the words of Christie's Deputy Press Secretary, "From the beginning when we had to veto the $7.5 million funding restoration, it was purely on fiscal grounds. We just don't have the money."
In reality, the vetoes and cuts have never been about not "[having] the money." They are about the Governor's priorities. Christie could have easily found $7.5 million for family planning clinics from an annual budget of $32.5 billion. He simply chose not to.
REAL LIFE. REAL NEWS. REAL VOICES.
Help us tell more of the stories that matter from voices that too often remain unheard.