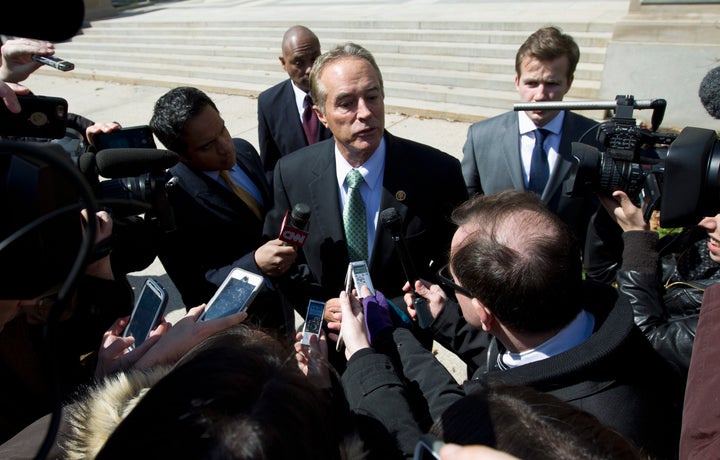 Rep. Chris Collins (R-N.Y.) won re-election on Tuesday, even though he is facing felony charges around insider trading. Voters in New York's 27th District, one of the most conservative in the state, decided they'd rather have an indicted Republican representing them than a Democrat.
Democrat Nate McMurray initially conceded the race to Collins, saying he came up short but that he still believed "we deserve better than a Congressman under indictment and out on bail." But around 1 a.m. Wednesday, he threw a wrench in Collins' victory by retracting his concession and demanding a recount.
"After examining the numbers, the margin is 1% and the will of the voters must be heard. We are demanding a recount," McMurray said. "Mr. Collins is going to need another set of lawyers."
Collins was one of Donald Trump's first supporters in the presidential campaign. In August, the FBI arrested the congressman in relation to his role with Innate Immunotherapeutics. He was a board member and one of the largest shareholders of the biotech firm. According to the indictment, Collins tipped off his family members about an unpublicized trial failure of a drug so they could sell their stocks.
When the company went public with the news, the stock prices plummeted.
Collins faces charges of securities fraud, wire fraud and making false statements.
The three-term congressman initially said he would fight the charges and run for re-election. He then reversed course and said he would suspend his campaign, allowing Republicans to try to replace him on the ballot with a less corrupt candidate.
But in mid-September, Collins' lawyer said the congressman would stay on the ballot because Collins' team did not see a path to removing him that would stand up to legal challenges.
Republicans in the district were incredibly frustrated, saying there was a clear path ― if Collins would cooperate.
Collins struggled to raise money after his indictment. In mid-October, his campaign reported that it raised money from just three people in the 27th District ― for a total of $80. He raised more money from political groups, though.
Despite his troubles, the 27th District is the reddest in New York. McMurray, a town supervisor in a neighboring district, didn't receive much attention from the party until Collins' indictment. He ran unopposed in the primary and had little name recognition.
But after Collins' indictment, polls showed McMurray with a fighting chance in what once seemed like a solidly safe Republican seat. He raised a significant amount of money and had national party leaders such as former Vice President Joe Biden and Democratic National Committee Chair Tom Perez campaign for him.
Collins didn't campaign heavily, but he did run a xenophobic ad against McMurray, whose wife is a naturalized citizen from South Korea. The ad showed McMurray speaking Korean, distorting what he was actually speaking about and implying that he was unpatriotic.
This piece has been updated with McMurray's call for a recount.
Popular in the Community