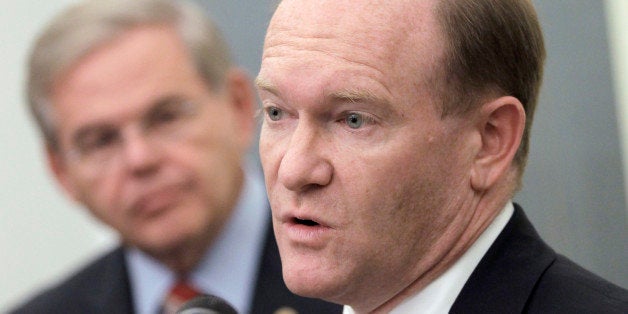 WASHINGTON -- The chairman of the Senate Foreign Relations Subcommittee on African Affairs is calling on the United States to ensure that all Americans who go to West Africa to help fight Ebola be guaranteed the right to return to their home country, attempting to push back on some of the calls from his colleagues for a ban on travel from the region.
Sen. Chris Coons (D-Del.) told The Huffington Post that it was important to ensure that Americans don't feel discouraged from going to West Africa to treat Ebola patients. Instead, they should receive proper medical attention in the United States, if required, and receive compensation for their lost time at work if they need to be quarantined.
"The only way we can truly keep Americans safe here at home ... is to continue to work hard to fight Ebola where it's broken out in the now four West African countries where it has taken off and where it has threatened tens of thousands," he said. "So only by getting more Americans and more international citizens to volunteer as doctors and nurses and health care workers in West Africa do we have any hope of bending the curve of infection and of containing Ebola in West Africa."
Coons' comments come as an increasing number of governors are implementing Ebola quarantine policies that go beyond what medical experts have called for. President Barack Obama has responded to some of the panic and overreaction by making a point to publicly embrace health care workers helping in the West Africa hot zone.
"We don't want to discourage our health care workers from going to the front lines and dealing with this in an effective way," Obama said Tuesday. "We have to make sure that we continue to provide the support of health workers who are going overseas to deal with the disease where it really has been raging."
When asked whether he believed some of the overreaction to Ebola by politicians was due to politics, Coons conceded it may be true.
"I would hate to think that election concerns are driving the decision of those who are charged with our public health, but I do think that if you look at the numbers, it's hard to explain these actions otherwise," he said.
The fear-mongering has had real effects for people around the country. Americans traveling to and from African countries -- even ones that are Ebola-free and thousands of miles from the affected area -- have faced discrimination, distrust, harassment and calls for self-quarantines.
Coons also said he worries that the incessant focus on Ebola is crowding out attention to other issues affecting the African continent.
"I spoke [on Tuesday] to an ambassador from an East African country trying to advance a trade issue that is of real interest to agriculture in my state. And she commented that there is a great concern on the African continent that out of 54 countries on the continent, only four are currently affected by Ebola, and the other 50 continue to have, in many cases, great economic promise for partnership with the United States and many other concerns -- security concerns, economic concerns, development concerns that we should be addressing," he said.
Coons added that he expects the Senate Foreign Relations Committee to hold a hearing on Ebola within weeks of returning after the fall recess.
"We haven't yet fully resolved which of the topics that we could address will be done at the full committee and which will be done at the subcommittee. ... My hunch is -- and this is just a hunch -- that the full committee will do a hearing promptly upon our return that focuses on Ebola response and the current U.S. response and the international response, and the subcommittee will do a hearing on the broader regional context," he said.
Want more updates from Amanda? Sign up for her newsletter, Piping Hot Truth.
Calling all HuffPost superfans!
Sign up for membership to become a founding member and help shape HuffPost's next chapter
BEFORE YOU GO