 WASHINGTON -- Sen. Chris Coons (D-Del.) is heeding President Barack Obama's election night call to "fix" the problems voters faced at the polls this year, by introducing legislation that would reward states for election reform.
Coons' bill, titled the Louis L. Redding Fair, Accurate, Secure and Timely (FAST) Voting Act of 2012, is modeled on Obama's Race to the Top program for education. States that make voting faster and more accessible would be rewarded with federal grants.
In his victory speech on election night, Obama thanked voters who braved these conditions to cast ballots, saying, "Whether you voted for the first time, or waited in line for a very long time -- by the way, we have to fix that."
"[The fact that] it appears that there were tens of thousands -- if not hundreds of thousands -- of Americans who had their right to vote denied or compromised by having to wait in line five, six, seven hours is profoundly concerning and upsetting to me," Coons told reporters on Capitol Hill on Thursday morning.
He called it unacceptable that 12 years after the Florida debacle in the 2000 presidential election there are still such widespread problems.
In order to qualify for Coons' challenge grants program, states would need to come up with a comprehensive plan to improve their election processes by:
• Providing flexible registration opportunities, including same-day registration;

• Providing early voting, at a minimum of 9 of the 10 calendar days preceding an election;

• Providing absentee voting, including no-excuse absentee voting;

• Providing assistance to voters who do not speak English as a primary language;

• Providing assistance to voters with disabilities, including visual impairment;

• Providing effective access to voting for members of the armed services;

• Providing formal training of election officials, including State and county administrators and volunteers;

• Auditing and reducing waiting times at the poorest performing polling stations; and

• Creating contingency plans for voting in the event of a natural or other disaster.
The size of the grants has not been set. The senator said he hopes to come up with a dollar amount that would be sufficient to encourage real policy innovation and action by states, but not so large that it would burden the federal government at a time of large deficits. The grant program would be administered by the Department of Justice.
One of the biggest challenges for this program might be gaining cooperation from Republican governors, who have turned down federal money for health care and high-speed rail over ideological objections. The governors in Florida and Ohio, for example, have been harsh critics of the federal government and the Justice Department.
"My hope is that accountability to their own voters, their constituents, will encourage governors and electoral commissions and secretaries of state and county elected officials of both parties across the country to take responsible action to deal with the widely reported and very real voter access problems of this last election," said Coons, adding, "I recognize that in many states, this is an issue of state partisan politics, but I think the Department of Justice, ever since the Voting Rights Act, has had a proud history of leading efforts nationally to ensure enfranchisement."
On Thursday afternoon, Sen. Mark Warner (D-Va.) -- from a state that had long lines at the polls -- agreed to sign on as a cosponsor to the FAST Act, according to Coons' office. Rep. Gerry Connolly (D-Va.) will be introducing the House version.
The bill (see full text below) is named for Louis L. Redding, a prominent civil rights advocate who became the first African American admitted to the Delaware bar in 1929. He was part of the legal team that brought Brown v. Board of Education before the Supreme Court.
Election reform was not a top priority for Obama during his first term. The Election Assistance Commission, which was created in response to voting problems during the 2000 election, currently has no commissioners and no executive director. The Washington Post recently called it a "zombie voting commission."
UPDATE: 1:52 p.m. -- Rep. George Miller (D-Calif.) has also introduced legislation to make it easier for individuals to vote, called the Streamlining and Improving Methods at Polling Locations and Early (SIMPLE) Voting Act.
The proposed legislation:
• Requires all states to provide for a minimum of 15 days of early voting in federal elections.

• Requires states to ensure that each voting precinct has sufficient poll workers, voting machines and other resources to ensure that voting lines do not exceed one hour, whether on Election Day or during periods of early voting.

• Requires states to have contingency plans in place to resolve situations in which long lines nevertheless develop.
Read Sen. Coons' legislation:
Before You Go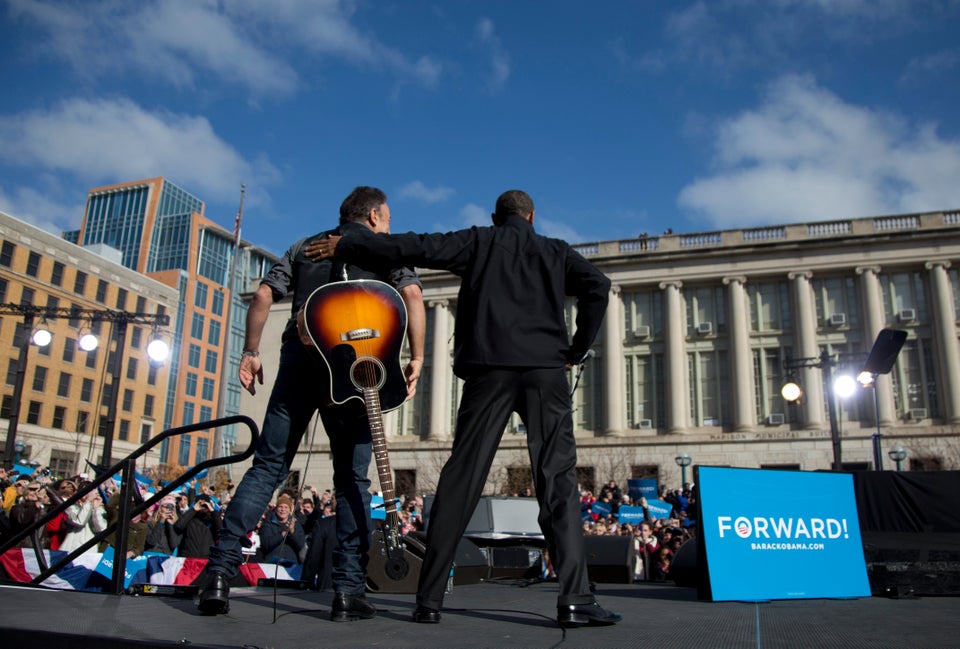 Madness In The Final Hours
Popular in the Community