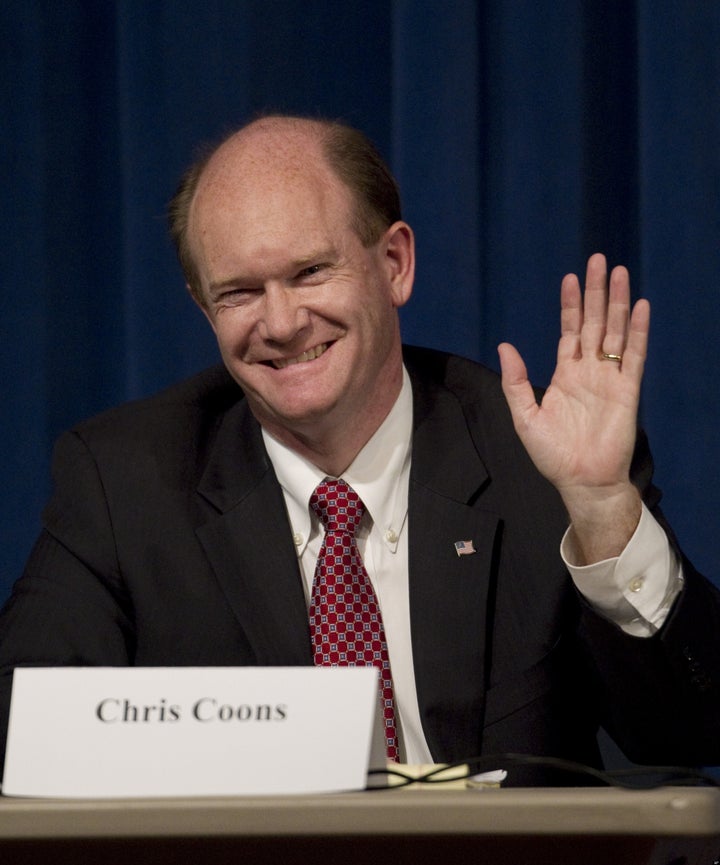 Delaware Democratic Senate candidate Chris Coons wants to be clear: He won't be anyone's "pet" in Washington if he beats out tea party favorite Christine O'Donnell in November.
In an interview with the Huffington Post, the New Castle county executive sought to distance himself from remarks made by Senate Majority Leader Harry Reid (D-Nev.) on Wednesday. "I'm going to be very honest with you -- Chris Coons, everybody knows him in the Democratic caucus. He's my pet. He's my favorite candidate," Reid told The Hill.
Coons expressed his appreciation for Reid's kindness -- though given the Majority Leader's own poll numbers, he may not have been doing Coons a favor -- but stressed that he was going to be an "independent voice."
"I've met Senator Reid at least twice," he said. "When I first jumped into this race to the U.S. Senate, he and I had a very good, long conversation, and he has regularly called to check in and encourage me, and I'm grateful for his encouragement. But I'm running my own race for the people of Delaware, and I'm running to be an independent voice that will fight for Delaware's families and Delaware's concerns."
Coons also said he reached out to Rep. Mike Castle (R-Del.) after his Tuesday loss to O'Donnell and extended his thanks for the congressman's service to the community. Castle has said he will now remain neutral in the race, although Coons said he would welcome Castle's endorsement if he changes his mind.
Although O'Donnell largely won because of tea party endorsements and momentum, Coons said that there is some area of agreement between progressives and these individuals who are upset about the country's economic situation.
"A lot of those folks are mad, they're frustrated," he said of many of the Delaware voters he's met on the campaign trail. "Many of them voted for change in 2008 that they don't see yet, and what I think ... folks in our party who are working hard to achieve change have in common with some folks who are angry or anxious is a concern with getting the economy back on track, fixing the way Washington works, so it's less about special interests and it's more about meeting the real needs of average people."
Coons added, however, that there are "some elements to the tea party that come from a very different place that is not as positive."
Stressing need to get the economy back on track, Coons said his first priority if he is elected to the Senate is moving forward a combination research and development and manufacturing tax credit. He said it's "a way to incentivize support and encourage businesses that make things and create things here in the United States. I think that is critical to getting our economy back on track in the short run and being competitive again in the long run."
Popular in the Community