Several years ago, chef Chris Cosentino teamed up with goofy clothes company Betabrand to create Gluttony Pants. His whimsical food-inspired clothing ideas didn't end there, though. Cosentino is back with three new projects, and he needs your help to make them a reality.
These items will go into production if enough people express a desire to purchase them; for now the projects are in a "think tank" phase. But if there are enough votes, posts on social media or comments about the items, then they could be yours for a price.
First, there's Chef Jeans, for chefs who want to wear jeans in the kitchen. Features include a "vented crotch area, due to prolonged proximity to flame."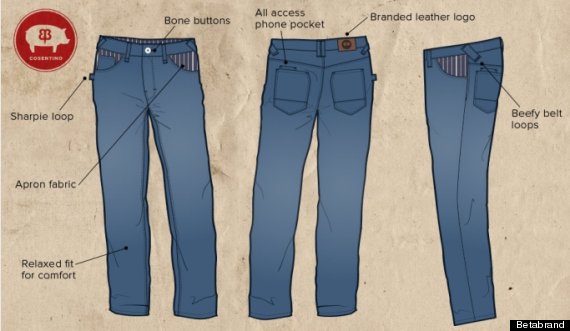 Next, there's Meat Feet Socks. We'll let this blurb from Cosentino speak for itself:
It's no secret that I love tasty, salted pig parts. I was looking at some salami tubes the other day and it hit me: "Tube socks. Salami comes in a tube. Why not salami socks?"