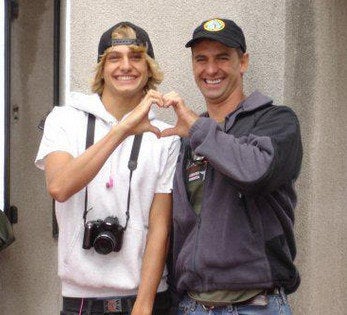 When Chris Cox jumped out of his car and over a fence at the sight of a burning car, he saved the life of 43-year-old Ricki Ann Thiele who was unconscious in her front seat.
The American Red Cross honored the 48-year-old Petaluma, Calif., resident at a "Real Heroes" breakfast May 3, but Cox said his bravery came from another hero -- his late son Danny, pressdemocrat.com reports. His son had wanted to be a firefighter -- a dream that was dashed after a diving accident in Lake Tahoe left him paralyzed. He committed suicide a year later, according to ktvu.com.
"I thought, 'I'm doing this for you, buddy," Cox told the news source. "This is what you wanted to do.'"
The August 2010 accident paralyzed Danny from the chest down. Within a year, he had use of his arms and could operate a car built especially for him. But three days before the one-year anniversary of his accident, the 19-year-old crashed his car, in what the police labeled a suicide, ktvu.com reports.
The family told the news outlet they don't want to believe that Danny took his own life.
At the awards breakfast, the heroic dad told the crowd that his son had wanted to be firefighter, and that in the moments of saving Thiele's life, it was his son that was guiding him.
Feeling inspired? Learn more about local heroes or become one by getting involved with the American Red Cross.