[ Note: Some language included in the videos below may be offensive to some readers. ]
In 2007 three little words -- "Leave Britney Alone!" -- arguably changed the course of popular culture.
The words were spoken by Chris Crocker, a then 19-year-old from Tennessee with an already burgeoning Internet career who regularly posted videos to YouTube and MySpace.
In just two days "Leave Britney Alone!" racked up over four million views -- a virtually unheard of feat in the earlier days of YouTube -- and soon Crocker became known -- and parodied -- around the world. References to the video have since appeared everywhere from "Glee" to "South Park" and the clip was named Wired magazine's number one video of 2007.
Crocker soaked up the attention and spun it to his advantage. In the last five years Crocker has continued to cultivate his cult status with new videos and the release of Britney-esque pop tracks of his own. He appeared on "Maury" and starred in Weezer's music video for the song "Pork and Beans" and pitched Sierra Mist soda. A reality TV show was shot and shelved. Fans continue to support him and haters continue to hate.
But now, with an unbelievable new look that is guaranteed to shock, an upcoming foray into the porn industry, more music on the way, and a documentary, "Me at the Zoo," due to premiere at the Sundance Film Festival later this month, 2012 could be Crocker's biggest year yet.
We chatted with the opinionated and charming YouTube star to find out what life is like for him now, dating, his approach to gender, how he feels about Britney Spears today, what really triggered his emotional outburst in 2007, and more.
HuffPost Gay Voices: What kind of a response has your new look gotten you?
Chris Crocker: People usually ask me something really simple-minded like "So you're a man now?" and they want it to be this really simple answer. And the real answer is that I don't feel like just a man or just a woman. I feel really comfortable with both the feminine and masculine sides of myself. Actually, the owner of the club I've been going to for years here [in Tennessee] recently asked me, "So which do you feel more comfortable as?" And I said, "I really feel equally comfortable -- it just depends on my mood."
(Interview continues below slideshow of photos and videos)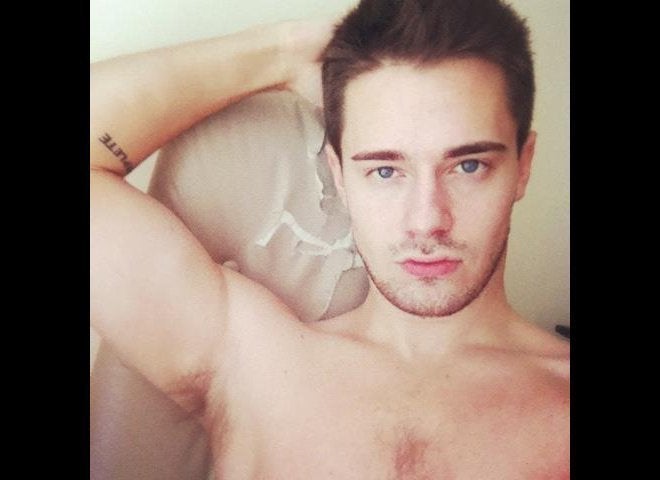 Chris Crocker
I think the reason that so many people have a hard time with that -- even queer people -- is that anytime someone isn't toeing the gender line -- or God forbid is playing with gender -- it's seen as a really threatening and frightening act.
It sounds really cliche to say, but people just want other people to fit into a box so it's easy to understand what they are. The biggest problem that I have is -- I can understand straight people being confused but within the gay community? The gay on gay hatred or the gay on gay discrimination is what I find so puzzling. When other queer people say, "If you were really transsexual..." -- because I lived as a girl for three years and people ask, "Was that all an act?" That's the biggest thing that I get disgusted by. It's like, "Oh, really? That was all an act? I would go through all that trouble for three years -- using women's bathrooms, problems in airports?" No. I wouldn't.
People can't understand that someone can have both sides of themselves and switch back and forth. And a lot of transsexual people have gotten really mad at me and said, "You're really misrepresenting us as a community because you're not sticking with the 'girl look.'" I'm representing myself. I never claimed to be the spokesperson for anything other than myself. I just so happen to be gay or trans or gay and trans or whatever. I don't know. I'm just content with myself and I think that makes people discontented.
I thought the whole point of being transgender was being what you feel on the inside. For me, I wonder why do you have to just feel like a woman trapped in a man's body? Or vice versa? Why can't you identify with both genders and tap into those without being accused of dressing up as a girl for attention? I'm fulfilling whatever vibe I want to go with at that time. I try to block out people's voices in my head and just go with how I feel.
Your views on gender could be considered radical by a lot of people.
But I think it's sad that people consider it radical. I think it's sad that people can't wrap their heads around it.
I think it's sad, too. How did you about your approach to gender? Were you influenced by any books or theorists or anyone or anything from the media?
It's innate, really. I've never done research or anything. I always tell people that if I was going to let people change me, I would have done it in kindergarten and I would have given into society's expectations then because I live in the deepest part of the South that you can live in where bringing Barbies to show and tell is not considered remotely acceptable. You'll get your ass kicked. And I've never considered -- ever -- what other people accept. I've always -- always -- gone with how I feel.
A lot of people would consider that a cop-out answer and say, "You have to consider other people to get through life," but I just never have. I know how it affects me when I get yelled at in public, but as far as my choices for myself -- I never take other people's opinions into consideration.
What was the process like for you to begin presenting as more masculine?
I started gradually. I was wearing less makeup and pushing my hair back and putting it in a pony tail instead of curling it or wearing it long. My hair extensions got shorter and shorter and I went from 26-inch extensions to shoulder-length extensions. My answer for this is the same as when people ask me "When did you start dressing like a girl?" I never realize the changes that are taking place. They literally just happen. It's never a conscious thought of I'm going to wake up tomorrow and be a different person. It's little by little. So I was pushing my hair back, wearing less makeup, and I was blonde at the time and then it went to black. Then I buzzed it off. It's always just gradual -- it's never a conscious decision.
I love your video "From Boy to Girl to Woman to Man." At the end it there's a line of text that reads something like "The journey continues..." So, do you have any idea where you're headed in terms of what the next incarnation of Chris Crocker will be?
I actually dressed up in drag last night for the first time since August [see photos in slideshow above] and even in August that had been the first time in months and months. So this was really the first time I've done it since weightlifting -- I have a personal trainer now. I've put on almost 30 pounds of muscle since I started, so when I dressed up last night I had to cover my shoulders and my arms. I know I'll always have that side of myself. I'll always play with makeup and other things even if I become a body builder. So even if I have a body like Arnold Schwarzenegger, I will still always do my makeup.
You talk about some intense topics in your videos including being in therapy and feeling like you've never been accepted by anyone -- not your family, friends, classmates. I know you hear from a lot of kids who are going through similar things. Do you see yourself as a role model?
I don't like to consider myself a role model because of my life choices. I've been lucky that being an outcast all my life has worked out for me because I got to capitalize in a way on expressing myself. I don't want to consider myself a role model for kids to drop out of school in the 8th grade and go and do YouTube videos or do porn down the line. But if people look up to me to be brave enough to be themselves, then I'm comfortable with that. But I don't want them following in my footsteps.
That's a good segue to talk about your porn career.
I'm still waiting to get all the specifics of when we're shooting. I had to push it back due to other things in my life. I don't know when or the details but I've always posted nudes online. I was sending people nude photos when I was 14 -- which is another reason I don't want to be a role model for kids. But I've always taken photographs of myself and been interested in how my body looks on camera. So I've sent nudes of myself to people and posted nudes online -- I just haven't done it as much since being known as "Chris Crocker." I have always been comfortable doing everything on camera, so I figured why not porn as well?
You get a lot of attention now about the way you currently look. Most of the people I showed your recent photos to couldn't stop talking about how hot you are. What's your reaction to that?
I'm offended. The most irritating thing is guys I find attractive say, "Oh my God -- you're so hot now." It's like, "OK?" You need to be able to see the full picture of who I am -- not just half the picture. You can't put your hand over half of who I am and accept part of me. So, as far as dating guys or considering guys to date, that's really difficult. They can't always accept that I used to dress up or that that's a part of me still and that I still dress up. It's just annoying. Even if it's a girl or a fan saying it -- I don't like when people put it that way. I can understand if I'm a more socially, traditional "attractive" but I don't like when people phrase it like, "You're hot now."
When it comes to dating, what kind of guys are you into?
I attract the same people over and over. I don't like people who like me right off the bat. I really like sensitive guys. I like people who are emotionally weaker than me because I feel like I can help them and protect them. It's really weird and sick [laughs].
Do you find it hard to meet guys to date because of your persona?
Definitely. Even meeting friends who are willing to see the full spectrum of who I am versus my reputation versus my YouTube persona. It's hard to find people in general -- dating or friends -- who have the capacity to understand it.
You've been making music for a few years now and you have more due out later this year. How does music function in your life? Is it just for fun? Is it about expressing yourself?
I love dance music and what I've mostly done that's been successful in terms of music has been more Britney [Spears]-type music -- like dance songs -- but what I listen to is Fiona Apple and Courtney Love. I'm a writer -- before I ever did videos or anything I just wrote and wrote and wrote. I'm into poetry -- Sylvia Plath and all that -- but I haven't been able to show what I'm inspired by and marry that into my own music. I'm still enjoying doing the pop stuff.
You have a documentary about your life, "Me at the Zoo," debuting at The Sundance Film Festival in a few weeks. How did that come about?
I was friends with Chris Moukarbel's boyfriend -- Chris is one of the directors. His boyfriend's parents are from where I live in Tennessee which was really coincidental and weird and meant to happen. We got to talking and he said that his boyfriend was doing a film about the Internet and how it affects pop culture and they wanted to do some interviews with me. Once they saw my story is really a story for this generation and saw that what happened to me hasn't happened to that many people, they got inspired by the story and wanted to do the film. It's been almost three years in the making.
Do you think people are going to be surprised by what they learn or is it more of what we've seen from you in the past?
People are definitely going to see why I am the way I am. It gets into things I'm not comfortable talking about in conversation, but it's there for you to see in the film. It's going to be really weird for me to watch it with an audience at Sundance. It's really emotional.
What's a typical day like for Chris Crocker?
There's no typical day for Chris Crocker. One day I could be doing videos all day long and bouncing ideas around and filming myself. Or I could be writing a song. Or I could be with my personal trainer. I could have a day when I'm doing nothing and I'm just mentally and physically depleted. It's never the same one day to the next.
How do you feel about Britney Spears these days?
I'll always have a soft spot for Britney because I've loved her since I was in third grade. I'm not inspired by her the way I was as a kid, but I'll always care about her as a person, which is why I made the "Leave Britney Alone!" video in the first place. It wasn't about "Oh my God, her performance was so amazing" -- it was about her well being. So I'll always care about her as a person.
But what I think is sad -- and what I do want to say -- is that during that whole "Leave Britney Alone!" period and how I portrayed myself during interviews and me flashing the paparazzi my crotch, there were anonymous reports in magazines that Britney thought I was creepy. I think the sad thing is that people never understood that I have a sense of humor and it was my chance to show the world who Chris Crocker was. And I knew that if I just talked about the Britney video non-stop that I wouldn't make a character out of myself. I think it's sad that her team thought I was insincere in my video and that I was mocking her doing the crotch shot. It was just my sense of humor and I would totally do that anyway.
So the "Leave Britney Alone!" video was totally sincere, but after that you spun it out to stay in the spotlight?
Absolutely. I totally played up to the lunatic character everyone thought I was. Like when I went on "Maury" or when I talked to the paparazzi. We were filming for a reality show at the same time and I was trying to keep the silliness going. And when the reality show fell through, I never got to showcase my personality on a grander scale other than being a crying lunatic. There are all these misconceptions because people said, "He was insincere and he flashed the paparazzi and mocked Britney." I'm glad the documentary is coming out. People will see I was being sincere and that I really care about Britney as a person -- and they'll see why.
Why?
My mom was homeless the same year that the whole Britney episode happened. And my whole family turned on my mom. And from my perspective I was thinking about how Britney has kids and everyone was talking about how fat she was and were saying she's obviously on drugs. My whole family had turned on my mom because my mom was on drugs so I just kept thinking Why am I the only person that's saying [Britney] could kill herself and everyone else is talking about her weight instead of her well being?
What's the best thing about being Chris Crocker?
I guess it's that people love me for being myself. But that's also the worst part of being Chris Crocker -- because people hate me for being myself. But that is the best thing. Expressing myself and offering my point of view inspires people and hearing people say that I've helped them is rewarding.
Popular in the Community