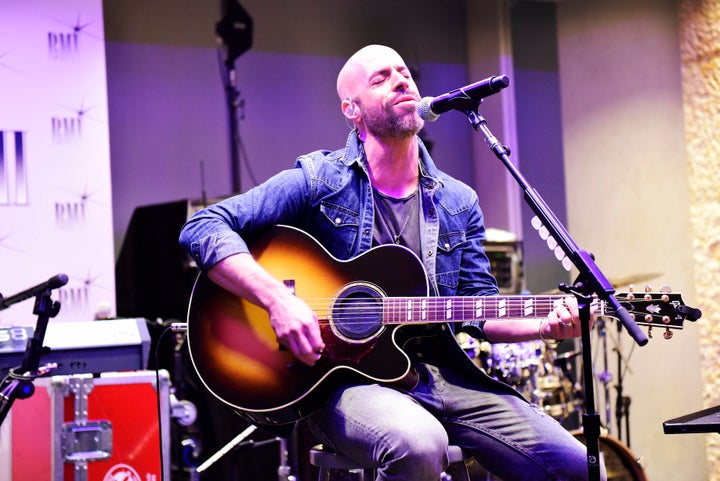 Chris Daughtry recently went home to a familiar place: the stage of "American Idol." The Season 5 contestant was among the crop of stars who graced the "Idol" stage one last time before the series wrapped for good this month.
"It was cool because a lot of the producers and crew are still there. And it was cool to see it off with the people who were there when I was there," Daughtry told The Huffington Post. "It was good to see all the contestants from my season and to catch up with them. We kind of kept in touch anyway throughout the years despite our busy schedules. It's not like we have fishing trip weekends or anything like that. I don't have fishing trip weekends with anyone! I wish I did."
What does it feel like to have a greatest hits album out?
It was a little weird because when I was first approached with the idea of doing a greatest hits, I was like, 'Wait, I thought just The Eagles put out greatest hits, or REO Speedwagon or something. So it was hard to believe it had already been 10 years and that we had enough to actually to do a greatest hits. So when it came down to what we were going to do, there were some that we left out.
And there are a couple of new tracks on there, too?
I was writing for a few months trying to figure out where the next record was going to go and what two songs would sort of foreshadow the next record, and 'Torches' and 'Go Down' came out of that. It's been interesting to see the reaction to the new music and find out that people have forgotten about certain songs. It's more of a celebration about where we've been and where we're going.
Tell me about your new song,"Torches."
I was working with [songwriter] Dave Bassett in his Malibu house and we were kind of wanting to go a little more Gospel route, and he had been messing with this chord progression. I had stepped outside and I was looking at all the dry brush and everything and was like, 'Someone would be out of luck if they flipped a cigarette out here and burned your whole forest down. And we got to talking about that. And later, maybe I saw something on Twitter and thought, 'People can say what they want without getting punched in the face on the Internet. And people have gotten so bold to say things you would never have the balls to say to anyone. And I feel like it's wrong that people can just get away with that. And there are no repercussions … and just in general the overall hate in the world right now. It sparked the direction [of the song]. We were talking about the cigarette burning down the woods and how hate spreads like wildfire and how what if we spread something good, would it do the same thing? And could we be a part of that?
 When can we expect the next Daughtry studio album?
We probably got two [songs] that are 100 percent yes. And we have about four or five that maybe with the right production they'd make the record but nothing that anyone's overly excited about. Once you get into that fifth record and put out a greatest hits, good isn't good enough. So even songs where we're like, 'Oh that's good song!' -- It's not exactly what we want. We want great. It's going to be a whole lot of back to the drawing board very soon. We're going to be hitting the studio and getting on the writing train back in LA. We're just putting in the legwork now and hopefully we'll start tracking in June and July.
You recently appeared on TV in "The Passion." Do you want to pursue more acting?
I've had the acting bug since I was like five years old. It was something I wanted to do way before music. So, music took off and now I'm trying to backdoor my way into acting. I'm definitely putting in some work to make it happen.
Calling all HuffPost superfans!
Sign up for membership to become a founding member and help shape HuffPost's next chapter
BEFORE YOU GO