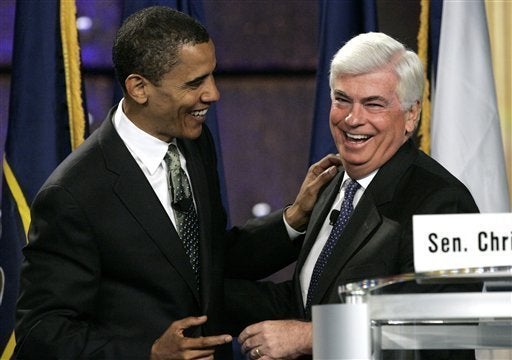 UPDATE: Dodd describes his "not comfortable" discussion in which he informed Hillary about his decision:
At a Cleveland press conference with Obama, Dodd denied he was implying Sen. Hillary Clinton should drop out, but merely suggesting that both campaigns watch their tone over the next week leading up to the critical Ohio and Texas contests.

Dodd said he informed Clinton last night of his decision to endorse Obama, adding that it was "not a comfortable" discussion.
UPDATE: Dodd used his endorsement to pitch a new message for the Obama camp -- that it is time for Democrats to unite around a single candidate:
"It is now the hour to come together," he told reporters in Cleveland. "I believe the hour has come now for us to make that choice - to stand up and say we're going to get behind this candidacy."

"I don't want a campaign that is only divisive here, and there's a danger of it becoming that," he said. "Not because the candidates want that, but too often the advisors the consultants others are seeking for that divisiveness."
"After a prolonged silence through most of the primary season, Sen. Christopher J. Dodd is rejoining the presidential race on somebody else's team -- Sen. Barack Obama's."
The Connecticut senator, whose own presidential campaign failed to draw enough attention to propel him past the first contest in Iowa, is expected to announce his endorsement of Obama this morning, according to a Democratic official close to Dodd. He'll then campaign with Obama in Ohio.

Obama's campaign hopes that the March 4 primaries in Ohio, Texas, Vermont and Rhode Island will be the victory that clinches the Democratic nomination for him. When he faces Sen. Hillary Rodham Clinton in another debate tonight -- the last before these pending primaries -- he'll do it with Dodd in his corner.

It's unclear what Dodd's task will be with the campaign or whether he'll be hitting those last two New England states still awaiting primaries next week. But if Obama eventually gets the nomination, Connecticut's two senators will be in opposing campaigns. Sen. Joseph I. Lieberman is one of Republican Sen. John McCain's staunchest allies.
The Washington Post's Shailagh Murray notes:
Like Sen Joseph Biden (D-Del.) and New Mexico Gov. Bill Richardson, Dodd has been heavily courted by both the Obama campaign and that of Sen. Hillary Clinton (D-N.Y.), including numerous calls from former President Bill Clinton. But the veteran senator had been reluctant to weigh in until voters across the country, including from his home state of Connecticut (which Obama won on Super Tuesday) could weigh in.
Dodd's support, coupled with his liberal credentials, could provide a boost for Obama as major contests near in big states such as Ohio and Texas on March 4. Obama has won some key Democratic endorsements in recent weeks, including Massachusetts Sen. Edward Kennedy, a close friend of Dodd.

Obama and rival Sen. Hillary Rodham Clinton had been vying for Dodd's support since he exited the presidential race after a poor showing in the Iowa caucus last month. Dodd, who won his Senate seat in 1980 and chaired the Democratic National Committee from 1995-1996, has long-standing ties to the Clintons.

Dodd is a "superdelegate," one of nearly 800 Democratic officeholders and party officials who automatically attend the national convention and can vote for whomever they choose. They have become an important force in the close race between Clinton and Obama, and both candidates are lobbying hard for their support.
Popular in the Community