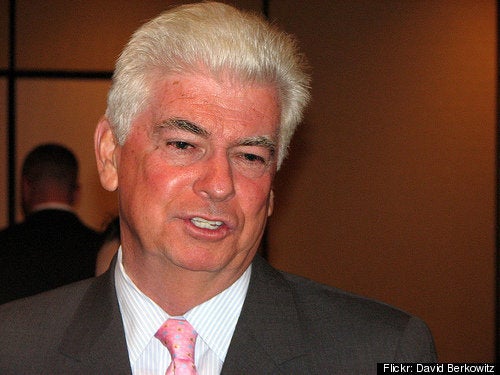 Chris Dodd has ruled out becoming a lobbyist after his Senate career ends next year.
"No lobbying, no lobbying," Dodd told Deirdre Shesgreen of the CTMirror.
It's a bold pledge -- surprisingly few retiring members of Congress are willing to promise they won't cash in on their legislative experience and contacts after leaving the Hill.
"That's excellent on Senator Dodd's part," said Craig Holman of Public Citizen, which earlier this year circulated "Integrity Pledges" asking retiring members of Congress to forswear lobbying. They failed to get a single signature.
"The revolving door abuse is just out of control here on Capitol Hill and it is a primary source of undue influence peddling," Holman said. (Holman is himself a lobbyist, but he didn't get his start in government.) "Only the very wealthy businesses can afford senators and congressmen."
More than 300 former members of the House and Senate have made the decision to "go downtown," according to the Center for Responsive Politics. Members of Congress earn $174,000 a year on the Hill. Downtown, a member of the House can fetch many times that amount, and a retiring senator -- especially a senator who chaired the Banking Committee, like Dodd did -- is potentially worth millions.
Retiring Sen. Byron Dorgan (D-N.D.) pretty much requested a lobbying job when he said in his retirement announcement that he would "like to work on energy policy in the private sector." Sen. Evan Bayh (D-Ind.) refused to rule out lobbying when pressed by HuffPost.
"I think as we move toward the end of the session there will be a number of very smart members on both sides of the aisle who will make the natural progression to K Street," wrote K Street headhunter Ivan Adler in an email to HuffPost. "They believe that they have value playing sherpa in Washington for regulated industries and they are right."
Members of the House must abide a one-year "cooling off" period before they can lobby their former colleagues. Members of the Senate must wait two years. Sen. Michael Bennet (D-Col.) introduced a long-shot bill to make the cooling off period last for life. But some ex-lawmakers don't become lobbyists but do immediately become "senior advisers" at lobbying firms.
There has been some speculation that Dodd could take a job with the Obama administration.
Popular in the Community