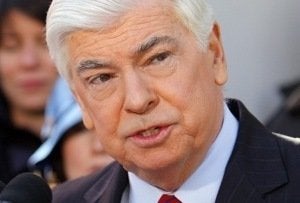 Chris Dodd became the 37th senator to commit to supporting the public insurance option as part of health care reform if the overhaul is moved through the chamber using the majority-vote procedure known as reconciliation.
Dodd was asked at a recent event by a public option advocate if he'd vote for the option under reconciliation.
"Oh, sure. I've been for it. Yeah," Dodd told Aaron Swartz in a brief video interview. Swartz is a cofounder of the Progressive Change Campaign Committee (PCCC), which has been waging an insurgent campaign to force the public option back into the debate.

The White House has said publicly that it doesn't believe the public option has enough "political support" in the Senate to become law, but Dodd's commitment leaves it just 13 votes shy.
Several senators are known public option supporters and have yet to commit. The fate of the public option rests with a handful who have not made their intentions public. Public option backers will be watching several of them this week, including Claire McCaskill (D-Mo.), Mark Warner (D-Va.), Kay Hagan (D-N.C.), Mark Begich (D-Alaska) and Bill Nelson (D-Fla.).
Any senator, under the rules of reconciliation, is allowed to offer an amendment.
The guerrilla nature of the campaign is evident in the video shot by PCCC's Swartz, who caught up with Dodd at an event in Boston over the weekend.
At the end of the video, Dodd poses for a photo and adds, "I put the public option in my bill." Dodd led the bill through the health committee.
House leaders are in the process of writing the legislative language for reconciliation and appear unlikely to include a public option unless a number of senators quickly sign on. That would leave the public option's last stand as a vote on an amendment on the Senate floor.
See the list of committed senators here.
Popular in the Community