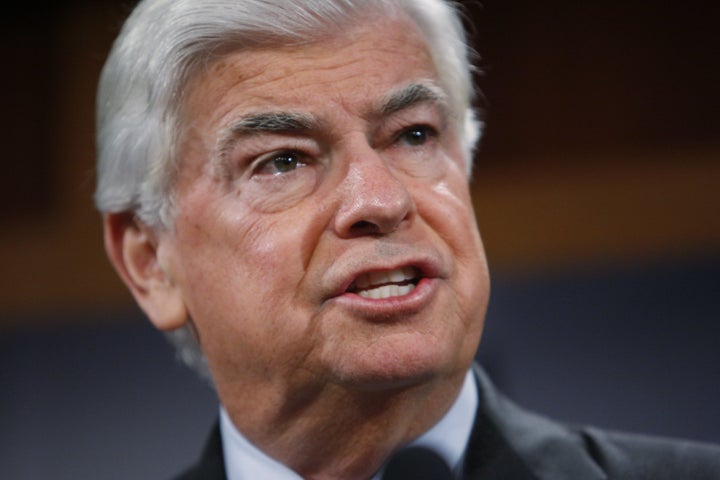 HARTFORD, Conn. — Christopher Dodd was expected to announce his retirement Wednesday after five terms in the U.S. Senate and Connecticut's popular attorney general said he will be entering the race to replace him.
Dodd, 66, was expected to make an announcement Wednesday and scheduled a noon news conference at his home in East Haddam. Democratic officials, speaking only on condition of anonymity ahead of the announcement, disclosed his plans to The Associated Press early Wednesday.
Connecticut Attorney General Richard Blumenthal told The Associated Press that he will be announcing his candidacy Wednesday afternoon. WTNH-TV first reported Blumenthal's plans.
Blumenthal, 63, has been attorney general since 1990, but said he has had his eye on the Senate for years.
"The United States Senate has been a longtime public service goal, and I would be proud and honored to have the opportunity to serve the people of Connecticut ... in the Senate," Blumenthal said.
Dodd's political stock began falling after the financial meltdown and his failed 2008 presidential bid.
In March 2009, Dodd acknowledged (after several denials) that he had worked behind the scenes to weaken a provision dealing with executive pay in the economic stimulus legislation at the request of the Obama administration. As USA Today reported, "The provision inserted in the bill instead expressly allowed companies that received taxpayer bailout money to pay retention bonuses that were part of employment contracts signed before Feb. 11, 2009. That would include the AIG bonuses, although Dodd has said he didn't know about the AIG bonuses at the time."
Dodd's relationship with AIG continues to be a drag on his political fortunes. The New York Times magazine cover story this past week noted:
That Dodd led the attacks on A.I.G. when what came to be called the retention bonuses were revealed infuriates my A.I.G. friend. He says that his boss asked everyone at A.I.G. Financial Products "to contribute the maximum to Dodd, because he was so important in Washington in terms of regulating the products we sell." My friend went on to say: "Before he attacked us, Dodd was in our office" -- in Wilton, Conn. -- "giving a speech telling us how great we were. And our checks were in envelopes stacked up right there."

Federal Election Commission filings show 31 maximum $2,100 contributions to Dodd during the last quarter of 2006 from employees of A.I.G. Financial Products. My friend's former boss, A.I.G. Financial Products' head, Joseph Cassano, who is listed as giving $2,100, did not return calls to his home, nor did his lawyer return calls seeking comment.

Asked about the event, and about checks stacked on a table, Dodd said: "Yes, it happened. I remember having a fund-raiser there. . . . I can't finance my own campaigns. I have to raise money," he added. "But what does this guy think? That if they give me money I have to do what they want me to do? That tells you something about them."
Dodd is chairman of Senate Banking Committee, which was at the center of efforts to deal with the economic meltdown. And he has played a prominent role in the debate over overhauling health care, taking over for his friend Ted Kennedy during his illness and then after his death.
Two of the three Republicans running for Dodd's seat said Dodd's decision to drop out of the race won't hurt their chances.
"Whoever the Democratic nominee is, he or she will have to defend the failed Democratic policies of higher taxes, bigger government, exploding debt, and a misguided approach to national security," said former GOP Congressman Rob Simmons, who had been ahead of Dodd in the polls.
Republican candidate Linda McMahon, the former chief executive of World Wrestling Entertainment, said Dodd's leaving the race doesn't change anything for her.
A message was left Wednesday for a spokesman for Peter Schiff, the third GOP candidate for Dodd's seat.
Blumenthal, a former Marine who lives in Greenwich with his wife and four children, was U.S. attorney for Connecticut from 1977 to 1981, served in the state House of Representatives from 1984 to 1987 and served in the state Senate from 1987 to 1990.
A graduate of Harvard and Yale's law school, Blumenthal was a law clerk to U.S. Supreme Court Justice Harry A. Blackmun. He also served as an administrative assistant to former Connecticut Sen. Abraham Ribicoff, and was an aide to former New York Sen. Daniel Moynihan, when Moynihan was assistant to the president.
Associated Press writer Liz Sidoti in Washington contributed to this report.
Popular in the Community