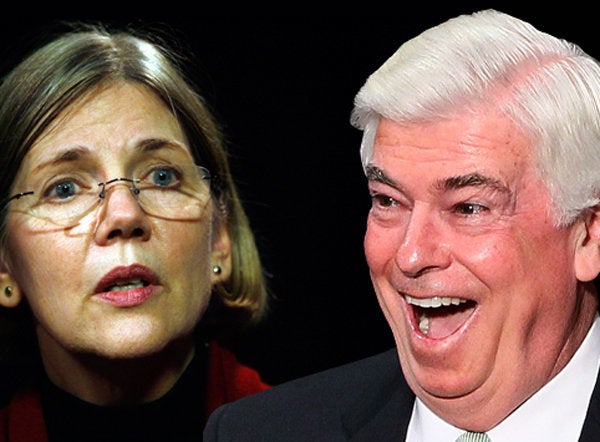 This story was updated at 4:23 p.m., 5:15 p.m. and 6:30 p.m. ET.
Despite the outpouring of support for bailout watchdog Elizabeth Warren's candidacy to lead a new consumer protection agency, one prominent Democrat continues to publicly stand in her way: Senate Banking Committee Chairman Christopher Dodd.
The Connecticut Democrat, who has lambasted lenders for taking advantage of cash-strapped borrowers and bank regulators for their poor record in protecting consumers, led the effort to get the recently-enacted financial reform law through Congress. The agency it calls for -- a unit specifically charged with protecting borrowers from predatory lenders -- survived attacks by the financial services industry and Republicans. It's now hailed as one of the Obama administration's top achievements.
But now that the fight has shifted from the creation of the agency to who's going to lead it, Dodd's role seems to have reversed, say some financial reform advocates -- rather than fighting for the toughest possible advocate to fight for consumers and families, he's openly doubting the wisdom of that selection. And it's not clear whether the two have even had a meeting in the last year.
Elizabeth Warren, a Harvard Law professor with an expertise in bankruptcy and consumer finances, came up with the idea for the agency in a 2007 article. Courted by Congressional Democrats and the White House, she's served as the public face of the campaign to get the idea enacted into law. And since the fall of 2008 she's led the Congressional Oversight Panel, a watchdog agency keeping tabs on the government's massive bailout of the financial and auto industries.
More than 60 members of the House and a dozen-plus senators have urged President Barack Obama to nominate Warren for the consumer post, including House Financial Services Committee Chairman Barney Frank. So have the country's largest unions, consumer advocacy groups, law school professors, and a handful of Republicans. Other than Dodd, not a single Democrat in national politics has publicly objected to her nomination.
Dodd has said that there are questions about whether the Senate would confirm her. Warren would have to garner 60 votes to end a filibuster before the Senate could give her nomination an up-or-down vote.
He's also raised questions about her management experience, pressing that whomever is chosen to lead the new agency will need certain skills to navigate the tough bureaucratic battles sure to ensue when the consumer regulator tries to restrict a certain type of loan, for example.
Supporters have knocked back those criticisms. The White House says she's "very confirmable" -- Warren was spotted leaving the White House Thursday afternoon -- and Ann Brown, a former chairwoman of the U.S. Consumer Product Safety Commission, dismissed the management critique, arguing in an op-ed that successful agency heads routinely lack experience running large bureaucracies. Industry-friendly candidates are never questioned on this point, Brown said. Intellect matters, she argued -- not bureaucratic experience.
After her Thursday meeting at the White House, an Obama spokesman reiterated that Obama believes Warren is a "champion for middle class families and consumers." No decision is imminent, the spokesman added.
But Dodd persists. In interviews with Bloomberg News, Dow Jones, TPMDC and others, Dodd reiterates that she's qualified, but that there are questions about whether the Senate would confirm her.
Some involved in the legislative effort to get the bill through Congress point to Warren's aggressive advocacy on behalf of the new agency as a sore point between the two.
For months, Dodd tried to garner bipartisan support for the bill, trying to win the support of Sen. Richard Shelby, an Alabaman and the top Republican on the banking committee, and Sen. Bob Corker, a Tennessee Republican on the committee.
But every time word leaked that Dodd was potentially softening his position for a tough new consumer agency, Warren publicly pushed back.
In December, members of Dodd's staff met with consumer groups and told them to prepare backup plans in case an independent consumer agency didn't emerge from the process. What was the least they'd support, the consumer advocates were asked. Frantic e-mails and conference calls ensued as advocates worried that the agency -- a centerpiece of the legislation -- was in doubt.
In January, after the Wall Street Journal reported that Dodd was looking to scrap the idea of an independent agency, Warren penned a letter to supporters urging them to fight. "The next few weeks will determine whether our hard work will make a difference for families or whether families will lose once again," she wrote.
In March, after news reports indicated that Dodd was looking to place the new agency inside the Federal Reserve -- its ultimate location -- consumer advocates worried that the new regulator's independence would be in question. In an interview with the Huffington Post, Warren again made the fight one between banks and families, arguing that her "first choice is a strong consumer agency. My second choice is no agency at all and plenty of blood and teeth left on the floor."
A Dodd spokesman noted that the Connecticut Democrat was trying to pass the toughest legislation that would survive a Republican filibuster. Dodd also thinks very highly of Warren, the aide said, and met with her several times throughout the legislative process.
Other sources disputed the characterization.
"It's not a well-kept secret that they don't have a close relationship or confer with each other," one consumer advocate said. "Whenever Dodd locked himself in negotiations with the Republicans over the independence of the consumer agency, she led the charge in public to keep it intact and to preserve the president's agenda. I'm sure that ruffled some feathers."
As HuffPost reported in March, the two haven't met to discuss the financial reform effort or the new agency since July 2009. The Dodd spokesman couldn't provide the specific date of their last meeting and volunteered that Dodd never turned down a meeting request from Warren.
A spokesman for Warren declined to comment.
Consumer advocates praise Dodd for his recent effort to get the consumer agency through the Senate. But that effort could be undermined if a tough new regulator isn't picked to lead the agency, they note.
Senate aides say that Dodd's public position on Warren's confirmability mirrors that of the Treasury Department. A top Treasury official, Michael Barr, is among three candidates the White House has identified as potential picks. HuffPost reported last month that Treasury Secretary Timothy Geithner has expressed opposition to a Warren nomination.
Treasury officials had told at least one senator's office that Warren wasn't confirmable in an effort to sway the senator's views, according to two Senate aides. A senior administration official said that doesn't represent Treasury's views.
Dodd's recent advocacy against Warren isn't the first time he's found himself in reformers' crosshairs.
Dodd isn't up for reelection. Other than post-Senate employers, he doesn't have to worry about waging another public campaign and fighting for dollars and votes.
Since his last Senate election in 2004, Dodd has raised about $28.3 million, according to an analysis of federal campaign records by the nonpartisan, Washington-based Center for Responsive Politics. About $13 million of that, or 46 percent, has come from the financial services and real estate industries. That's nearly four times as much as any other individual sector has given to Dodd.
As the chairman of the banking committee and a senator from a state that houses Wall Streeters and big insurance companies, Dodd has long been associated with the financial services industry.
During his time on the committee, it rarely exercised the kind of tough congressional oversight that federal agencies fear. Beginning in 2007 under Dodd's chairmanship, the committee began to hold hearings on abusive lending and the mounting subprime crisis. By then, it was too late.
Which is what made his advocacy for the consumer unit so unique, those involved in the fight say. But his switch from consumer advocate to Warren foe now disappoints them, they add.
Frank told HuffPost that if the questions surrounding Warren's confirmability are real, then Obama should simply give Warren a recess appointment while Senators are out of town.
The effort to get Warren nominated even compelled Dr. Phil McGraw, a television personality better known as Dr. Phil, to write an op-ed on his blog advocating her nomination.
Dodd got the consumer agency through the Senate despite the many public and private pronouncements that it was near death. Whether the same thing is happening with a possible Warren nomination is a question few can answer.
At 4:23 p.m. ET the story was corrected to reflect that Dodd and Warren last held a meeting in July 2009, not July 2008. It was a typo. We regret the error. At 5:15 p.m. ET the story was updated to reflect that Warren was spotted Thursday leaving the White House. And at 6:30 p.m. ET the story was updated with a White House statement.
*************************
Related
Popular in the Community