Los Angeles Police Department told reporters that no body has been identified in the cabin in which Christopher Dorner was believed to have been hiding, following a shootout and fire.
"No body has been located yet," Commander Andrew Smith said, telling reporters that the building was still too hot for investigators to enter.
"That burned cabin has not even been entered by investigators yet," Smith said. "We are still on a holding pattern to search that."
Earlier reports had indicated that a body had been identified.
The standoff with Dorner, a former member of the LAPD, reached a violent close near a rustic cabin in the Big Bear ski area east of Los Angeles. Since Feb. 3, he's accused of a crime spree that left four people dead, including two officers, and several others wounded in shootings in L.A. and nearby San Bernardino County.
In a widely read tirade posted on Facebook by Dorner -- called his manifesto -- he vowed revenge against police and other officials he blamed for his dismissal from the LAPD in the 2009.
On Tuesday afternoon, Dorner barricaded himself in a rustic cabin after San Bernardino County Sheriff's deputies allegedly spotted him driving a vehicle he'd stolen earlier in the day.
While in the cabin, Dorner exchanged hundreds of rounds of gunfire with members of law enforcement. One deputy died from the shooting and another was injured. Later, towering flames engulfed the cabin.
The country's most famous fugitive had eluded authorities for days, but resurfaced on Tuesday after he'd allegedly burglarized a home, took two women hostage and stolen a white pickup truck.
"Enough is enough. It's time to turn yourself in," said LAPD Commander Andrew Smith during an afternoon press conference. "It's time to stop the bloodshed."
Dorner's trail led back to Irvine on Sunday where police believe he shot a couple parked in their car.
Monica Quan, a California State University, Fullerton assistant basketball coach and her fiance, Keith Lawrence, a public safety officer at the University of Southern California, were shot to death in their car Feb 3. Police named Dorner a suspect in Quan's killing on Feb. 6.
Quan's father, Randall Quan, an attorney, represented Dorner when he lost his job with the Los Angeles Police Department LAPD in 2009. Dorner was accused of lying about another member of the force and fabricating allegations that his training officer had kicked a suspect with schizophrenia during an arrest.
On Feb. 7 in Corona, a resident told police she'd seen Dorner's Nissan Titan. Police chased the pick-up truck, exchanging gunshots with the fleeing suspect, who fired using a shotgun and grazed an officer's head before slipping away. The same day, the 33-year-old suspect popped up in Riverside where two officers were shot through the windshield of their cruiser at a red light. A 34-year-old veteran was killed while his 27-year-old trainee was wounded.
Later in the day, Torrance police misidentified a truck as Dorner's. They opened fire, wounding two women. Later, police from the same department shot at a different truck wrongly believed to be Dorner's. No one was hurt.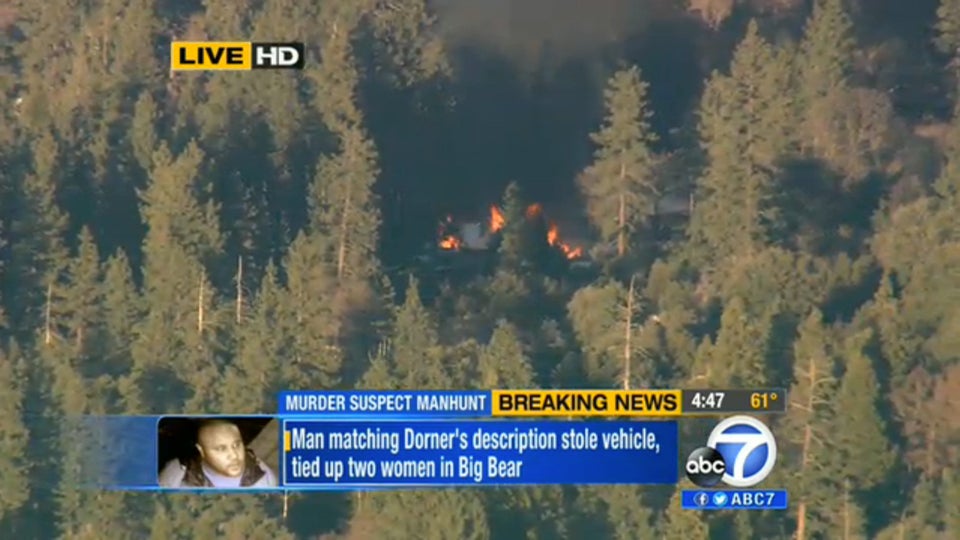 Christopher Dorner Manhunt
Police across Los Angeles were on edge upon learning of Dorner's manifesto, in which he warned of violence against members of the force.
"The Violence of action will be HIGH," Dorner wrote. "I will bring unconventional and asymmetrical warfare to those in LAPD uniform whether on or off duty ... You will now live the life of the prey ... I have the strength and benefits of being unpredictable, unconventional, and unforgiving."
The names of media personalities appeared in Dorner's 20-page declaration of war like Anderson Cooper, who was among several the Dorner praised. Cooper, a CNN news anchor, tweeted about receiving a package in the newsroom from Dorner that contained a note, DVD and a coin defaced with bullet holes.
More than 100 officers, including SWAT units, fanned out across the snow-covered wooded recreation area to look for the wanted Navy reservist. They tracked footprints in the snow, but the trail vanished at the edge of a frozen lake on Friday.
Sites across Southern California, Arizona and Nevada have also become parts of the sprawling investigation. A false sighting put a San Diego naval base on lockdown on the morning of Feb. 7. FBI agents raided a house in Las Vegas that Dorner owns, taking away boxes of evidence.
Although Big Bear became the focal point of the search for days, police explored possibilities that he'd slipped past them. On Feb. 11, a hotel in Tijuana, Mexico was raided in response to a witness claiming to have seen the suspect there.
The call was just one of the 1,000 tips that investigators said they'd received related to Dorner, the Los Angeles Times reported.
Related
Popular in the Community