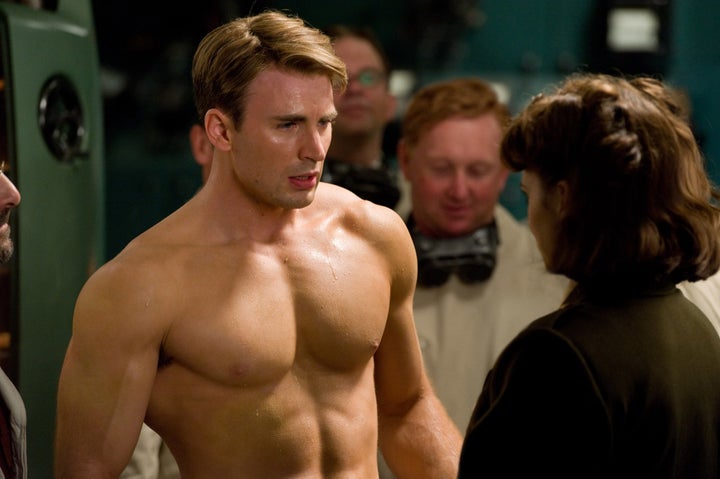 For Steve Rogers, all it took to go from a puny, military-rejected weakling to muscle-bound super soldier was a hyperbaric chamber and a couple injections of experimental serum. It wasn't quite so easy for Chris Evans to pull off the feat off-screen.
Just hearing him talk about it might make one sore -- or nauseous.
"We did two hours a day, and it was brutal. I usually like working out. Going in sucks, but walking out, you're like, 'I'm glad I did that!'" the star told PopSugar. "This was different. I'd walk out and I'd be like, 'I need to vomit. I hate this trainer. I hate this movie. I want to go to sleep for a week.' It was just relentless. I've got a fast metabolism and I lose weight very quickly, so for me to get big, it was just eat a lot."
Sounds like a dream, but then, he wasn't exactly indulging on pizza.
"Working out sucked, eating sucked more. You get to a point where you just can't even look at another piece of chicken. You're just so bloated, but you just have to keep consuming protein, so that was tricky."
Luckily for Evans, director Joe Johnston used special effects to make Evans seem sickly-weak in "Captain America: The First Avenger," so he didn't have to go crazy to lose the weight, at least.

"They went back and forth on the type of technology they were going to use. Initially, they were just going to do body shrinking, and then they thought, 'Well, maybe we can get another skinny actor and put Chris' head on it,' and I really, really was against that," Evans told USA Weekend. "I said to Joe, 'Look, I know we want this to look good and this effect to not be distracting from the film, but it has to be my performance. I don't want to share this. Your body is a huge piece of the acting puzzle, and I don't want to have somebody else's body tell the story that I'm trying to tell.' So they did some tweaking and they did a bunch of tests and we went back to the initial plan to shrink my body."
Popular in the Community