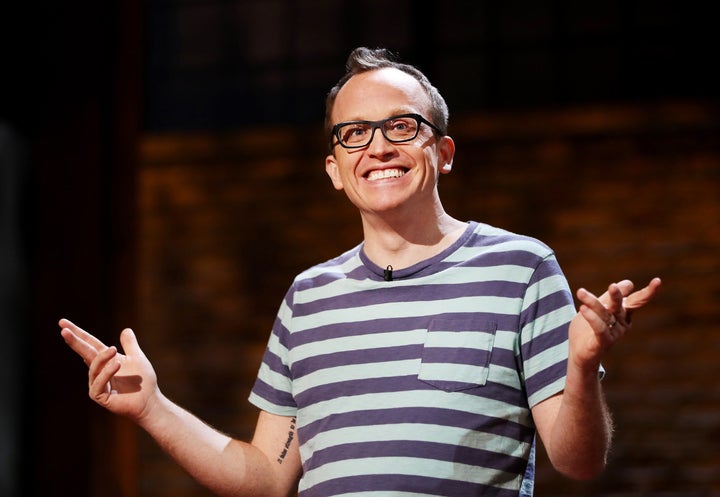 For its relative ubiquity — the National Institute of Mental Health estimates that 16.1 million American adults experienced a major depressive episode in 2015 —writing about depression feels, at times, like dancing about architecture. For all of our words, finding the right combination to convey that particular, pervasive sense of despair is surprisingly tricky. You cycle through synonyms (sad, miserable, gloomy, despondent) and metaphors (dark clouds, dark caves, dark insides, general darkness) and yet still feel stuck on an algebraic curve that merely approaches the feeling while never quite arriving there.
Watching Chris Gethard's one-man show titled "Career Suicide," which arrives on HBO May 6 after an off-Broadway run late last year, comes pretty close. Over 80 minutes, the comedian details his extensive struggle with depression, suicidal thinking and alcoholism. It may not sound like light fare to the average entertainment seeker, but Gethard's brand of humor — sprinkled with ample Smiths references, North Jersey accents and an interlude about very pitiful ejaculations — allows the tougher medicine to go down smooth.
Gethard isn't the first comedian to tackle serious mental health issues amid laughter. One can also point to peers like Maria Bamford or Aparna Nancherla, who incorporate living with bipolar disorder and anxiety, respectively, into their acts. The existence of sadness and mirth on two sides of the same coin is a staple of the profession; the old saying, after all, goes that comedy is simply tragedy plus time.
"Before I tell you anything else, I want you to know: I see a shrink, we're good," Gethard begins the show. For the comedian, an easy entry-point into the often absurd world of depression is through his therapist, Barb, who Skypes Gethard for his sessions from her house in Mexico and seems to lack any notion of professional boundaries. (A fun fact: In a Saturday panel during the Tribeca Film Festival, Gethard revealed that he tried to sub in "Deb" for Barb's name in his act, but the name simply lacked the same comedic heft. Barb told him that there were enough therapists in the tri-state area with her name that he could safely use it and protect her privacy.)
Simply by giving voice to some of his less rational thoughts, Gethard can transform them into punchlines. After introducing the audience to Barb, he mentions his wife's "one flaw" — she neglects to close cabinet doors after opening them.
"In my head, I'm going, who cares, let it go, there are no negative repercussions to a cabinet door being open right now," he says. "And then I think to myself, You can't make that promise."
Along with the jokes, there are poignant moments throughout, appearing via Gethard's small, carefully wrought revelations. In one scene, he tells the story of being somewhat strong-armed by an ex into telling his mother he's suicidal. He explains how he goes up to her room in the middle of the night in order to wake her up, extending one hand waist-high out in front of him, as if to rouse an invisible body. Gethard pauses there, hand outstretched, telling the audience what was running through his mind: that it would be the final moments of his mother's life when she had a perfectly OK son, and that he was about to shatter that maternal image, simply by virtue of his faulty brain. It's gut-wrenchingly specific, and still relatable, regardless of one's mental health history. Anyone can understand wanting to protect their loved ones from difficult truths.
Fortunately, Gethard never lets his sentiments edge on saccharine; for every damp-eyed moment, the comedian offers up several rapid-fire jokes in counter. The effect is uplifting but levelheaded. In telling his experiences, Gethard acknowledges that things get better, that help can be found, but never pretends that his troubles are entirely behind him. Depression, like so much of adult life, rarely feels like a problem that is solved once and forgotten. Instead, it is more of a process, a give and take, a managing of feelings and reactions that one can only anticipate so far ahead. It's clear, from Gethard's show, that he understands the untidiness inherent in mental health issues, embracing the chaos in order to arrive at something like understanding.
Through comedy, Gethard humanizes depression, reducing stigma by the minute precisely because he holds nothing back. By the end, he's dispelled the myth that seeking help for feeling sad is weak or that taking medication will kill your creativity — "I'm significantly fucking funnier on medication," he tells us.
Perhaps it's corny to conclude that having this special on a widely available platform like HBO feels like hope. Here's one thing that tells us you can be depressed and not have it end your life, metaphorically or otherwise; here's something that makes it feel like we can talk — and laugh — about our most devastating feelings instead of shrouding them in shame or only deigning to consider them in the aftermath of national tragedy. But even if nothing changes on a larger scale, there is some comfort in knowing Chris Gethard, and his growing contingent of fans, can understand what you're going through.
"Career Suicide" arrives on HBO and its streaming platforms May 6.
You can be highbrow. You can be lowbrow. But can you ever just be brow? Welcome to Middlebrow, a weekly examination of pop culture. Read more here.
Before You Go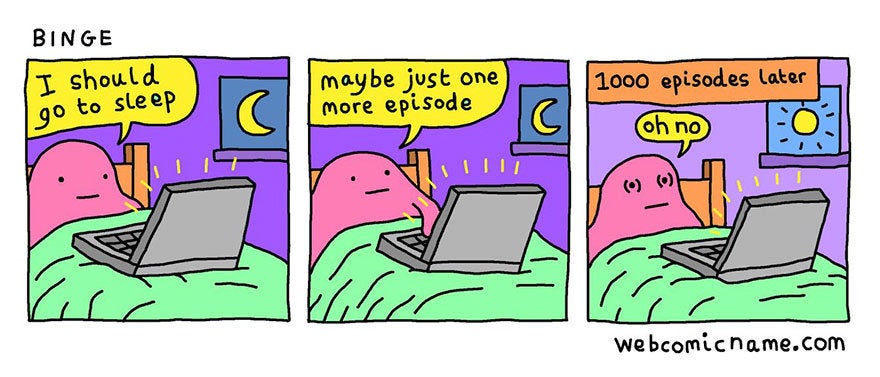 These 'Oh No' Comics Show How Awkward Adulting Can Be
Popular in the Community