Without naming him, actress Chloe Dykstra described in a viral Medium post Friday a past boyfriend who became emotionally abusive and allegedly sexually assaulted her in the three years they dated.
The subject of her disturbing story was widely assumed to be Chris Hardwick, a known ex-boyfriend.
Now, Hardwick, the founder of Nerdist and "Talking Dead" host, has issued a statement seemingly confirming his identity in the essay and denying that the abuse took place.
During the relationship, Dykstra was "terrified" of upsetting Hardwick, she said, and allowed the alleged assault to continue because he "expected" her "to be ready for him when he came home from work."
"Every night, I laid there for him, occasionally in tears. He called it 'starfishing.' He thought the whole idea was funny," she wrote.
"I was heartbroken to read Chloe's post," he continued. "Our three year relationship was not perfect ― we were ultimately not a good match and argued ― even shouted at each other ― but I loved her, and did my best to uplift and support her as a partner and companion in any way and at no time did I sexually assault her."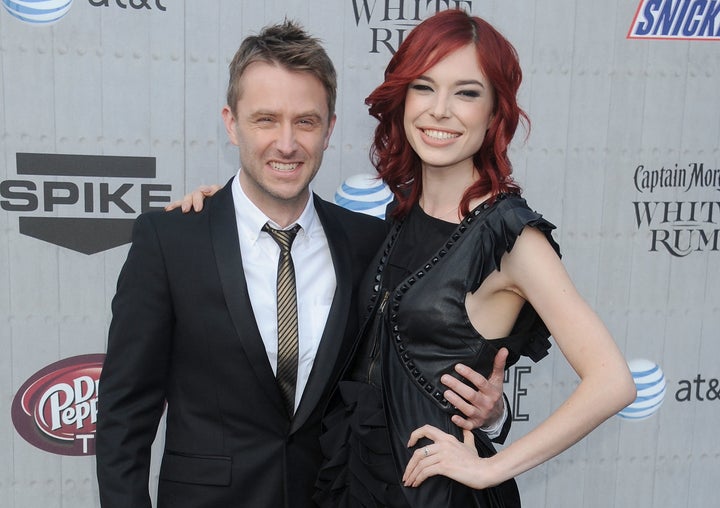 Dykstra detailed a wide array of misconduct in her essay, shared widely over social media. She said Hardwick would not let her befriend other men unless they worked together, would not let her drink since he was sober and would not let her speak to him at times in public places. He controlled many aspects of her social life, she said, and isolated her from her friends.
At first, the actress thought her new boyfriend was "going through some serious emotional discomfort" after ending a separate long-term relationship, and called that belief "a huge mistake."
"When cameras were on us? He was a prince. Turn them off, he was a nightmare," she wrote.
According to Dykstra, the couple broke up after she met and began a relationship with another man. After the breakup, she said, Hardwick and another woman in the entertainment industry succeeded in blacklisting her from companies she had worked with in the past. She contemplated suicide.
Hardwick denied all of Dykstra's claims in his statement. "l was blindsided by her post and always wanted the best for her," he wrote. "As a husband, a son, and future father, I do not condone any kind of mistreatment of women."
Nerdist, the company Hardwick started as a podcast that grew to become a network owned by Legendary Entertainment, issued a statement in the wake of the essay's publication to distance itself from its founder.
"Chris Hardwick had no operational involvement with Nerdist for the two years preceding the expiration of his contract in December 2017. He no longer has any affiliation with Legendary Digital Networks," the statement read.
"The company has removed all reference to Mr. Hardwick even as the original Founder of Nerdist pending further investigation."
AMC, the home of "Talking with Chris Hardwick," announced Saturday in a statement that the network would suspend the program while it "assess[es] the situation." Hardwick has also canceled plans to moderate two upcoming panel discussions at San Diego's Comic-Con next month, the network said.
This article has been updated to include comment from AMC.
Popular in the Community