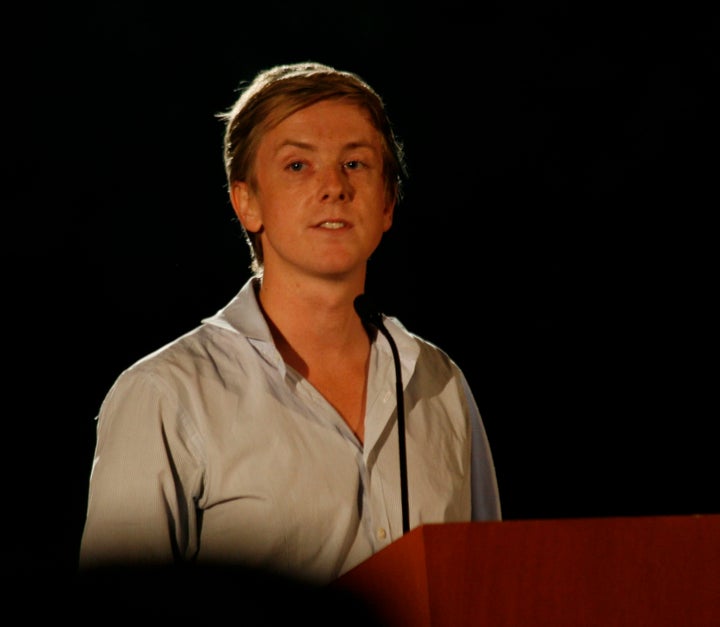 NEW YORK -- On the morning of March 9, Chris Hughes held his first meeting with the staff of the New Republic, the nearly century-old magazine of American liberalism that he became majority owner of in a deal announced at midnight.
Hughes, 28, is better known for leading online start-ups than dusty print publications. He helped found Facebook with Mark Zuckerberg, joined Barack Obama's nascent campaign in 2007 to spearhead digital organizing and founded social media company Jumo in 2010. But now Hughes is taking control of a venerable magazine coping with industry disruption and an influx of online competitors, while trying to maintain its influence and attract new readers across platforms.
Around two dozen New Republic staffers huddled in a conference room on Friday, where black, bound volumes -- with issues reaching back to 1914 -- line the walls as a testament to the magazine's history. Hughes, who fills the roles of publisher and editor-in-chief and plans to have a regular presence in the magazine's Washington D.C. office, recognizes the New Republic's print legacy and tradition of long-form journalism while also pointing to its future on tablets like the iPad or Kindle.
While new ownership inevitably causes some wariness, staffers walked away from the hour-long meeting pleased by what they heard, according to some who were present. Hughes said he plans to expand the staff, a marked difference from the contraction and layoffs the money-losing magazine has seen in recent years. And while Hughes sits on the progressive side of the fence, he suggested that the magazine shouldn't be in lock-step with any political agenda. While tilting left, the New Republic has a long tradition of contrarianism, even boasting top editors, like Andrew Sullivan years back, who identify as conservatives.
Hughes' private comments about the New Republic's future fell in line with the few public statements he's made so far.
"I believe that the demand for long-form quality journalism is strong in our country and I think that, despite all the changes in technology over the past few years, people still want in-depth, rigorous reporting," Hughes told NPR on Friday. "The New Republic has been a place where that has happened and under my leadership, and the leadership of folks there, we'll double down on that."
Hughes' purchase of the majority stake in the magazine has been in the works for several months. The Huffington Post first reported in January that Hughes was interested in buying the magazine, while knocking down rumors of other high-profile suitors, such as New York Observer owner Jared Kushner and Bloomberg L.P.
In a letter to readers, New Republic editor Richard Just said he was "immediately struck by how much [Hughes] believed in this kind of journalism" when they met for lunch in November. "We continued to talk, and a few weeks later, I introduced him to Larry Grafstein, the chairman of our ownership group, who felt the same way."
Grafstein, who introduced Hughes to the staff Friday, echoed Just's comments in a letter to readers. "With Chris's leadership TNR will pursue its longstanding, ongoing mission of helping to define liberalism while contributing to the American project," Grafstein said. "You will all enjoy getting to know him and you will learn, as we have, that he is a special individual."
But Hughes hasn't been too eager to get to know the reporters covering the magazine. He's only granted two interviews on the ownership change, to The New York Times and NPR, and has no more planned Friday. Hughes didn't respond to a request Friday from The Huffington Post or to past requests in recent months. When reached, Just declined to comment.
One former New Republic editor was willing to discuss the magazine changing hands. Bloomberg View's Michael Kinsley, who served as editor from the late 1970's to mid-1980's, said that he wished the new owner luck and was glad there's "another generation of millionaires willing to put money into the New Republic." Kinsley said he still reads the magazine, often on his iPad. "That's where the future lies," he said. "The tablets are going to save the magazine."
While it remains to be seen what the Hughes era brings, he's so far hit all the right notes among staff and readers hoping the magazine's mission doesn't change. It's also unlikely he'll cut and run if the New Republic remains in the red. Hughes, whose net worth is reportedly around $700 million, told the Times that he isn't hoping to turn a quick profit with the New Republic or expecting it to become "the next Facebook."
For several years, the New Republic's fate has been anyone's guess, as long-time steward Marty Peretz began selling off shares and the magazine went through various ownership structures, including the most recent consortium led by Grafstein. But Peretz, who bought the magazine in 1974, has remained in its orbit through management changes and amid controversy sparked by his writing on the Israeli-Palestinian conflict and dismissive comments about Muslims. There's been chatter among staff in recent months over whether Peretz would continue to have a role with the magazine if the deal with Hughes was completed.
Peretz contends that he will. Reached by phone Friday, Peretz said that he likes and respects Hughes and thinks that "he's going to do well by the history of the New Republic." Peretz, now 73 years old, said he'd assume "a role appropriate to that age." That role will apparently include writing for the magazine. Right now, Peretz said, he's busy working on a new piece called "Palestine Forgotten."
Popular in the Community