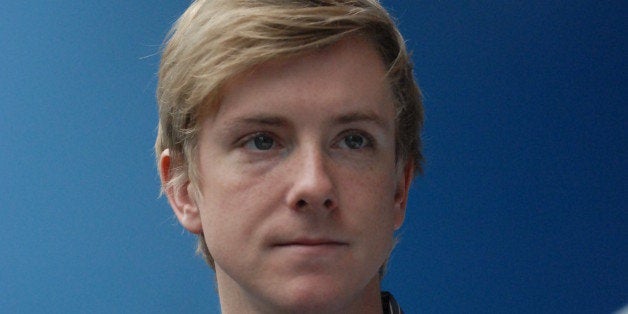 Facebook co-founder and New Republic owner Chris Hughes acknowledges he's had a difficult few months.
In a new Vanity Fair profile of Hughes and his husband, politician Sean Eldridge, Hughes says he was a "knight in shining armor" and "the greatest thing since sliced bread" when he bought the financially troubled New Republic in 2012. But after firing the magazine's former editor-in-chief, Frank Foer, in December 2014, Hughes said he became "the Antichrist, or something pretty close to it."
Hughes, who has said he was taken aback by the fallout, has shied away from the press in the months since the shakeup. But he did speak openly to Vanity Fair's Sarah Ellison about his decision to replace Foer and bring on Yahoo's Guy Vidra as CEO. Ellison writes:
Even before Vidra got the job, word was circulating in media circles that Hughes was looking to hire a new C.E.O. who would shake things up, specifically by hiring a new editor to replace Foer. "In bringing Guy in, we were making a pivot … to new kinds of digital storytelling," Hughes told me. "And that was not Frank's strong suit. And he specifically said that to me." When I told him that the departed staffers I spoke to told me they were not afraid of change and were willing to write for the Web, he cut me off. "Stop right there -- that's the problem…. Anyone who said that, that really means: I really want to write for print, but if the Web editor is annoying enough, then I'll fire off a blog post once a week. That can't be our starting point."
The last several months have also been trying for Hughes' husband. Eldridge lost his bid to represent New York's 19th District in Congress in November. He told Ellison, flatly, "I will not run again."
Calling all HuffPost superfans!
Sign up for membership to become a founding member and help shape HuffPost's next chapter