PEARISBURG, Va. ― Phyllis Niece, a 77-year-old diabetic retiree, can't remember the last time she voted in a presidential election. But this November, she plans to cast a ballot for Chris Hurst, the literally telegenic Democratic candidate for the state's House of Delegates in southwest Virginia's 12th district.
"I like Chris. Yes I do," Niece told HuffPost at a Wal-Mart in Pearisburg, breaking into a smile.
Hurst supports using funds from the Affordable Care Act to expand Medicaid in Virginia, which might be reason enough for Niece's support. She recently learned that the co-pay for a three-month supply of her diabetes test strips had skyrocketed to $270. She could not afford it and the state government told her that she and her husband, Eugene, earned $23 too much to qualify for Medicaid.
After trying to go without the strips, her health began failing and Niece's doctor told her she was going to die if she did not start testing her blood sugar again. A stranger heard her story online, and sent her a package of the strips.
Niece teared up as she described her ordeal. But her reason for backing Hurst was not linked to policy: She remembered him favorably from his days as an evening news anchor for the regional CBS affiliate, WDBJ Channel 7.
"He was on the news," she said with a chuckle.
Niece epitomizes Hurst's appeal. Until February, he was the trusted voice on the TV set every weeknight at 6 and 11 p.m. across a massive swath of land that includes parts of West Virginia and North Carolina on either side of the Virginia border. Now, he is hoping the trust he developed can help propel him into office ― and give his party a badly needed boost.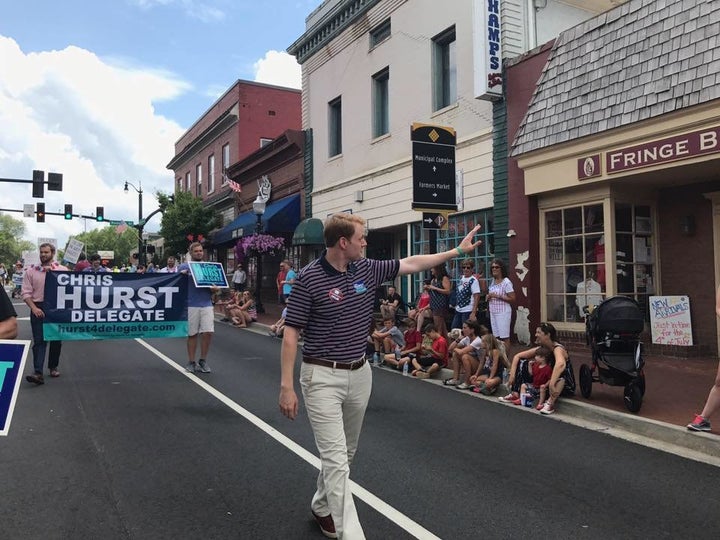 Hurst, a 30-year-old, ginger-haired progressive from the Philadelphia suburbs, arrived at WDBJ ― which is based in Roanoke, Virginia ― in 2010 as a weekend reporter. The following year, he earned a promotion to weeknight evening anchor and investigative reporter, and developed a reputation for hard-hitting stories on local corruption and bureaucratic failures. He eventually picked up two Edward R. Murrow awards ― one for a documentary on child abuse and neglect in southwest Virginia, and another for a documentary that shined a light on hospice care in the region.
The shooting sparked a contentious, statewide debate about gun control in which Hurst featured prominently.
It also prompted what Hurst describes as an "existential crisis" for him as he struggled to find the right way to move forward. He knew he needed to leave Roanoke, which haunted him with memories of his life with Parker. But he wanted to stay in southwest Virginia, where he had grown to love the people whose outpouring of support so moved him after Parker's death.
Hurst decided to run for office in a competitive GOP-held district not far from Roanoke.
"I owe the residents of southwest Virginia a debt of gratitude that I don't think I'll ever be able to repay. But this seems like something worthy of what they did for me," Hurst said.
He moved to Blacksburg in January, where he lives with his border collie-labrador, Sophie. A month later, he announced that he would be challenging three-term Republican incumbent Joseph Yost, also 30, for the area's House of Delegates seat.
The district stretches from Blacksburg, a Democratic bastion that is home to Virginia Tech, to the heavily Republican hills abutting the West Virginia border. It is one of 17 GOP-held House of Delegate districts where Hillary Clinton defeated Donald Trump in 2016 ― in this case, by 2 percentage points. Yost, though, won his last term in 2015 by about 17 percentage points.
After four special congressional elections where Democrats have come up empty, Virginia's off-year state-level elections this November provide an opportunity for the party to make gains ahead of the 2018 midterms. The Virginia Democratic Party has had historic success recruiting candidates for office. It doesn't hurt that a mere 36 percent of Virginians approve of Trump's performance, according to a recent poll.
Hurst, who is a gun owner, does not hide his support for modest increases in gun regulation. Like many other Virginia Democrats, he supports implementing universal background checks in the state that would close current loopholes on purchases at gun shows and other unlicensed dealers ― even if the reform would not have actually stopped the WDBJ shooter, who passed a background check despite a history of emotional problems.
The national gun safety groups Everytown USA and Moms Demand Action endorsed Hurst in June, making him the only non-statewide Virginia candidate to get their blessing.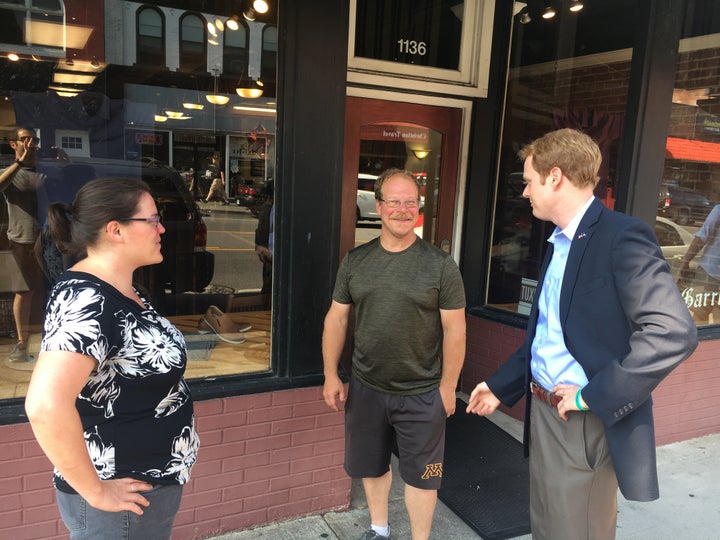 But Hurst is running primarily on improving education, health care and job prospects in the district ― issues that are far more pressing, and less controversial, to his rural constituents. The challenge he faces is to take advantage of his positive name recognition and moving personal story without giving people the impression that gun policy is a central theme of his campaign.
"If I was someone who was solely focused on one issue, then I would have been an activist on that one issue," Hurst said. "But I didn't want to do that because there are dozens of things that I am interested in and want to effect change on."
He appeared at a rally against racism in Blacksburg last Sunday, following the violence on Saturday sparked by a gathering of white supremacists about a 150 miles to the northeast in Charlottesville, Virginia. "To be silent is to be complicit," Hurst said in a Twitter message.
He also has a broad, ambitious agenda that he calls "the new Virginia way." He wants to change the state's education funding formula to ensure rural schools get their fair share, expand broadband internet access and protect natural resources, a key economic driver in the region.
"There are dozens of candidates around the state who would love to have his name recognition," said Quentin Kidd, a Virginia politics expert at Christopher Newport University in Newport News, Virginia. "He has to capitalize on the notoriety, but find a way for the campaign not to be about the event and his position on the event."
Thus far, Hurst appears to be threading the needle successfully. On some issues, he has been able to draw a clear contrast with Yost. In April, Yost voted against Medicaid expansion, for example, whereas Hurst would be a "yes" vote.
Last year, Yost voted to defund Planned Parenthood; in February, he abstained from voting on comparable legislation. Hurst is a staunch supporter of Planned Parenthood and abortion rights.
Positions like those have helped Hurst to so far edge Yost in fundraising, $232,000 to $210,000. Virginia's House Democratic Caucus has thus far provided only logistical support to Hurst, but it may add direct financial aid in the fall, House Minority Leader David Toscano said.
Jessica Bennett, a 42-year-old Democratic activist from Blacksburg who has knocked on some 700 doors for Hurst, said that district residents she meets often cite his vocal opposition to the Mountain Valley Pipeline, a natural gas pipeline that is slated to traverse the district.
Yost also opposes construction of the pipeline, however, making it more difficult for Hurst to spotlight the issue.
Ann and Joel Rader, who live in Newport, the historic town in the pipeline's path, and are active in a local campaign to change its route, said that Yost, an old family friend, had been very helpful in their efforts.
The pipeline is the biggest election issue for the Raders, and they have yet to decide how they will vote.
"We've known Joseph for years, but Chris seems like a good guy, too. It's hard to say," said Joel Rader, a 60-year-old school bus driver and roofer.
Although it is Yost's home turf, Hurst has spent a fair amount of time campaigning in conservative Giles County, where Newport and Pearisburg are located. On a muggy Friday evening in late July, Hurst drew a crowd of nearly 100 people to VFW Post 6000 in the Appalachian village of Narrows for a meet-and-greet over fried chicken and sweet tea. He was at ease speaking about his TV journalism career, and the topic of guns did not come up.
"I'm very sorry to be late with you. When Andy Griffith's on, I generally tend to stop and watch it," Hurst joked at the start of his remarks.
WDBJ plays reruns of the "Andy Griffith Show" at 5:30 pm every day ― just before the 6 o'clock news hour that Hurst hosted. Judging from the laughter that the line elicited, the crowd, made up mostly of middle-aged or older residents, was filled with WDBJ viewers.
"I loved my time at WDBJ, watching Andy Griffith at 5:30 and Opie at 5:30, then you had real live Opie at 6 o'clock," he continued, poking fun at himself for still more laughs.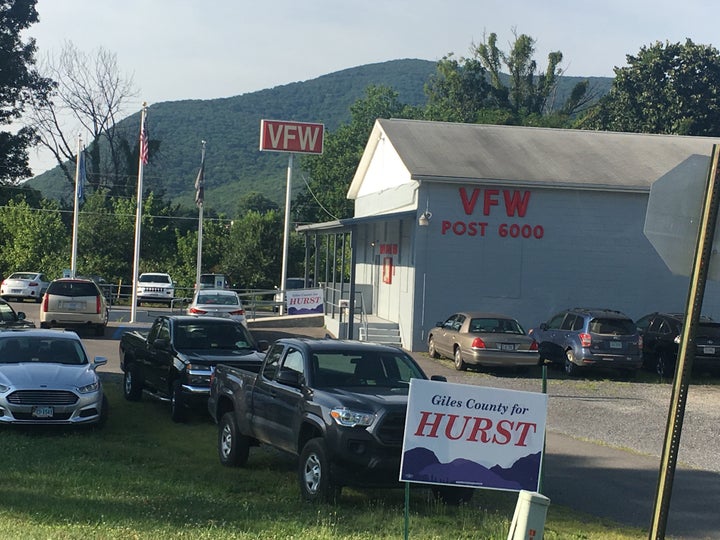 In addition to name recognition, Hurst's broadcast work gave him a gift for public speaking and a command of local policy issues.
"The hardest part of connecting with a voter is the first 10 seconds at the door. Because of Hurst's experience on television, a lot of doors are going to be open to him," said Stephen Farnsworth, who studies the intersection of media and politics at the University of Mary Washington in Fredericksburg.
Bennett, the Hurst campaign volunteer, estimated she has met about a dozen "typically conservative" voters who are opting for Hurst.
"A couple of them have said they will vote for Chris because they are familiar with him from his years on TV," Bennett said.
Peeling away some Republican voters certainly helps Hurst's chances. To win, he will also need to turn out Democrats and independents who showed up for Clinton in 2016, but vote inconsistently in state elections.
He's on track, according to former Narrows Mayor Clay Davis, an 87-year-old Democrat with a smoker's rasp who introduced Hurst at the VFW hall.
"It was a pretty good crowd ― for a Democrat."
Sign up for the HuffPost Must Reads newsletter. Each Sunday, we will bring you the best original reporting, long form writing and breaking news from The Huffington Post and around the web, plus behind-the-scenes looks at how it's all made. Click here to sign up!
Before You Go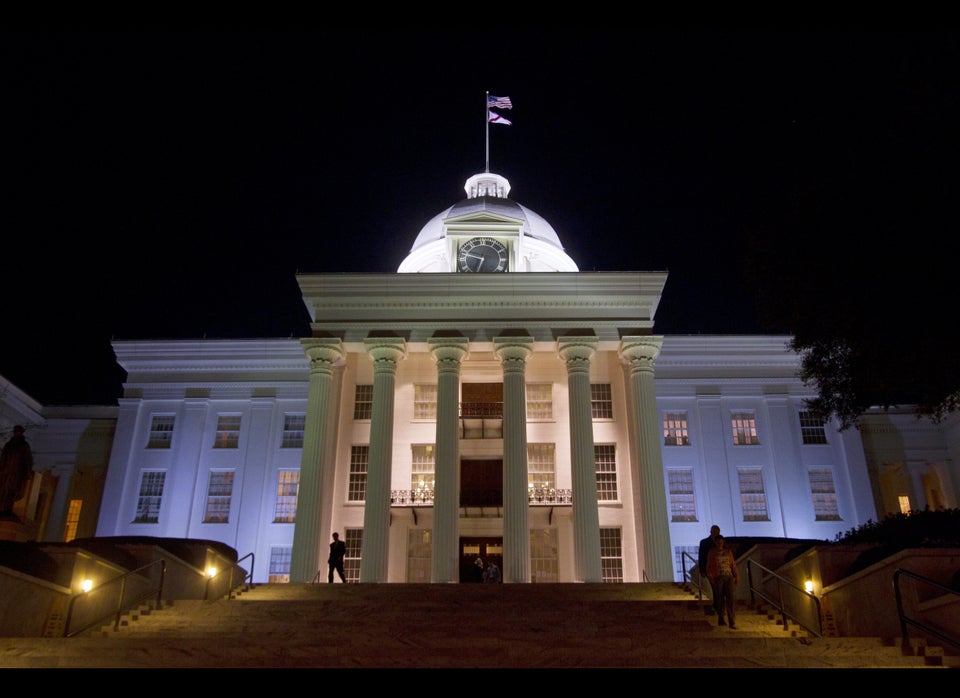 U.S. State Capitol Buildings
Popular in the Community