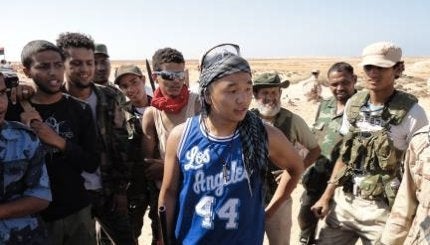 Update: According to Al Jazeera English's Evan Hill, rebels got "fed up" with Jeon and sent him packing back to Benghazi.
Original story:
There are many untraditional ways to spend your summer vacation from college, but perhaps UCLA student Chris Jeon has found the most surprising: buying a one-way ticket to Cairo, hitching to Libya and joining the rebel fight against Colonel Muammar Gaddafi.
According to the National, the 21-year-old doesn't really know how to use a gun. He doesn't even know Arabic. But he said he "thought it would be cool" to fight alongside the rebels trying to gain control of the war-torn African country. So he did.
The National has more on Jeon's rebel assimilation:
Nevertheless, the rebels have clearly taken to the mathematics student with no obvious political leanings who decided to slum it as an Arab Spring revolutionary before going back to his calculator for fall semester.

[...]

His new mates have even bestowed on him a moniker that is a mish-mash of the names of local tribes and areas: Ahmed El Maghrabi Saidi Barga. When communication invariably reaches an impasse, he merely repeats his name and the rebels erupt in raucous cheers.
National reporter Bradley Hope wrote that he "couldn't believe his eyes" when he and a Christian Science Monitor correspondent spotted Jeon on the frontline in Sirte, the one remaning village under control of Gaddafi loyalists.
The Christian Science Monitor reports that Jeon, who is due to graduate in May, fights wearing "a cobalt basketball jersey emblazoned with the words 'Los Angeles' and the number 44, camouflage pants, and black and white Converse sneakers."
"I just go and see what happens," he told the Monitor. "At spring break I told my friends a 'sick' vacation would be to come here and fight with the rebels."
And the cost of his plane ticket? $800, paid for by credit card. Just don't tell his parents.

Support HuffPost
The Stakes Have Never Been Higher
Related
Popular in the Community