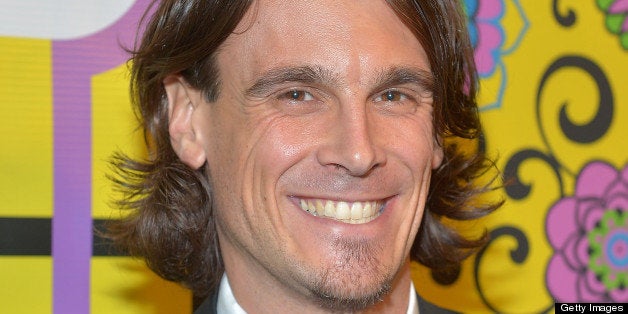 On the eve of Minnesota possibly becoming the 12th state to offer marriage equality, former Minnesota Vikings punter and outspoken marriage equality supporter Chris Kluwe discussed being cut from the team and Minnesota Gov. Mark Dayton's suggestion that Kluwe's advocacy on gay rights played a factor in his being let go. Dayton, responding to the news of Kluwe's release, said on Wednesday that he doesn't "doesn't feel good" about the team's decision and that "public officials should be honest about what's going on."
"That was cool to hear from the governor, because generally governors don't speak out about football players very often," Kluwe said with a chuckle, appearing on my SiriusXM radio program. "It's just one of those things where, right now, I'm just hoping to latch on with another team, and hopefully continue my football career. I feel that I have at least four, possibly five years left of playing at a very high level." (Listen to the full interview below)
"I honestly don't know because I'm not in those meetings," Kluwe continued, discussing the possibility that his speaking out cost him. "I don't know what's said between managers, between coaches. All I can do is go out and punt to the bet of my ability and trust in the body of work that I've put together over the years, which has been pretty consistent."
But using his platform to advocate for marriage equality, Kluwe said, was worth any ramifications.
"To me it's something that, if I'm going to remembered for something, I'd rather be remembered for something that helps people's lives, that keeps children from wanting to kill themselves as opposed to playing football," he said. "As much as I love playing football, and I really do enjoy playing football, there are serious societal issues that plague our civilization. And there are things that we need to address. And if no one ever speaks out, nothing ever gets changed."
Kluwe is optimistic about the Minnesota House passage of marriage equality this week and the possibility that the senate will pass the same bill next week, which the governor said he will sign.
"Hopefully, it goes the right way," he said, "because it's something that as a society, we have to realize that if we try to limit people's freedoms we're sowing the seeds of our own destruction because that gives rise to conflict and gives rise to discord."
"There's a very rich tradition of athletes in America standing up for societal issues," he said. "Whether it's Jackie Robinson, whether it's Muhammad Ali or others. This thought that your job defines you, that you can only do your job, that you can't talk about anything else, it really goes against the spirit of what this country is about, that every citizen should be vested in where it's headed."
Listen to the full interview with Chris Kluwe here:
REAL LIFE. REAL NEWS. REAL VOICES.
Help us tell more of the stories that matter from voices that too often remain unheard.
BEFORE YOU GO
PHOTO GALLERY
Straight Professional Athletes Who've Come Out In Support Of LGBT Rights