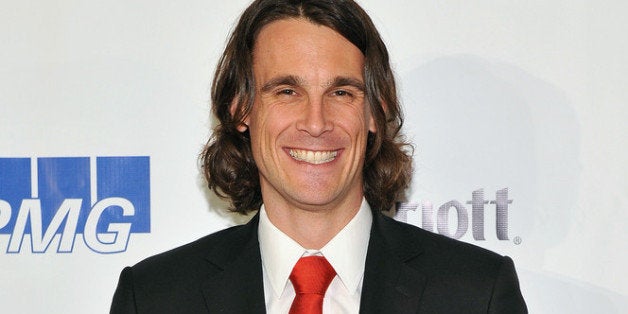 Former Minnesota Vikings punter Chris Kluwe, an outspoken advocate of marriage equality throughout 2012, said yesterday that he has witnesses who will attest to his jarring claim that the Vikings' assistant coach told him, "We should round up all the gays, send them to an island, then nuke them until it glows."
"If I'm lying, I've handed him probably the easiest defamation of character case to be heard in the court of U.S. law," Kluwe said in an interview with me on SiriusXM Progress. "I'm 100 percent confident in what I said happened."
In a Deadspin piece he wrote that went viral last week, Kluwe alleged that he was dropped from the team last year because he was outspoken on gay marriage, charging that Vikings General Manager Rick Spielman and former head coach Leslie Frazier were "cowards,"and calling assistant coach Mike Priefer a "bigot" who was openly homophobic.
Kluwe described the meeting at which he said Priefer made the shocking remarks. He said he and some teammates were joking in a friendly manner about his gay rights advocacy, with one of them saying he should lead the Pride parade. He said Priefer jumped in, in what Kluwe said was a "mean" and "serious" tone, saying gays should be "nuked."
Kluwe discusses assistant coach's anti-gay comments:
"My first reaction was, 'Wow, did he really just say that?' and then the atmosphere in the room — you know how it gets — that silence you get when you can't even hear the sound of people moving around in their chairs or their clothing rustling because everyone's kind of waiting to see when that other shoe is going to drop?" Kluwe explained. "It was that kind of silence, where, it was just like no one wanted to call attention to themselves because they knew something had been said that just was not right. And none of us spoke for the rest of the meeting. And then it adjourned and we walked back. And it was just like, 'Wow, that was messed up.'"
Kluwe said several teammates later expressed to him that the comments were disturbing. He said he's secured their testimony as witnesses for the investigation the Vikings is launching, which Kluwe said he welcomes.
"That is something that we talked over and that also is one of the reasons why I waited [to speak out]," Kluwe said. "I knew that once witnesses were called to testify and back me up that that could affect their careers, that could affect their future potential in the NFL. And that's one of things that in the investigation I want to make super clear. There has to be complete anonymity for the witnesses because there's a very good chance they could be blacklisted in the NFL. Ideally, they'll interview everyone who was on the team in 2012."
Kluwe also said the team's owner, Zygi Wilf, applauded him back in September of 2012 after he'd written a blog post defending his friend Brendon Ayanbadejo, then of the Baltimore Ravens, who also spoke out in defense of gay marriage and had been subsequently attacked by a Maryland politician for his advocacy.
Kluwe discusses team officials' reactions to his original advocacy:
"[He] said, 'I appreciate your speaking out. I just came from my son's best friend's wedding and it was beautiful," Kluwe said. But Kluwe was getting "mixed messages," he said, because the team's then-head coach, Leslie Frazier, told him to end his public advocacy for gay marriage.
"He called me into his office," Kluwe explained. "It wasn't just, "You need to tone this down.' It was, 'You need to stop doing this altogether.'"
In the following months, assistant coach Priefer, Kluwe said, made remarks about "the gays," but Kluwe tried to take it mostly as joking. But when he made the comments about how gays should be "nuked," Kluwe said he became convinced it was serious bigotry. It was after that event that he said Priefer didn't communicate with him much at all, and eventually he was cut from the team.
Kluwe said he'd not do anything differently if he could do it all over again.
Kluwe says he has no regrets about speaking out for LGBT rights:
"When it comes to playing a children's game versus hopefully making a difference in people's lives and hopefully getting people rights they were being denied, that's an easy choice for me to make," he said. "I'd be lying if I said I didn't [care about losing an income]. Getting a paycheck is to be preferred to not getting a paycheck. But at the same time, I've had eight years in the NFL. I've made plenty of money. Eight years in the NFL, even at a punter's salary, you're making more than 99 percent of Americans will make in their lifetimes. So, at some point, you have to say, 'OK, I've made enough. There's plenty there.' For me, it's more important to speak and say the right thing."
Calling all HuffPost superfans!
Sign up for membership to become a founding member and help shape HuffPost's next chapter
BEFORE YOU GO
PHOTO GALLERY
Straight Professional Athletes Who've Come Out In Support Of LGBT Rights