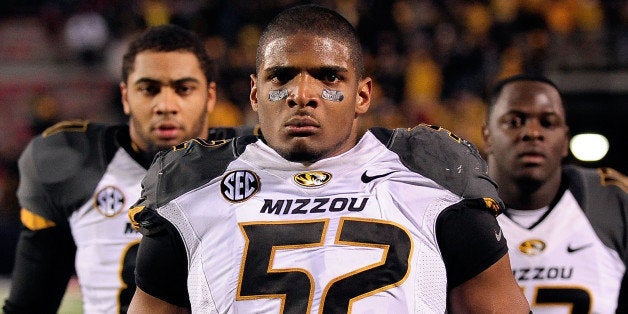 WASHINGTON -- On Saturday night, a handful of athletes and others in the professional sports world gathered in Los Angeles for a party to celebrate the coming out of Michael Sam, the University of Missouri defensive end and NFL draft prospect who publicly announced he was gay Sunday. One of the few individuals who knew about Sam's plans and attended the party was former NFL punter Chris Kluwe, who has been one of the most outspoken advocates for LGBT equality in sports.
"It was fun," Kluwe told The Huffington Post Monday about the gathering. "I tried to tell Michael about basically what he's going to be facing in the NFL, what the locker room is going to be like. ... Essentially just try and stay as relaxed as possible, and trust in the fact that you can play football well, you can play at a very high level -- that's why you've gotten to this point -- so block out the other stuff as much as you can and keep doing what you know how to do."
In an interview with ESPN posted Sunday, Sam said his Mizzou teammates and coaches have known he is gay since August.
"They supported me from Day One. I couldn't have better teammates," Sam said. "I'm telling you what: I wouldn't have the strength to do this today if I didn't know how much support they'd given me this past semester."
Much of the immediate reaction to Sam's announcement -- and the fact that he could become the league's first openly gay player -- was overwhelmingly positive. But there was some negativity, with NFL executives and coaches commenting to Sports Illustrated that they believed Sam's sexual orientation would hurt his prospects in the draft. Tellingly, they all did so anonymously.
An NFL player personnel assistant said football is still a "man's-man game" and having an openly gay player would "chemically imbalance an NFL locker room and meeting room." Other officials said teams and coaches most likely would not want to put up with the publicity and attention that would come with signing Sam.
"There are guys in locker rooms that maturity-wise cannot handle it or deal with the thought of that," said an assistant coach. "There's nothing more sensitive than the heartbeat of the locker room. If you knowingly bring someone in there with that sexual orientation, how are the other guys going to deal with it? It's going to be a big distraction. That's the reality. It shouldn't be, but it will be."
Kluwe said he unfortunately wasn't that surprised by the comments in the Sports Illustrated article. He predicted that if gay players run into opposition, it will likely be from front office and coaching staff -- who tend to be older and more traditional -- than from players.
"You can look at all those quotes that were said in that article," he added. "They could very easily have been lifted from a paper right around the time Jackie Robinson was entering Major League Baseball. They're almost word for word. It's like, wait a minute, we've had this struggle before. We already know how it turns out, why are we doing this again?"
Kluwe objected to the unnamed coach saying an openly gay player would be a "distraction," noting that teams always have to deal with players' personal issues, ranging from their dating lives to their problems with the law.
"One thing I thought was really interesting was the very word 'distraction,'" said Kluwe. "You see that used a lot by the front office and coaching. It's very similar to how the word 'thug' was used when Richard Sherman was the topic of conversation. It seems that this word distraction is code for, I don't really like the idea of a gay player on my team, but I know I can't come out and say that, so I'll use the word 'distraction' instead."
Last month, Sherman, a cornerback for the Seattle Seahawks, criticized San Francisco 49ers wide receiver Michael Crabtree in a post-game interview. Sherman's critics went after him for the unsportsmanlike behavior, and many people online called him a "thug," among other unsavory terms.
"The reason it bothers me is because it seems like it's an accepted way of calling somebody the N-word now," said Sherman. "It's like everybody else said the N-word and then they say 'thug' and that's fine. It kind of takes me aback and it's kind of disappointing because they know."
"Most of them are smart enough not to put anything down in writing where you have an email chain or something like that," he said. "It would just be, 'Hey, this guy could be considered a distraction.' Or, 'Have you heard about this Michael Sam kid? Is his character there?' It's very much code-word type stuff."
"While it would be extremely difficult to prove -- given that none of the general managers or team personnel had the courage to put their names to what they said -- if we found any evidence, we would pursue it," said NFLPA spokesman George Atallah. "It just goes to show you the dichotomy of a young, 24-year-old man, who was brave enough to stand up and tell his own story, as opposed to the people who are potentially going to be in a position to hire him."
Kluwe, an ambassador for the pro-LGBT group Athlete Ally, is currently a free agent, after playing with the Minnesota Vikings for eight seasons. Last month, he wrote a piece for Deadspin saying he was "pretty confident" that the reason the team let him go in March 2013 was because of his advocacy for LGBT rights.
Related
Popular in the Community