Although living tiny is a unique way of life, there is a wide variety of people who choose to do it. And surprisingly, in this community, you can find some unlikely converts, such as Chris and Malissa Tack. For this couple, simply hearing about the movement from tiny home enthusiasts encouraged them to trade in their busy, technologically advanced lifestyles to try out something new.
Before the husband and wife built their very own 140-square-foot tiny home near Seattle, Washington, both worked in high-tech fields. He was a "lead creative" for Apple Inc and she a 3-D artist with a focus on animation. And although their careers are still technologically focused, they decided to ditch this high-tech mindset in their personal lives when he learned about tiny homes from a customer at his store and shared the idea with his wife. "I barely had walked in the door when her excitement came bursting out," he said.
She then started to create mockup blueprints of possible living spaces. They decided they would begin the process once they had money, so the two moved forward with the plans by taking out loans and using their vechicles as collateral. But getting the means to fund their dream wasn't the hardest part. Like many tiny home dwellers, the Tacks were determine to build their own abode by hand but had minimal combined construction experience. So they took to the internet to read blog posts from tiny home owners and watched YouTube videos to learn specific processes such as installing windows.
Six months later they were reaping the benefits of their new home, especially after Tack lost his job just seven months later. Since small living is relatively inexpensive, their overhead costs were low and the home will actually be paid in-full in just two or three years. "Without the substantially lower cost of living, we would be struggling financially," Chris Tack said.
The couple has even become more polite to each other since living small. "We have definitely learned the importance of respecting space; for instance saying 'excuse me' when passing each other in the kitchen," he said. The positive experience has made them open to living small "indefinitely." And in true tiny home owner fashion, they look forward to spreading the word about this style of living. "If you think differently and embrace the non-traditional, you can come up with some pretty amazing game changing possibilities," he said.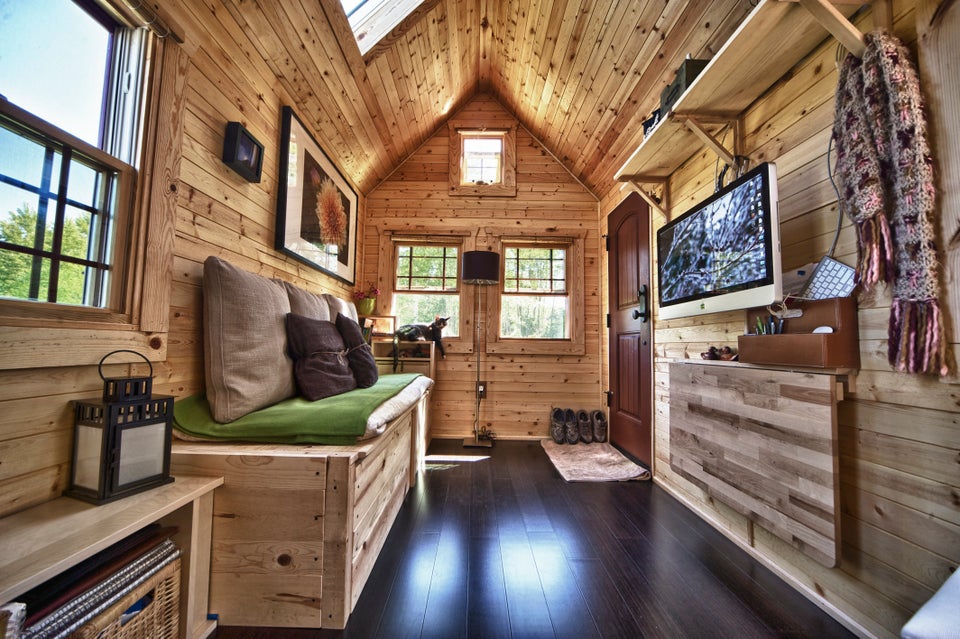 Tack Tiny House
Do you have a home story idea or tip? Email us at homesubmissions@huffingtonpost.com. (PR pitches sent to this address will be ignored.)
Related