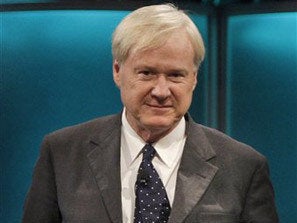 Update 12/08: Matthews' Brother Says He Will Probably Stay At MSNBC
[Chris Matthews] flirtation with a Senate run has drawn speculation that he is using the possibility of a run for office as a negotiating tool with MSNBC. Matthews' contract is up in June.

Jim Matthews, a Republican Montgomery County commissioner, said he doubts that's the case.

"It is nonsense," he said. "He likes what he does so much he'd do it for a million a year."

...

Matthews said he doubts his brother will give up his TV gig for a chance at the Senate, though.

"I think he is perhaps leaning towards what he does best," Jim Matthews said. "He has expressed that every time we talk."

He added: "He's still got the fire. He's still got the flair."
Update 12/07: Matthews Expected To Stay At MSNBC
The Politico reports that sources expect Chris Matthews to sign a new long-term contract with MSNBC, suggesting he won't run for Senate in Pennsylvania.
Over at Talking Points Memo, the Pennsylvania Democrats have confirmed that Matthews has talked to them about a Senate run, and say that he could win.
"It's in its infancy right now," [Pennsylvania Democratic Party Communications Director Abe] Amoros said. "He's just talking to people. Conversations are going on, obviously. We will know whether or not he's a serious candidate some time early next year."

So could Matthews win? "Sure," Amoros said. "It'll be a dogfight, but every campaign is a dogfight."

NBC colleagues, political operatives and friends say Chris Matthews is seriously considering a Senate bid in 2010.

Chris Matthews is dead serious about running for the Senate in Pennsylvania - and shopping for a house in the state and privately discussing quitting MSNBC as proof of his intense interest, according to NBC colleagues, political operatives and friends.

Even so, some NBC insiders think it's all simply a negotiating ploy to jack up his contract.

The garrulous host of the show "Hardball with Chris Matthews" has already picked out a home in Philadelphia to establish residency in the state, according to a Democratic operative in discussions with him about a potential candidacy. Over Thanksgiving weekend, at his vacation house in Nantucket, Matthews' family gave him their full backing.
Popular in the Community