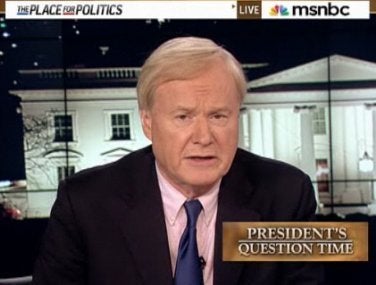 Chris Matthews compared the far right wing of the Republican Party to the Khmer Rouge, the genocidal Cambodian communist party led by Pol Pot, in MSNBC's coverage of President Obama's Q&A with House Republicans Friday night.
"The Republican Party is under assault from its far right," Matthews said. "I don't think I can remember either party being under assault by its extremes. I mean, there seems to be a new sort of purity test that unless you're far right, you're not a Republican, and this sort of tea party testing they're doing now."
Matthews called the party's pull from the far right "frightening" in comparing it to the Cambodian regime.
"So what's going on out there in the Republican Party is kind of frightening," he said, "almost Cambodia reeducation camp going on in that party, where they're going around to people, sort of switching their minds around saying, 'If you're not far right, you're not right enough.' And I think that it's really - there's going to be a lot of extreme language on the Republican side. And maybe, it will be a circular firing squad when this is all over."
Popular in the Community