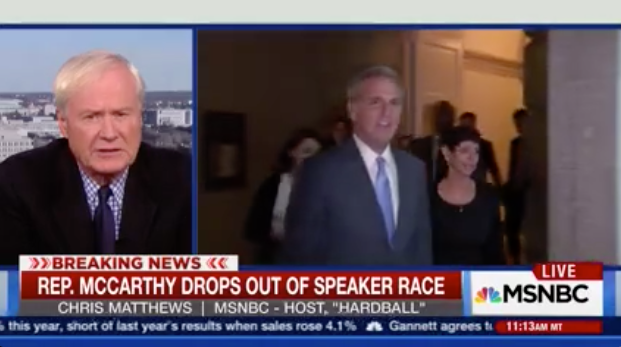 News broke Thursday afternoon that House Majority Leader Kevin McCarthy (R-Calif.) had abruptly pulled out of the race for speaker, something that MSNBC's Chris Matthews saw as emblematic of the current state of the Republican Party.
"I think what we are seeing here is a party in revolt, in revolution," Matthews told Brian Williams, who was anchoring MSNBC's breaking news coverage.
"This is about the rupture in one of our two historic political parties," Matthews said. "It's a serious rupture."
As other evidence, he pointed to the GOP presidential candidates currently leading in the polls.
"Look at the three front-runners in every poll," Matthews said. "That would be [Donald] Trump and Dr. [Ben] Carson and Carly Fiorina. None of them have ever been elected or ran for anything before." (That's not entirely true. Fiorina ran a failed 2010 campaign for a California senate seat.)
Why are those three leading? Precisely because Republicans don't trust government or people who have had any part in it, Matthews said. "Today, if you have a political résumé, it is a rap sheet."