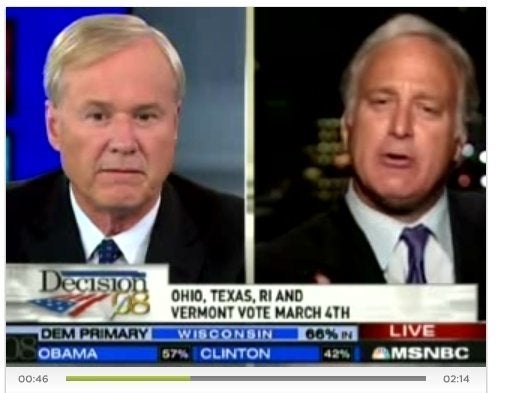 Texas State Senator Kirk Watson (D-TX) learned a lesson in preparedness Tuesday night when he was humiliated on MSNBC. Watson was on to talk about his support of Senator Obama alongside Representative Stephanie Tubbs (D-OH), who backs Senator Clinton. Watson has endorsed Obama and writes glowingly of all the things Obama will do for the country, if elected.
But he was unable to answer Chris Matthews most basic demand: "Name some of his legislative accomplishments... name any..." A fantastically awkward mix of dead air, stuttering, laughter and repetition ensued, as Watson could not name a single one. Matthews laid off part way through, it seems at the demand of his producers, but came back around to lay a final blow at the end.
Watch what must be the most awkward clip of the night's coverage:
So . . . That really happened.

On Tuesday night, after an important and historic victory in the Wisconsin Presidential Primary by Senator Barack Obama, I appeared on the MSNBC post-election program. "Hardball" host Chris Matthews (who is, it turns out, as ferocious as they say), began grilling me on Senator Obama's legislative record.

And my mind went blank. I expected to be asked about the primary that night, or the big one coming up in Texas on March 4, or just about anything else in the news. When the subject changed so emphatically, I reached for information that millions of my fellow Obama supporters could recite by heart, and I couldn't summon it.

My most unfortunate gaffe is not, in any way, a comment on Senator Obama, his substantial record, or the great opportunity we all share to elect him President of the United States.
Related
Popular in the Community