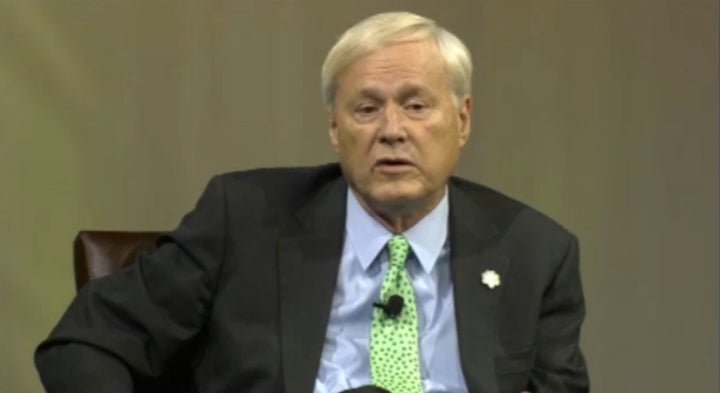 Chris Matthews had some tense moments during a panel appearance at a cable convention on Tuesday. Matthews argued heatedly with CNN's John King and bristled when the panel moderator brought up one of his most infamous statements.
Matthews' joust with King came when co-panelist Maria Elena Salinas from Univision suggested that "it's not clear" anymore when people are offering news or commentary.
"I think it's very clear," Matthews shot back.
King said that the answer depended on each network's brand. "You know if you're watching Fox in primetime or MSNBC in primetime, you know what you're watching," he said. "I do think for those of us who want to be in the middle and have all sides, we have a challenge too to make those conversations more provocative."
"There's no amen corner," Matthews responded. "You're left and far left, they're right and far right," King said. "That's not true," Matthews replied. "How is that not true?" King asked.
Their back-and-forth continued, with audible sighs and groans from Matthews.
Later, moderator Steve Scully somewhat cheekily brought up Matthews' statement in 2008 that he "felt this thrill going up my leg" when hearing then-candidate Barack Obama speak.
Scully asked Matthews if the "thrill" is still there. Matthews proceeded to issue a very sharp response.
He said that Scully would have noted that he said the same thing in 2004 if he "had done [his] reporting," and then defended the 2008 line. "I'm an untraditional person but I have traditional values and I love the country and I said so," he explained. "Perhaps I shouldn't have said so because I've given a lot of jackasses the chance to talk about it."
"So I hope you feel satisfied that you raised the most obvious question that is raised by every horses ass right winger that I ever bump into," Matthews continued. "Thank you, Steve, for serving up that little soufflé you have been working on since last night sometime when your brain exploded with this idea that you were going to ask me about it."
The arguments start at the 1:07 mark in the video here.
Popular in the Community