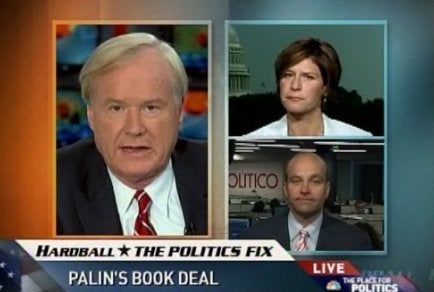 ***SCROLL DOWN FOR VIDEO***
On "Hardball" tonight Chris Matthews sat down with Mike Allen of Politico and Jennifer Donahue of the New Hampshire Institute of Politics to discuss the news that Sarah Palin has signed a book deal. The panel agreed that it's part of Palin's attempt to rehabilitate her image after a disastrous series of interviews during the campaign trail, and Tina Fey's indelible impression of her on Saturday Night Live, gave the public a decidedly unflattering portrait of her.
However, Matthews seemed upset that she had even gotten a book deal in the first place. He opened the segment with this statement:
What is Sarah Palin up to? She's got this book deal; she's obviously not going to write it, they've already announced somebody she's going to collaborate on it. What an embarrassment. It's one of these "I told you" books that jocks do... Why do they do it like this? She can't write; we got a collaborator for her. What do you make of this?
Matthews also worried that a book would "rip the scab off" all the drama that has surrounded her family. Mike Allen agreed with Matthews but said that Palin wants to revisit all those issues in order to put her spin on it. Palin feels she hasn't gotten a fair shake in the media and this is way to correct the record.
While Palin will surely be able to get huge amounts of press when her book comes out, Matthews makes the good point that the questions that haunt you are not the ones that you give an honest if unpopular answer to, but the ones to which you should know the answer but don't. Matthews thinks these will be problems when Palin does press for her new book because she'll be asked questions like "How did you write this book? Did you write it by long hand, on a laptop? Or actually did you not write this?"
Matthews' ultimate advice to Palin is to play to her strengths giving speeches instead of "pretending to write a book."
REAL LIFE. REAL NEWS. REAL VOICES.
Help us tell more of the stories that matter from voices that too often remain unheard.